Are you a crazy filter lover? Well, then you must have come across Snapchat. This app, along with thousands of amazing filters for snaps and stories, has made connecting with friends more colorful.
And this makes Snapchat the most-loved app for youngsters, as compared to any other social media platform.
Though Snapchat is a unique self-destructive messaging app with excellent photo editing characteristics, other competitors too, offer certain alluring features.
Some people are so fond of this app and always asks me about how to use secondary snapchat app on same android. But some want to try some new apps like snapchat.
If you also want to check out similar apps with amazing features then check them here.
14 Best Apps Like Snapchat
Wickr is great in leaving no trace of your messages. It deletes all your messages from both your smartphone and servers.
Also, it comes with the encoding of all types of images, messages, audio, and videos. It even restricts you from taking screenshots as it comes with top-notch encryption.
However, while sending messages, you can customize your images and videos by adding stickers, filters, and graffiti. Albeit, the options of filters available in Wickr are less as compared to Snapchat.
No. of Downloads: 5M+, Reviews: 4.8* 83K reviews
Though it is a far more popular app than Snapchat, it holds similar features. It is known to be one of the best image and video sharing apps like Snapchat.
With the Instagram camera, you can easily take real-time selfies and clips with plenty of in-built face filters and background music. Once done, you can either add it to your story or upload it as a post.
The app also lets you choose the group of people you want to share your snap with in the story section. The library of effects present in this app makes your selfie game more powerful.
No. of Downloads: 1B+ , Reviews: 4.4* 112M reviews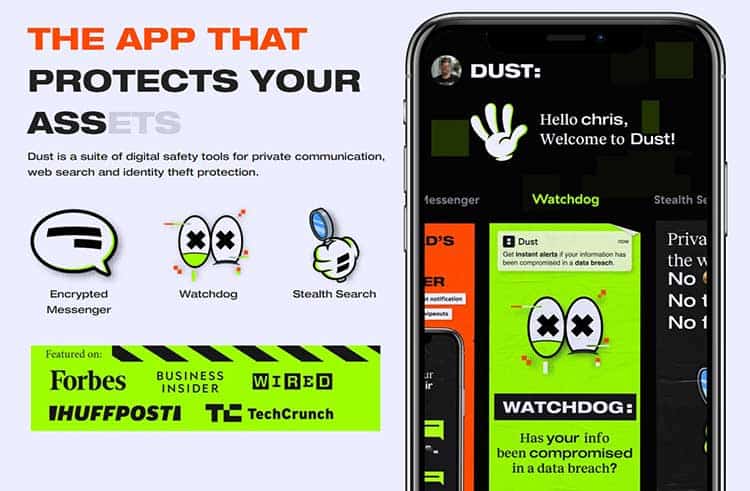 Though it is one of the most popular apps like Snapchat, Dust Messaging highly focuses on texting.
All your messages get erased after every 30 seconds in this app, ensuring top-notch protection of your personal data. And this is the main motto of this application, which distinguishes Dust from Snapchat.
The messages you send or receive through this mobile app are not saved in its server, making it tough to restore, use, or track the data.
It also facilitates the quick transmission of sensitive messages. Besides, you can easily send pictures, stickers, emojis, animations, and GIFs to one or many friends at once.
No. of Downloads: 500K+, Reviews: 4.0* 5K reviews
Also Read: How to Find Someone by their Bitmoji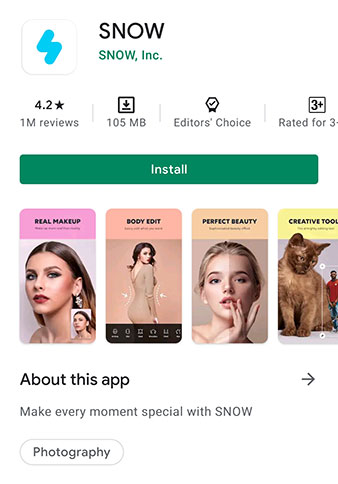 Here comes a selfie, and motion sticker-based app, which works as an instant messenger too. Its SNOW! You can send funny and exciting instant messages, along with short videos, to your friends through this app.
This app is very similar to Snapchat, where users can easily share clips and photos using the app's editor. You can add smileys, stickers, and labels to make it funnier.
The photos you create here are saved on the device. Besides, the messenger comes with a self-destructive feature for the text messages and attached files.
There are various filters, animations, and editing options available to make your chats colorful and attractive.
No. of Downloads: 100M+, Reviews: 4.2* 1M reviews
Are you a selfie freak? Do you want to take creative and crazy selfies? Well, then YouCam Perfect would be the best Snapchat alternative for you.
The app assists you to correct and edit your images seamlessly. It lets you know what is trending in the fashion world and offers you filters accordingly to add creativity to your pictures.
Using the makeup feature, you can adjust your skin tone and look more radiant.
This feature also lets you resize your face and provides options to adjust your eyes, blemishes, lips, nose lengths, etc., which gives you a prettier result. You can even add animal filters to look funky.
Additionally, the app's social sphere lets you unleash the features of sharing and learning from other users' photos.
No. of Downloads: 100M+, Reviews: 4.5* 1M reviews
So now, let's check out another intuitive photo processing app like Snapchat, known as Sweet Snap Beauty Selfie Plus Camera.
This app offers several real-time beauty effects, which you can use to capture picture-perfect selfies. Also, you will get an array of funny animal face filters, cute stickers, and various camera effects to make each of your photos look nice and pretty.
The application lets you share your photos on various other social media platforms and become the center of attraction.
No. of Downloads: 100M, Reviews: 4.4* 826K reviews
The LINE Camera app works as an effective photo editor to let you unleash professional photo editing. Like Snapchat, you can create unique selfies here and share them on social networking sites.
The various features of the app include mirror mode, timer, flash, and grids for aligning the pictures correctly.
You can use filters, new stickers, and various styles to make your images look funnier. The app also lets you add captions and memes to the pictures.
No. of Downloads: 100M+, Reviews: 4.4* 1M reviews
Also Read: How to Save Snapchat Videos
The Face Swap Live app introduced the face-swapping feature much before Snapchat came up with its filters.
This app allows you to switch your face with your friend, partner, or any celebrity in real-time. You can even record a video or take a snap like this.
You can also select photos from your device to swap the faces present in it and add more fun to your selfie game. The fun is unlimited with this mobile app. So, get colorful with this app like Snapchat.
No. of Downloads: 10K+, Reviews: 2.8* 682 reviews
So, here comes another Snapchat alternative app for Android users. Camera360 is not only too simple to use but also gives you amazing effects. The application comes with a camera in a photo editor that lets you take snaps and add filters to them.
And do you what the best thing about this app is? It comes with an array of tools that let you create multiple photos at once.
There are various options for creating selfies with amazing filters and stylized effects. You can also add text and stickers to the pictures to give them a funnier attribute.
No. of Downloads: 100M+, Reviews: 4.4* 4M reviews
This application comes with snapping of selfies with live stickers and 3D filters to share your pictures in a funky way. So, for creating quick and impressive selfies, YouCam Fun is one of the most popular apps like Snapchat.
You can also add frames and adjust the background of the image. The app is capable of automatically detecting your face and applying the most suitable filter to it.
Though there is no option for chatting or sharing in this app, you can use it to create selfies like Snapchat.
No. of Downloads: 10M+, Reviews: 4.5* 275K reviews
You can easily take selfies and shoot videos with plenty of effects and stickers on this well-known photo editing app. There are many tools to enhance the visual effects and make your photo look more creative.
You can add frames, AR stickers, special beauty effects, adjust color, contrast, brightness, and apply your favorite AR filter to make your picture look beautiful.
As you are done creating your snap, you can add it to your social media handle and get more likes & loves.
No. of Downloads: 500M+, Reviews: 4.3* 6M reviews
Are you looking for an AR photo editor app like Snapchat? Well, then Banuba can be an ideal choice for you! This app comes with various live effects and non-standard filters like Snapchat to create cool face mask photos.
You can choose from a variety of AR masks and then share them on messenger and other social media sites. This app comes with 5 trigger effects to create funky snaps.
There is also a wide range of filters to help you create unique videos. You can record anonymous messages and use someone else's voice in the background to make the video more intriguing.
No. of Downloads: 1M+, Reviews: 3.9* 10K reviews
So now, let's look into our next app, Masquerade. It is the first face filter app that emerged right after Snapchat. It comes with a large number of filters. Though the app has not yet added any update for a long time, you can still create some fun photos with its basic filters.
The most famous one is MSQRD – Cinderella story. Presently, this app has become a part of the Facebook face filters.
No. of Downloads: 50K+, Reviews: 3.0* 14 reviews
LightX works as an all-in-one free picture editor app that creates lovely photo collages and picture edits.
You can add your favorite photo frames and stickers to your captured images and create funky looks. Do you know what makes it a good Snapchat alternative? It's the plenty of features offered by the app.
You can make photo cutouts, change picture backgrounds, add various camera effects, blur images, create cartoons, memes, and many more.
There are various advanced photo editing tools to mix and balance colors. You can also easily adjust the brightness and contrast exposure of your photo, along with manipulating shadows and adding other highlights in the image.
No. of Downloads: 10M+, Reviews: 4.5* 462K reviews
Conclusion
Though Snapchat is one of the popular apps with a heavy user base, there's no harm in trying out other variations. Who knows, you may fall in love with the new spectrum of features of other apps. Also, there is no need to opt for subscription plans as the free apps are efficient enough to conveniently do your job.
So, what are you waiting for? Unleash other apps like Snapchat and delve into their features to make your selfie game more enjoyable!