If you are looking for sites like imgur for photo sharing, brand building, or just for fun. Then these 6 Imgur alternatives can be your destination.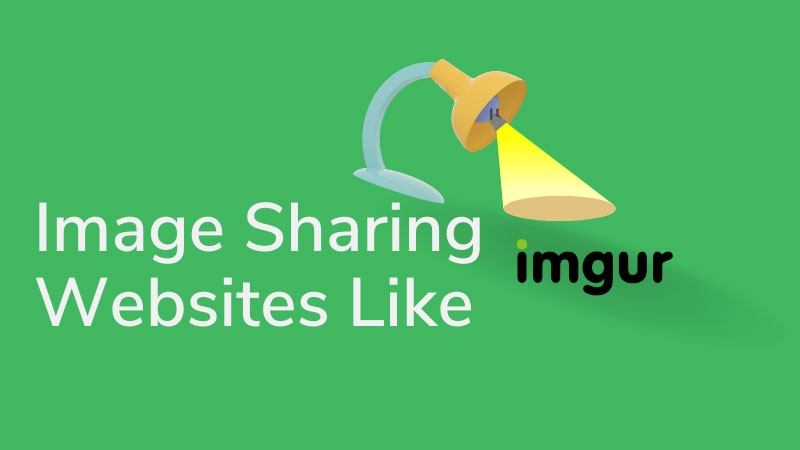 Photo-Sharing is quite popular these days. Times are gone when we consume all the content as text.
These days, we all consume content mostly in the form of images or videos. Thus, image-sharing apps are the destination where we spend most of our time. You might also have used some of these apps or websites like Pinterest, Instagram, Imgur, Snapchat, etc.
These sites are also very helpful in generating business or building brand awareness. However, these websites have reached their peak level, and it has become difficult to grow on these. And those who use them for fun also face some difficulties.
Thus, In this article, we will discuss the list of sites like Imgur that can be your favorites in 2021.
What is Imgur
Imgur focuses on social gossip and is a social media website, an online image sharing and hosting platform.
It was founded in 2009. The Founder of Imgur is Alan Schaaf.
Imgur particularly hosts viral pictures, memes, etc., that are also available on Reddit.
The Imgur was a side project of Alan Schaaf while he was studying at Ohio University.
Initially, Imgur was dependent on donations for its hosting costs.
Imgur was acquired by MediaLab AI, Inc. on September 27, 2021. The MediaLab AI Inc. is a holding company of many online brands.
Imgur ranks 51 in Alexa's Top Sites in the United States of America.
Why use Alternatives of Imgur?
Imgur is interesting and very popular among many users worldwide. However, it has its restrictions too.
The limitations or restrictions of Imgur tend to bore people many times. Moreover, Imgur has become overcrowded in the opinion of many users.
Therefore, it is important to know alternatives to Imgur.
The best Imgur Alternatives can help you discover new platforms. Whether you are an ordinary user using these sites for fun or a businessperson, this list of Alternatives of Imgur will be beneficial for you.
Also knowing alternatives of any website can help significantly as you get to know plenty of features in them. For example – 8 Best iTunes Alternatives for iOS in 2021
What are the best Imgur alternatives?
There are plenty of imgur alternative sites. The best image-sharing sites like Imgur are as follows.
Photobucket
Photobucket is an online platform, web services package, and online community-based in the United States. Photobucket contains over 10 billion pictures from its 100 million active monthly users.
The headquarters of Photobucket is in Denver, Colorado. Alex Welch and Darren Crystal launched the Photobucket in 2003 with backing from Trinity Ventures.
Photobucket is popular for both personal and commercial use. Avatars are shown on Online forums, multimedia storage, linking on blogs, and redistribution in social media are all common uses for links from personal Photobucket accounts.
Photobucket images are commonly connected to online companies, online marketplaces, and classified marketing services such as eBay and Craigslist. Thus, it becomes one of the great Imgur alternatives that you must try.
Explore more about it on – Photobucket
Postimage
Postimage was created in 2004 to give a simple way for internet forums to submit photos for free.
In simple words, Postimage is a free image platform that is easy, fast, and dependable. It's ideal for directing visitors to auctions, web forums, blogs, and other web pages.
Also, Postimage ensures optimum uptime & efficiency, ensuring that your image is available whenever you need it. There is no need to register or log in; simply upload your image.
Postimage is now the leading provider of free image hosting, thanks to continual updates and a devoted team.
Visit the official website of this wonderful platform at – Post Images
Flickr
Flickr is a photo-sharing website and social media platform where users may share their photographs with others. Users sign up for a free account and submit their own photographs (and video files) to start sharing with their internet friends and followers.
However, it is different from other photo-sharing apps or websites such as Instagram and Facebook. The difference is that Flickr is specially designed for professional photographers and photography lovers to showcase their work while also admiring the work of others.
If you are a photo enthusiast, you can also visit the website at – Flicker
ImageShack
ImageShack, founded in November 2003, is a free picture hosting service that lets anybody keep their photos online. It has grown to be among the most significant sites for users to save their photos.
Also, Users may save images of many formats, including JPEG, GIF, BMP, and TIFF, as long as the file size is less than 5 MB.
A membership is necessary to have full access to all of ImageShack's services. However, you can also get a free 30-day trial to get a taste of what ImageShack is all about.
ImageShack provides a high level of dependability and online privacy. Your files are only accessible to you or those with whom you disclose your file locations.
In simple words, ImageShack ensures your privacy by employing cutting-edge technology. You can use ImageShack without any worries by visiting the official website at – ImageShack
Kek. gg
Kek. gg may look simple as the design is simple, and the site is merely a glorified uploading facility.
However, if you value privacy, Kek. gg could be the best place for you. In addition, you don't need to sign up on Kek.gg to upload your files.
The service is likewise devoted to free expression, with almost no limitations on the sorts of photos that may be stored on its servers. It will be acceptable as long as the image is lawful in the United States. As a result, it's an ideal choice for posting NSFW stuff.
Lastly, Kek.gg, fortunately, is an ad-free portal. Uploads, however, are restricted to 5 MB, which may be insufficient for a tiny JPG.
UNsee
Unsee is different from the other sites on the list. UNsee allows the uploader to add an expiration date to the image.
Also, You can set the image to erase itself in 10 minutes, 30 minutes, an hour, or a day after it is first viewed.
To further enhance security, the IP address of everyone accessing the file has a watermark on the image. That means whoever uploaded the video can know who saw it and is less likely to be shared again. Each image also has its own QR code. Thus, it becomes the safest option for any user.
In Conclusion, the above-mentioned list of Sites like Imgur can significantly help you. Also, you can visit our website – Roboniqe to read more informative blogs.