Pushbullet is one of the most used utility tools, which is used to transfer files between your PC and Android Devices. Pushbullet also helps users to send Text messages from PC, see your android phone's notifications, share links between PC and phone, Send messages directly to Whatsapp, Kik, etc., and much more. But the free version of Pushbullet comes with limitations compared to the Pro version.
The free version of Pushbullet comes with the limitation of sending files up to 25MB only, and the free version provides only 2GB storage space.
Compared to the Free version, the Pro version of Pushbullet provides up to 1GB for sending files and 100GB of storage space. It also gives pro features like Mirroring your Notifications actions from your android to PC and Universal Copy & Paste between Android and PC.
However, the Pro version charges around $39.99/year and $4.99/Months, which is high for students.
Fortunately, whoever is searching, there are several free alternative to pushbullet, which you can use for free.
10 Best Free Pushbullet Alternatives
1. AirDroid
AirDroid is a powerful and best alternative when it comes to Pushbullet alternatives.
With AirDroid, you can transfer unlimited files between your PC and Android or iPhone devices, and you can also manage your phone files remotely. Also, you can access your notification from your PC, and you can send & receive messages and emails from apps like Whatsapp, Instagram, Facebook, Line, Gmail, etc.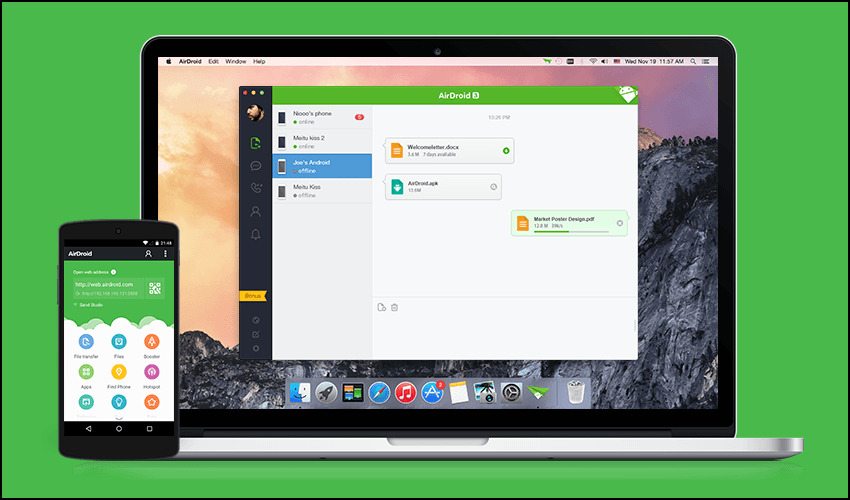 The one thing which separates AirDroid from Pushbullet and makes it best is their remote control feature in which you can directly access the screen of your phone in your respaced PCs. It will mirror your Android or iPhone interface to PC, which means you can control your Android or iPhone devices directly from your PC. Android has a lot of resource-intensive tools, which make it a little laggy sometimes.
Airdroid also provides a beautiful interface for PC that is used to access all the features provided by Airdroid, which www.web.airdroid.com can access on PC.
However, After giving some additional features like Remote control and unlimited file share, Airdroid lacks some features like universal copy & paste and features like the ability to share links.
AirDroid also has a Premium subscription plan priced at $1.99/month or $19.99/year. Its premium plans are however more cost-effective than Pushbullet's paid plans.
Availability: Android, IOS, Windows, MacOSX, and AirDroid Web supports all web browsers.
Download: AirDroid (Free)
2. KDE Connect
KDE Connect is an open-source project which aims to communicate with all the devices.
KDE Connect is an excellent alternative if you want to make changes and want any custom commands in KDE Connect. Hence it is open-source. Any users can make changes to this app.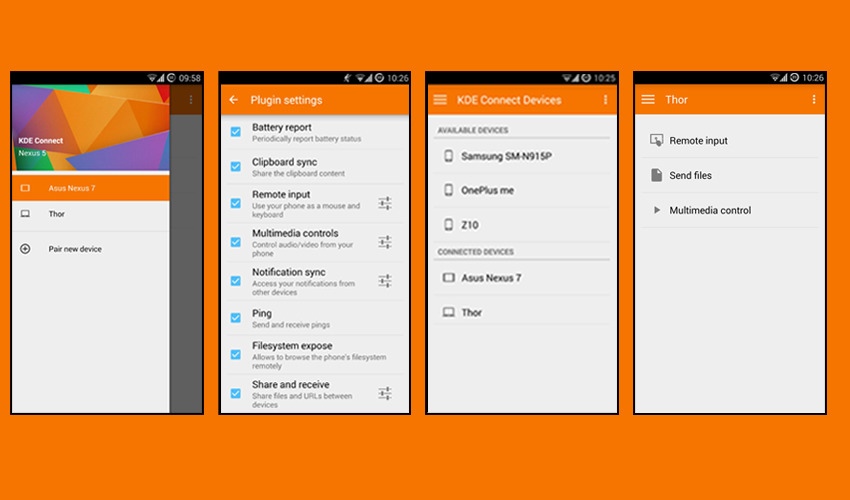 KDE Connect provides features like Multimedia file sharing with unlimited size, Can give access to read your android notifications from the PC, access incoming calls and SMS directly from your PC, and provide universal copy & paste between your android and PCs, and also share URL links between your devices.
KDE Connect also provides fantastic features which can turn your Android devices into a touchpad for a PC from which you can control your mouse movement using your mobile screen.
Users can add fully customizable commands like shut down your PC from your android device, lock the PC, or any other predefined command available for your respected computer.
KDE is limited to several devices.
Availability: Android, Windows, MacOSX, and Linux
Download: KDE Connect (Free)
3. Crono
For the users searching for an advanced and best notification mirroring experience for your PC, then Crono can be the best Pushbullet alternative, even better than the AirDroid.
Crono comes with a Lightning fast push notification that can receive notifications, phone calls, Slack messages, and Whatsapp messages straight to your PC.
Just like Pushbullet, Crono comes with almost the same features like file transfer up to 25MB, link sharing, and also users can share their clipboard of the phone to PC.
Crono also comes with a Find Your Phone feature, which helps users find their phone by ringing the phone directly from the user's PC.
Crono also comes with a Premium version which will cost $1.68/month, $13.77/year, or $50.98 for lifetime access which is very cheap compared to Pushbullet.
Availability: Android, Windows, MacOSX, and all web browsers.
Download: Crono (Free)
Also Read: Rabbit Alternatives to Watch together
4. AirMore
AirMore is a convenient pushbullet alternative to transfer files between phone devices and PCs.It is a cross-platform tool that can work on Android and iPhone.
Unlike Pushbullet, AirMore provides a feature of Multimedia Streaming which helps users to stream music, videos, and pictures to their PC quickly without transferring it.
AirMore also comes with all the other features like File transfer, making and receiving calls, sending and receiving messages directly from your PC, and features like Screen mirroring and controlling.
Availability: Android, iPhone, Windows, MacOSX, and all web browsers.
Download: AirMore (Free)
5. Your Phone
Your Phone is official Microsoft software that supports only android and windows devices. Your Phone is a full-fledged device manager which can access many android features compared to Pushbullet and AirDroid.
Your Phone comes with features like making and receiving calls directly from your PC, receiving and accessing device notifications, sending and receiving text messages, Copy & paste content, unlimited size file transfer, streaming recent android photos right into your PC, and also using Your Phone you can access mobiles apps instantly from your PC.
Your Phone's only disadvantage is its only works on Windows PCs and Android devices; iPhone, MacOSX, and Linux users cannot access it directly.
Availability: Android and Windows
Download Your Phone: Windows (Free), Android (Free)
6. EasyJoin
EasyJoin is a very new app in the Android ecosystem relative to pushbullet, but it has gained huge popularity very quickly among computer geeks.
EasyJoin comes with unlimited size file transfer features, accessing devices notifications and alarms, sending and receiving messages, and sharing links between phones and PCs.
Can calls directly from the PC.
EasyJoin also provides features to remote control your PC using the phone by converting the phone screen with a mouse action.
Availability: Android and Windows, MacOSX, Linux, and all web browsers.
Download: EasyJoin (Free)
7. Join by joaoapps
Join allows users to do stuff remotely on their Android devices and PCs very quickly. Compare to all other pushbullet alternatives; Join comes with more features.
It supports all other features of pushbullet like receiving and accessing notifications, sending and receiving SMS, and MMS and other messaging apps like Whatsapp. It can be used to share and copy content from an android clipboard, transferring unlimited size files between android devices and PC, and comes with features like finding Your Android device to locate your device location by making it ring loud.
Unlike other pushbullet alternatives, Join comes with some remarkable features like using Google Assistant on PC, opening web pages remotely, taking screenshots of android devices, and users can write directly from PCs in android devices.
Join can also be integrated with Deep Tasker to make custom actions like opening App settings and asking queries to users' devices. Using Deep Tasker with Join, users can fully customize the Join app if users want.
Join is only free for 30 days trial, and its premium version comes with a one-time payment of $4.99.
Availability: Android and Windows and all web browsers.
Download: Join (Trial of 30 Days)
8. ApowerMirror
ApowerMirror is a screen mirroring app for Android and IOS devices and the best pushbullet alternative for iPhone users.
ApowerMirror also comes with features like pushbullet, but it can mirror android devices with audio which means users can play games and watch videos by casting your android or IOS devices with wired USB or through WIFI wirelessly.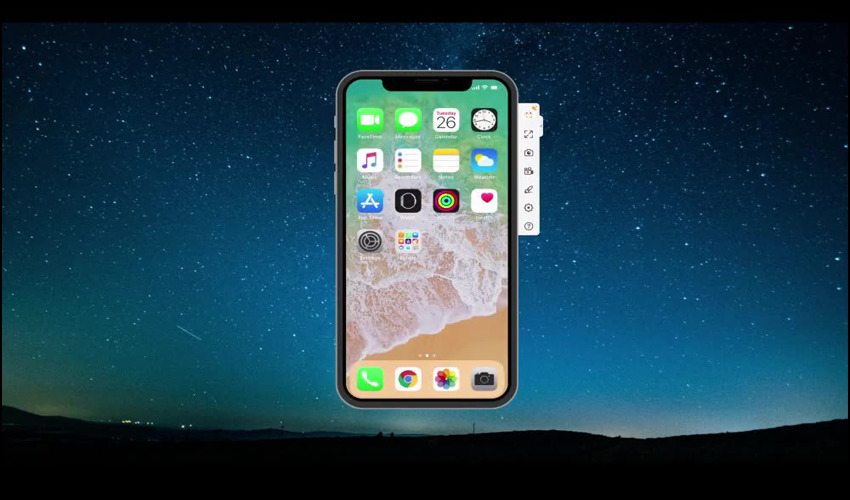 Some highlighted features of ApowerMirror are pretty interesting, including casting users' PCs to their respective devices, which means users can control their PCs directly from the phone device. Using ApowerMirror, we can mirror one phone to another phone, and we can control the other phone using any android or iPhone device.
Other features include controlling mobile devices with the PC's mouse and keyboard, which can be used to play games, watch videos, record the screen of different devices, including PC from mobile, add notes, and much more.
ApowerMirror also works on SmartTV.
Availability: Android, iPhone, Windows, and MacOSX
Download: ApowerMirror (Free)
9. MightyText
MightyText can be an impressive pushbullet alternative if the user is searching for a tool to manage its all messaging app from the PC.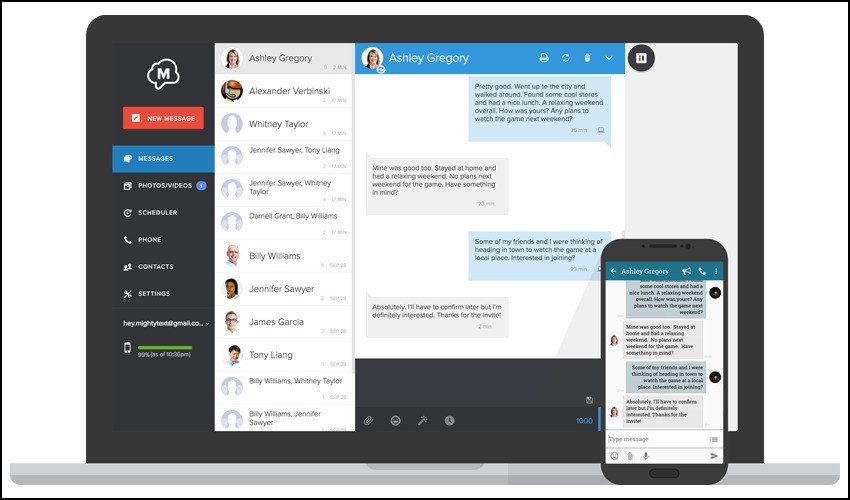 MightyText can manage all the messaging apps like Whatsapp, Snapchat, and Uber directly from your PC and schedule SMS. MightyText can also send mail from Gmail and access few notifications like low battery alerts and priority ringing.
Availability: Android and Windows
Download: MightyText (Free)
10. Scrcpy by Genymobile
Scrcpy is not the same app as Pushbullet, but it can be an excellent Pushbullet alternative. Unlike all the other apps and tools mentioned above, scrcpy is an open-source software downloaded on any PC.
The only feature scrcpy provides is that it will directly give your device access to the PC through mirroring your device. It is excellent for students because it is entirely free and can also be modified as per users' needs.
Scrcpy can connect using wired USB or Wirelessly using WIFI.
Availability: Windows, Linux, and MacOSX
Download: Scrapy (Free)
Try Out These Pushbullet Alternatives
Pushbullet is undoubtedly a brilliant app, but it has many limitations, and it lacks many unique features compared to its alternatives. If you search for the best Pushbullet alternatives, try the apps mentioned above and try them out. Let us know your thoughts and suggestions in the comments sections below. Also, if you think that we miss out on any app, drop them down too.