If you want more advanced features or want to try some more audio editors like audacity then you must read my blog about best audacity alternatives.
When I started my first YouTube channel, Audacity was the first audio editor I used. The simplicity, advanced feature and free to use program are the features which makes audacity a perfect choice.
Audacity is an open source program. It is audio editor and recorder. It is also available on all major operating systems like Windows, Mac and Linux.
You can use various plug-ins and libraries with audacity for more features. You can also use multiple tracks in audacity and mix them together.
But sometimes you might improve quality of your audio more than audacity can do. In that case you would need these programs.
I divided this list into two categories. Free alternatives of audacity and Paid audacity alternative.
3 Best Free Programs Like Audacity
Audacity is not very popular for music file editing and does not record multiple devices. For mp3 file you have to install LAME MP3 encoding library.
For some other tasks and more complex features you should give a try to other alternative to audacity.
Wavosaur
If you are very familier with audacity user interface and looking for another audio editor with same look then wavosaur is another option.
Wavosaur is very small size software and good thing about this editor is that you need not to install it. You can simply use this software after downloading zip file.
In audacity you can't edit multiple projects that mean you have to bring all audio files in one project. In Wavosaur you can edit multiple projects using its multi-document interface.
All basic editing functions like cut, copy, trim, delete and processing functions like stereo to mono, mono to stereo, normalize level, fade in/out etc. are available.
Using this sound editor you can apply VST effects to one entire folder. You can import and edit loop points and marker information in wav files.
It also gives you the ability to export file as text for using in simulation softwares like Matlab, PSpice or even Excel.
You can use VST effect plugin to use VST effects in Wavosaur. It gives you detailed frequency analysis 2D and 3D spectrum.
One of the advanced feature of wavosaur is that its commands like play, stop record, control output volume can be triggered by external MIDI controller.
Available on: Windows
Price: Free
Ocenaudio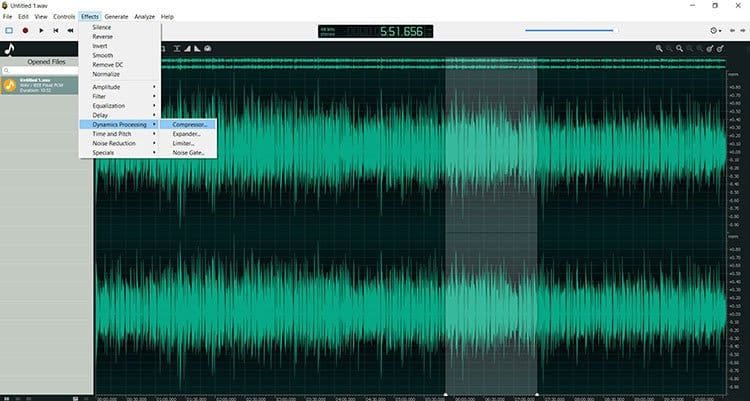 Ocenaudio has simplest design and can be used for quick audio editing. It is cross-platform audio recorder and editor so you can use it on windows, Mac OS X and Linux.
The interface and control on all the platforms are same so you need not to learn it again for different platform.
It provides real time preview of different audio effects such as EQ, gain and filtering. In this editor you can select different portions of an audio file, listen them and apply effects only to those specified portions.
It is very light editor with advanced memory management system which keeps files open and does not bother computer's memory.
You can also see spectrogram view of audio file and also see the effect of change in real time.
It also supports Virtual Studio Technology (VST) plugins and effects of them can be seen as real time preview.
Available on: Windows, Mac OS X, Linux
Price: Free
Wavepad
Wavepad is professional audio and music editor and available on all platforms like Windows, Mac, Android and iPhone. It gives you the ability to record and edit music and audio files. This software has free version for non-commercial use.
This audio editor has many audio effects like amplify, normalize, reverb, echo, reverse and many more.
Wavepad allows use of DirectX, VST plugin, batch procession, scrub, search and bookmark audio files.
You can also use advanced tools which includes speech synthesis (text to speech), spectral analysis (FFT) and voice changer.
This editor supports large range of audio and music files like WAV, MP3, VOX, AIF, AAC etc.
This music and audio editor developed by NCH Software. With installation you will get tab on left side with link to tutorials to understand interface of software.
Available on: Windows, Mac OS X, Android and iPhone
Price: Free (Non commercial use)/Paid
Also Read:
Dual Monitor Set for Windows
Audacity Paid Alternatives
Free audio editors are good for beginners. But if you are looking for advanced audio editing software for digital audio production needs then you should look for another audacity alternatives.
Adobe Audition
As I already told Adobe Audition is not free but if you already have Adobe Creative Cloud subscription then you must try this. Another reason to use this software is that you get access to vast variety to effects, tools and plugins.
Adobe audition's interface is quite complex if you compare it with audacity and of course if you are beginner too.
If you are advanced user then Audition's interface may look simple to you. One thing I like about Adobe Audition is that if you have to stop your recording then you can start from the place where you left.
But in case of audacity if you stop recording and start again a new track will be created.
Using Audition you can record multiple microphones on different tracks simultaneously.
Adobe audition has many keyboard shortcuts, batch processing feature, DeReverb, DeNoise, DeClicker effects, Auto ducking and Spectral display of waveforms.
Available on: Mac, Windows
Price: Free Trial / 20$ per month
FL Studio
FL studio is one of the best software for music creators, mixers and editors. Its interface is very customizable for advance level music production.
It has three modes for editing which are Step, Note and Drum modes. In step mode you can create patterns and sequence, in note mode you can add melodies, harmony and in Drum mode MPC style 16 or 32 pad layouts can be added.
It has large number of presets and VST plugins for adding hundreds of effects to your audio.
This is paid software but as promised by FL Studio you will get lifetime updates for free.
FL studio is available for Windows, Mac, android and iPhone users. This software is 20 years old and used by professional film makers and music artists.
Available on: Mac, Windows, iPhone and Android
Price: 99$ to 899$