The popularity of Flickr as a photo-sharing and hosting service is simply unbelievable. Its advanced and powerful features are simply great for any photo enthusiast. But is it the only reliable application that you can use for convenient photo sharing and uploading? Standing at 2021, the answer is No.
There are plenty of other Flickr alternatives, which are rolling out in the app stores and giving users the best photo-sharing experience. Hence, there is no point in sticking to this single option if you are not finding it enough to meet all your requirements related to features and functionalities. So, we are here to help you with the most convenient Flickr alternatives for 2021. Here, check them out!
Best Flickr Alternatives for Photo Sharing
500Px is one of the most incredible photo communities and a highly intuitive Flickr alternative, where you can get inspired by fantastic photos with a much diverse style and genre from around the globe. It serves to be a good platform for sharing all your images and connecting with other photo enthusiasts. Thus, it ensures the best opportunities to come within your fist.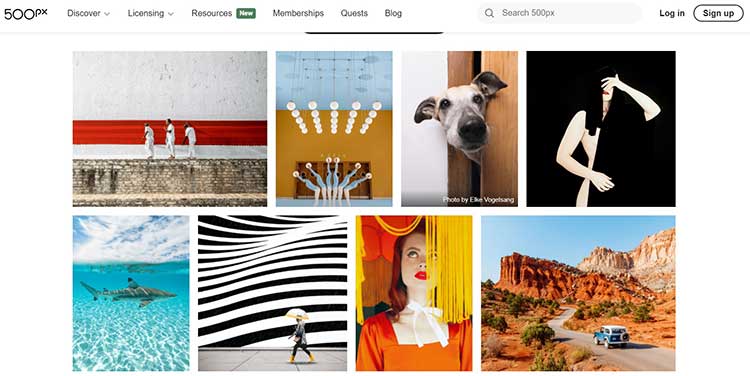 What does their official community have to say about their service?
It ensures your growth as a great photographer, as you get complete exposure to the entire world of photography.
They claim to build your career since the platform lets you present yourself as a professional photographer.
It offers a quick and convenient way to show how you are performing with your photography.
Pros:
The inspiration tab in 500Px is highly impressive
Easy-to-access search engine
Includes authentic reviews that help you learn from others
Easy searching of all your preferred content
Cons:
Earning money here is a bit tough
Final Verdict:
This photography-sharing application is great for those who want to unleash their career in photography. Hence, it is one of the best alternatives of Flickr that comes with plenty of opportunities to connect to the whole photography world.
DeviantArt aims to build a bridge between art and the various communities. As one of the highly intuitive Flickr alternatives, it serves to be one of the largest communities where you can get access to at least 350 million art pieces. At the same time, you can upload your art while connecting to many fellow artists and art enthusiasts.
What does their official community have to say about their service?
They aim to give exposure to artists to the entire world where their art can get the deserved appreciation and recognition.
They want to connect a diverse array of arts from various cultures to reach out to every corner of the world.
The artists can also get sufficient opportunities to have more effective recognition throughout the world.
Pros:
This site is entirely dedicated to art, which showcases a variety of art forms
Offers free membership, and some advanced features come with premium membership
Connects with a large community of artists
There is no censorship for art
Cons:
The site gets updated with frequent changes, which are tough to cope up with
Final Verdict:
As one of the highly intuitive photo-sharing platforms, DeviantArt stands out as an artist's favorite. Here, you can easily upload, connect and reach out to a rich artistic community to enhance your network and knowledge.
Google photos are one of the popular applications available in almost every Android phone. Whether it is photo and video storing, optimizing, editing, or sharing with your community, Google Photos offers all these features at ease. It comes completely free and is too easy to use while integrating with your Gmail id.
What does their official community have to say about their service?
This app strives to take care of all your photo and video memories available across your logged-in devices.
Google ensures secure backup for your photos and videos to make your gallery optimization easier.
With an easily searchable feature, your photos and videos saved here can be quickly discovered.
Pros:
Ready to set and upload at anytime
Fast and convenient sharing
Easy and assured backup
Quick managing of all photos and videos
Cons:
Editing features need more inclusions
Final Verdict:
While most photo-sharing applications come with complex features, Google Photos is utterly different from them. You can easily save your pictures without sharing, or you can share the photos at any time with a few clicks. Nothing is complicated here!
Now, what does Imgur have to offer you? It comes with a significant opportunity to easily explore and share the latest pictures, GIFs, and memes. Imgur takes you to a whole new community, where you can stay connected with a large number of people and share your photos.
What does their official community have to say about their service?
It facilitates extensive exposure to a vast community with all types of graphical content.
The easy sharing option of your uploads ensures the quick spreading of your talent to other large-scale users.
Fast and effective sharing, along with other valuable features, offers better growth opportunities.
Pros:
Ease of sharing with only a few clicks
Makes it easier for posting all types of content
Connects you with a large community
Highly entertaining
Cons:
Not so effective for earning money
Final Verdict:
Imgur serves to be one of the best Flickr alternatives, which comes with plenty of sharing options for memes, GIFs, and other funny content. For entertainment purposes, this is simply a great one to opt for.
End Words
So, are you looking for some of the best Flickr alternatives that offer a seamless photo sharing experience and connect you to large communities for better recognition? Well, then you can try out these highly reckoned platforms.
500Px is simply outstanding for those who want to accomplish better opportunities to stand out in the world of photography
DeviantArt is built for art enthusiasts and artists to showcase their talent
Google Photos is highly responsive for organizing, storing, and sharing photos and videos.
Imgur comes as a good social sharing platform for sharing funny images and GIFs.
However, always keep in mind to pick the one that rightly suits your photo sharing purpose.
Also Read: