From a very long time we have been using this communicating service called, WhatsApp.
Nowadays this App has replaced our regular messaging app due to its simplicity and WOW features.
User can easily share text, media like modern day stickers, photos, videos, perform audio calls or simply do a video call with friends and family.
WhatsApp is capable of almost anything for communicating. WhatsApp released a separate standalone app, specifically targeting small business owners, called WhatsApp Business.
Today we are going to look at all the differences between WhatsApp vs WhatsApp Business.
Although WhatsApp Business App is free to use and does the same job as regular WhatsApp.
The demand for this app came up when most of the business owners were finding it difficult to communicate with their customers via regular WhatsApp app.
We will closely look into how business owners find it easy to communicate with their customers by observing differences between WhatsApp Messenger and WhatsApp Business.
Is WhatsApp Business App Really Required?
The requirement totally depends on the user. WhatsApp messenger offers a great service with multiple features. But, if you want more business-rich features, which are listed below.
Then it is better to opt for WhatsApp Business. Moreover it is free to use and offers stress-free techniques of running smooth business operations.
WhatsApp vs WhatsApp Business
Logo/Icon Changed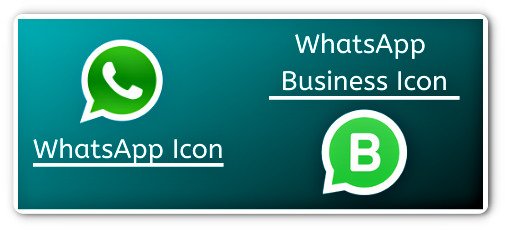 WhatsApp has changed the look of its Business App.  Both of the apps look the same but there is a "B" written in the WhatsApp Business App logo.
This "B" differentiates regular WhatsApp messenger logo from the WhatsApp Business messenger logo.
Chat Identification
WhatsApp notifies you if a message has come from a regular WhatsApp messenger or a WhatsApp Business app. It displays a small alert stating "This chat is with a business account. Tap for more information".
This makes the user well informed in the beginning itself, that the chat is taking place with a business account.
Business Settings
There is a business settings option in Whatsapp Business App. Now business owners can show their business profile to their customers, this helps customers find relevant businesses near them.
Information like Brand Name, Category, Location, Description, Working Hours, Email, and Website URL get visible for business transparency.
This gives customers more options to contact business owners. Plus, it also brings in genuineness and trust between sellers and customers.
As soon as a customer receives a message from a WhatsApp Business account, he/she is immediately alerted by the alert, "This chat maybe with a business account". This is a big difference between difference between whatsapp business and whatsapp messenger.
App Availability
Just like how WhatsApp messenger is available for Android and iOS. Similarly, WhatsApp Business app is also available for both Android and iOS mobile market.
Greeting Messages
One of the features mostly used by business owners, Greeting Messages on WhatsApp Business. This feature helps business owners by sending cool greeting messages to their customers.
Set up the custom greeting message for your customers. They will get it once they have initiated the conversation. You can even select the recipient of the message.
It works well if you are managing multiple activities and it's difficult to monitor every conversation or a quick reply.
In case of any in-activity, this feature can be set to automatically send a greeting message to a customer after 14 days. Making this a notable difference between WhatsApp Messenger and WhatsApp Business.
Either ways, customers are bound to feel nice after they get a cool greeting message.
Quick Replies
WhatsApp Business app comes with another special feature called Quick Replies. Set up custom messages and/or templates for similar type of questions or frequently asked questions.
This is an activity which can't be done by regular WhatsApp. That brings an upper hand when talking about WhatsApp vs WhatsApp Business.
Quick replies can be performed by pressing the slash key "/" and it will drop down a lost of all available quick relies. Chose the one which suits your need.
Automated Away Messages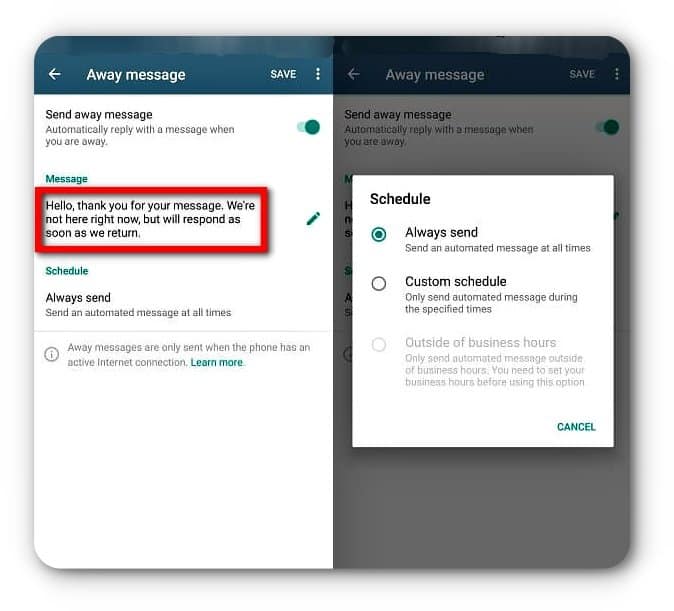 Another small yet powerful feature which brings a real difference between WhatsApp messenger and WhatsApp Business is the Automated Away Message.
Inform your customers that you are away or let them know when to visit your website, or when to get back to you.
This creates a transparent conversation in your customer's mind. Leading them to think positive about you with good business etiquettes.
Moreover, you can also customize the message, add schedules, and change the recipient of the away message.
Message Statistics
With WhatsApp Business you get a feature called as Message Statistics, which is not seen on the regular WhatsApp app.
You can check your sent messages, delivered, read and received. Unleash the power of your messaging tactics and let this work as a tool to guide you with further messaging tactics.
So that you can ensure a successful sale takes place with the customer.
Apply Labels for Grouping
This feature is significant for sorting and segregating your conversations. WhatsApp Business app comes with a Label feature. This is what brings out the ease of conversation between WhatsApp vs WhatsApp Business.
Create labels which reflect your business activities like new orders, payments received, payments pending, etc. Each label can be colored differently for simplicity and quick views.
This drastically keeps you focused and stress-free between multiple activities and messages on WhatsApp.
Verified Business Marking
As a business owner who wouldn't want to have their business marked as "Verified", in the online world. Yes, you heard it right, Verified Business Marking. It is possible with WhatsApp Business.
The word verified is very powerful in the online world of buying and selling. Customers immediately build a trust in their minds as soon as they see the verified business mark on your profile. WhatsApp has added few more options like confirmed and standard too.
So in short, WhatsApp has added 3 different profile options – verified, confirmed and standard. This has been brought to avoid any type of misuse. This is a remarkable difference between WhatsApp Messenger and WhatsApp Business.
Register with LandLine Number
One of the other awesome difference business owners can compare between Whatsapp business vs Whatsapp is the power to register a business account from a Landline number.
WhatsApp Business allows users to register from a landline number. Provided that number had never been used for registering with WhatsApp Business earlier.
Start verifying by tapping Call me option to request a phone call with a verification code. Business owners are definitely going to a see this as an additional feature when comparing differences between WhatsApp and WhatsApp Business.
Note: Only use landline numbers which are free from extension codes.
Also Read: How to Logout from Whatsapp Web
Quick Search Filters
Just like how WhatsApp Business users could easily create labels and segregate their conversation. Similarly, it is now very easy to locate conversations from particular chats, groups or labels by applying filters.
WhatsApp Business has introduced a better feature, called as Quick Search Filters. Just apply the filter and easily locate the conversation you are looking for. Bringing out a better feature of productivity when comparing between WhatsApp vs WhatsApp Business.
Before we conclude, let me answer one of the most burning question multiple people have asked me.
Can we use both the apps on the same device?
Yes, you can use both the apps but they should be registered with a different mobile number.
If you are using a dual SIM phone then it is easy to set up. But, you can't use the same number for both the different versions of WhatsApp.
Conclusion
So, these were all the differences we saw between WhatsApp Business vs WhatsApp. Knowing a few things here and there, you can unleash powerful features of WhatsApp.
That can not only save you a lot of time but keep you focused on other activities which are required to be done for a successful smooth operations of business.
So, what are you waiting for, start WhatsApp Business today and explore how these features can help you in your day-to-day business activities.
If at all you come across some other points or differences between WhatsApp and WhatsApp Business, then do let me know in the comments section.