Are you facing difficulty in uploading files to Google drive? Getting this type of frustrating error Waiting to Upload. And finally looking for google drive alternative.
Then Wait!!
Read this article and find the way to solve the Google drive waiting to upload error.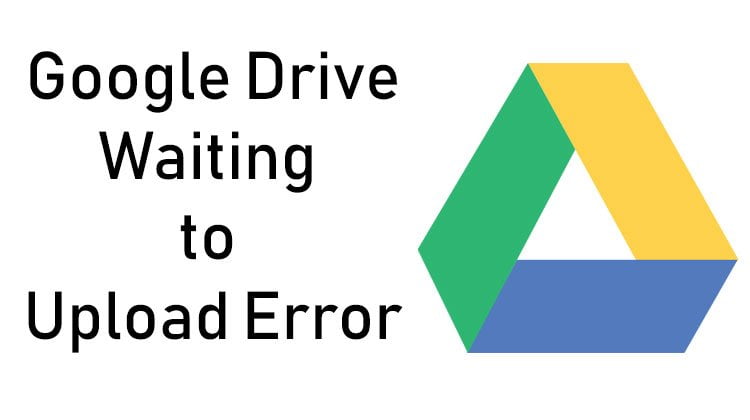 Phone camera quality increasing day by day, so phone memories are not enough to store photos and videos.
People love to upload their moments to a safe place from where they could recover everything easily.
Google drive is the best place to store files including photos, videos, documents and a lot of other formats.
Google offers 15 GB of free space for every google account for storage. So google drive is the best place to store data.
But sometime you may face google drive not working and uploading errors.
Let's find out how to solve google drive waiting to upload error.
What is Google Drive Waiting to Upload Error?
Google Drive is by default installed App for android phones. Or you can also install google drive from the Google play store.
The other common reason is trying to upload many files at once, then also you may see waiting to upload error.
And sometimes this error may also occur even with a single file.
See one of the most common reasons for this upload error is uploading so many files at once.
So the best solution is to upload files one by one. But sometimes you have to upload all files at once. In that situation, you can try some methods which are given below to solve this error.
Google Drive Waiting to Upload Error Fix (2023)
This error may occur due to many reasons so the solutions to the problems also vary depending on the problem. We would move from the most effective solution to some common solutions to the problem.
Turn ON Transfer Files Only Over Wi-Fi
Sometimes this error may occur due to one common setting which is back up over Wi-Fi on your Android phone. In that case, you will error message like google drive waiting for network or Waiting for Wi-Fi network error.
This is a very common issue for this problem. To solve this error follow these steps.
Step 1: Open Google Drive and click on three lines on the left-hand side.
Step 2: Tap on Settings to open settings.
Step 3: Turn ON Transfer files only over Wi-Fi under Data Usage.
This will solve google drive upload paused waiting for network issue.
If you have done this setting correctly and connected to Wi-Fi but still facing this error then you have to try reading other methods to fix waiting to upload on google drive error.
Clear Cache of Google Drive App
Google Drive cache is different from the mobile storage cache. To solve this uploading problem clear the google drive cache.
Drive cache files are temporary files. Deleting those files will make this app works faster. And it will not affect any file stored on the drive.
First, clear the google drive app cache
Follow these steps to clear google drive cache
Step 1: Open Google Drive App.
Step 2: Click on the left-hand corner and go to settings.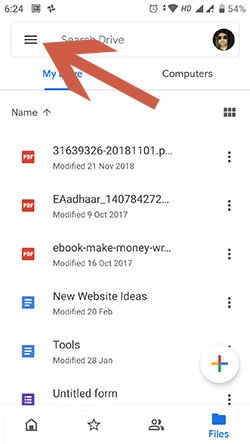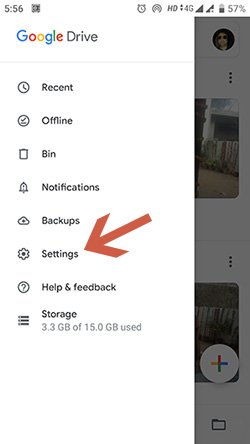 Step 3: In setting click on Clear cache and press OK.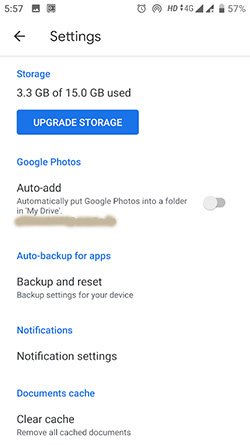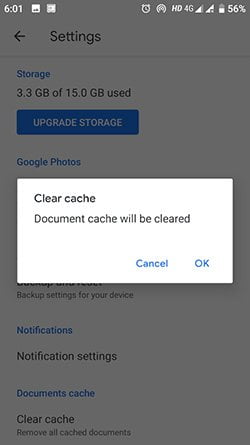 Step 4: Now restart your mobile and start uploading files again.
Force Stop Google Drive App
You can easily uninstall apps which you installed later from the google play store. But some Apps are installed on mobile and you can only disable or force-stop them.
If you found google drive waiting to upload error then you can try the force stop app.
It will terminate all the processes the app is handling. Hopefully force stop google app will not affect data already stored on the drive.
But data loss may occur so try it with precaution.
To force stop google drive app follow these steps.
Step 1: Go to phone settings and click on Apps & notifications.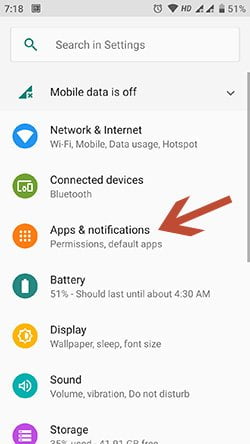 Step 2: Open Google Drive App from the settings.
Step 3: Click on Force Stop and open google drive app again.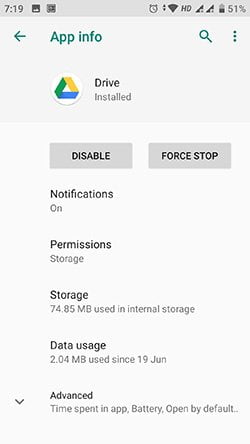 Now try uploading files again. This time it will cause no issue.
You can also try disabling the app but to enable it you again to reach out to the same setting option again.
Turn off Transfer Files Over Wi-Fi
By default setting in the google drive app is transfer files only over wi-fi. We confirm this setting in first solution. This setting is turned ON to save mobile data as you may have limited data on your phone.
And you may be trying to upload files by using your phone data. In this condition, your files will not be uploaded to the drive.
You may see an error and see while trying to upload files.
In this case, you have to turn off that setting and to do you have to follow these steps.
Step 1: Click on the left-side three-bar menu in the google drive app. And go to the settings tab.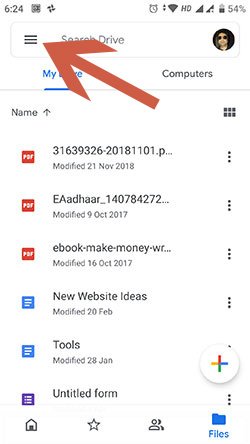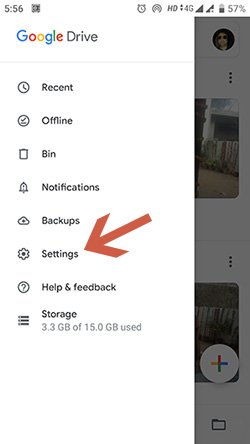 Step 2: Here turn off transfer files only over wi-fi.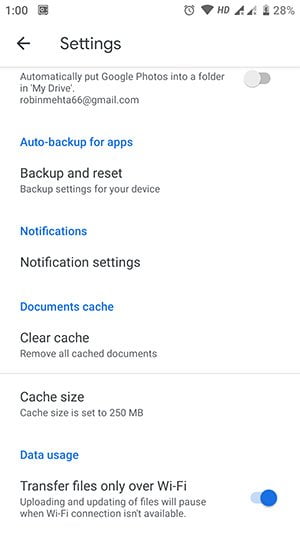 After this, you could transfer files by using mobile data also.
Restart Smartphone
Like PCs, phones also got hung and restarting the device can solve the problem. In case google drive not uploading android files, you should restart your phone.
After restarting, your smartphone will work more smoothly. Now you can easily upload files on google drive without any error.
This solution may work as the quickest solution to the problem.
Try Changing the Internet Connection
Sometimes google drive incomplete upload or waiting to upload error may be caused by the internet connection.
So either you check your internet connection upload speed as it may be different for browsing speed.
Or you can try switching between mobile data and a wi-fi connection.
Check for Updates
Using an old not updated OS version may cause serious issues. So if you are using an old OS look for an updated version.
You can simply check if an updated version is available in the setting of your phone.
Moreover, you should also check that google drive is also updated. If you turned off the automatic update then you may be using the old version.
So update google drive to the latest version and restart the phone. Then try uploading files to google drive.
Hope these solutions will work for you. Tell me in the comment section which solution works best for you.
Reinstall Google Drive App
This method is the last method to solve Google Drive errors. First of all, you have to uninstall Google Drive App from your phone.
Follow these steps to uninstall Google Drive App:
Step 1: Go to Phone Settings and Open Apps.
Step 2: Go to Drive App and click on Uninstall to uninstall Google Drive.
Now install Google Drive again from the play store and waiting for the upload error will be solved.
Conclusion
These methods will definitely solve waiting for network google drive error. But if any of these methods not working for you then you should try this trick. Open google drive on PC or Laptop and transfer files from mobile to pc.
Then from your pc, you can easily transfer all your files to Google Drive without any issue.