Just started using Snapchat and don't know how to find someone on Snapchat without username or number.
Then you are at right place. As I am going to tell you how you can find someone on Snapchat.
Snapchat is very popular social media app which you can use to send text, photos, videos and drawings to your beloved ones.
The main feature of Snapchat is that whatever you send from this app vanishes after viewed. Just like world vanished from Thanos fingers.
But you can change setting when "Snaps" i.e. messages or photos etc. disappears. You can also save them to your phone by tapping once.
Amazing Right!!
Now let's check out how to find people on Snapchat with all possible ways.
Also Read: How to View Snapchat Stories Without Them Knowing
How to Find Someone on Snapchat without Username or Number
Find someone on Snapchat with Snapcode
Snapcodes are unique way to add friends on Snapchat. You can easily scan snapcode with Snapchat app camera.
And that person will be added with you on this app. But for this you need their Snapcode so its not like you can add anyone.
Adding someone on Snapchat is like following them and that person may or may not follow you back.
So let's check the steps on how to follow someone with code.
If your friend is sitting near you
Step 1: Say your friend to open profile section and click on create my bitmoji.
After saving bitmoji snapcode will appear on top in yellow square with dotted pattern.
Step 2: Open Snapchat on your mobile and go to camera option.
Step 3: Scan your friends snapcode with your mobile's Snapchat camera.
When Snapchat will scan snapcode successfully it will show you the option to add user as friend.
Now depending on that user's setting you can follow him or add him as friend and see his public posts.
If your friend is far from you
Even if your friend or person you want to follow or add as friend is not with you. Then also you can scan his snapcode and let me tell you how.
Step 1: For this your friend or anyone who want share his snapcode just need to click on snapcode/bitmoji in profile section.
Step 2: Now it will show three options Send Username, Save Snapcode and Share Snapcode. Click on Share Snapcode and your friend can share it with you using any app.
Step 3: Now open your Snapchat and click on Add friend icon on the right.
Step 4: Click on little snapchat icon on right in search bar.
Step 5: Tap on snapcode sent by your friend. Just follow the instructions and that's done.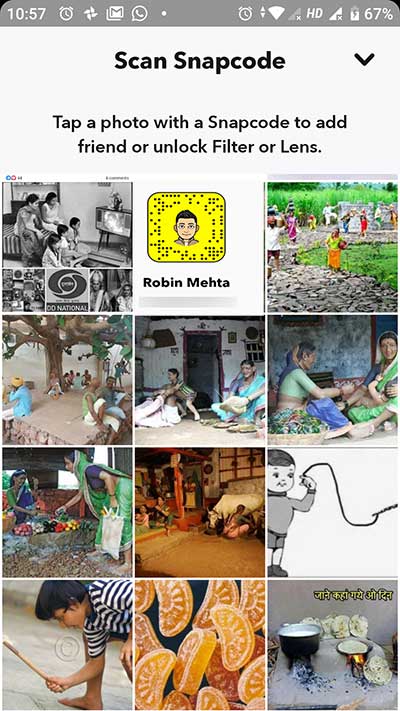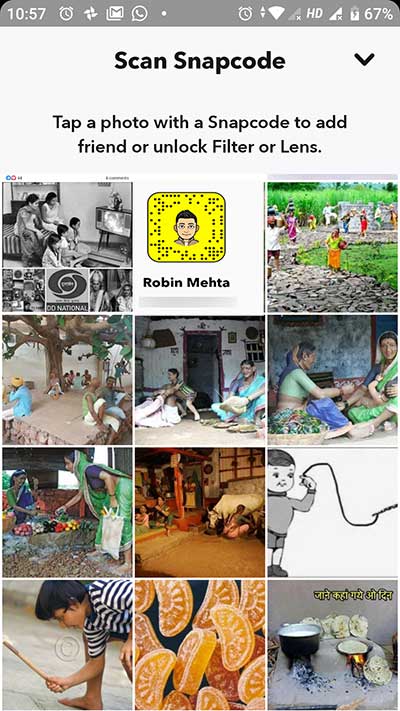 Also Read:
Find someone with Snapchat Username
You can easily find your friends on Snapchat by username. Snapchat usernames are unique and cannot be changed. Just follow these simple steps to add someone.
Step 1: Open Snapchat and tab in the search bar at the top.
Step 2: Type the username of the person you want to add. Snapchat will show some other similar names.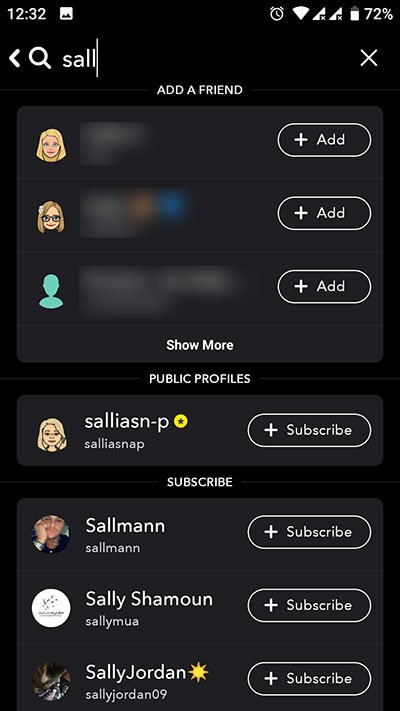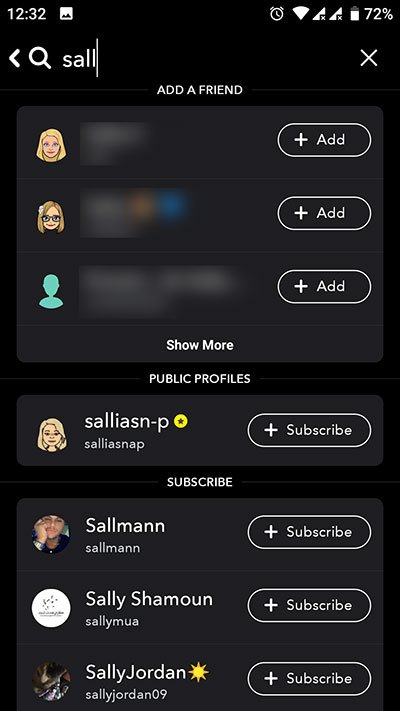 Step 3: Find your friend's username. Simply click on the name and Add him as friend.
Find Someone on Snapchat with Phone Number
Adding your friend in Snapchat is very easy and fast. When first time you install this app it will give you the option to add your friends.
You can add them at that time or later after installation you can also add them. Just follow these simple steps and you are done.
Step 1: Open Snapchat and click on the Add Friend icon at top right corner.
Step 2: Now click on Find Friends or All contacts.
Step 3: All your contact list will be shown you can simply Add them who have installed Snapchat.
Step 4: You can also invite your friends if they are not on Snapchat.
In this way you can find your friends on Snapchat with many ways. If you like this you can follow me on Facebook.