The main objective of Zapier is to save users time and offer easy app integrations. But no tool is perfect for all, since each user has their own requirements.
Therefore, I have come up with 9 Zapier alternatives that can connect other business tools and offer different features at a reasonable price.
Before we look into the alternatives of Zapier. One must completely understand what this platform does…
What is Zapier & How Does it Work?
Located in San Francisco, Zapier is an American web-based corporation that has developed Task Automation software.
This software helps people in automating the boring, monotonous, and tedious parts of their jobs.
Zapier connects different web applications to move information between them. Helping busy users in automating tasks and saving time.
With Zapier one can create workflows from any web app which has been integrated.
For instance, if we closely look at the above image (taken from Zapier's Home Page), we can understand that 3 different web apps have been used.
The user has integrated Zapier with Gmail, Dropbox, and Slack. The workflow goes as such…
When the user gets a new email (with an attachment), copy the attachment from Gmail to Dropbox. After the attachment has been successfully copied, alert the user in Slack about the new file in Dropbox.
This was just an example that I have explained. Zapier can perform any type of workflow with almost all web applications available for business, productivity, and administrative usage.
Zapier Features
Users can quickly create zaps and perform a workflow which results in an automation task.
Available for more than one user account. Moreover, this is even a Zapier for teams to collaborate and work together.
There are multiple built-in apps with each and every account, providing features like messaging, calling, setting reminders, etc.
Awesome customer support.
Zapier free trial is also available to try 14 days absolutely for free.
Highly useful for marketers who help generate more leads at a low cost.
Zapier does not require any kind of coding. One can easily integrate Zapier with other web applications to automate regular tasks.
Zapier Pros and Cons
| Pros | Cons |
| --- | --- |
| The dashboard is simple to start with | Increase in price for using more Zaps |
| Very smartly automates the workflow | Has built-in apps for messaging, calling, etc. |
| Offers a 14 day free trial with each plan | Payment option in USD only |
| Offers a 14-day free trial with each plan | Integrates with only widely used applications |
| | Some errors are hard to resolve via Email tickets |
Zapier Pricing
In the Zapier pricing plans you get a free plan and several other premium plans. Although the free plan is very limited and can be used by beginners, every other premium plan comes with a 14-day free trial.
So that one can use and choose what best suits them.
Zapier for Individuals & Professionals
Zapier free download plan is available freely forever. Although Zapier free limits upto 100 tasks per month.
If you need more (which you will need certainly) you need to upgrade to premium plans.
9 Best Zapier Alternatives You Need to Know
If you are in a hurry and need a quick overview, here's a table that compares 9 different automation tools similar to Zapier.
Comparing other Zapier alternatives
| Tool | Integrations | Required for | Pricing | Free |
| --- | --- | --- | --- | --- |
| Workato | Moderate | Large Enterprises | High | Free Trial |
| IFTTT | Moderate | Users and Developers | Low | Free for Users |
| Automate.io | Moderate | Small Scale Businesses | Moderate | Available |
| Elastic.io | Better | Budget-friendly for Individuals | High | Not Available |
| Microsoft Flow | Moderate | Good for Organising | Low | 90 Days Trial |
| Integromat | Better | Budget friendly for Individuals | Moderate | Available |
| Piesync | Moderate | Customer's 2-way data syncing | Moderate | Free Trial |
| Pleexy | Low | Individual task needs | Low | Available |
| Tray.io | Better | Enterprises | High | Free Trial |
Let us look into each one in detail.
Workato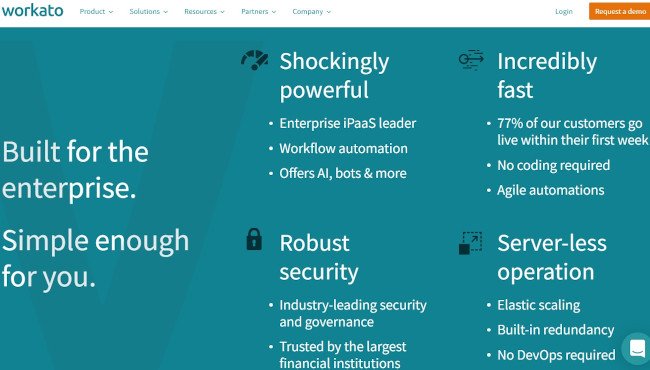 Workato is an Integration and Automation Tool. It is used under several different functionalities of business like HR, Sales, Marketing, Finance, IT, etc.
Workato is the iPAAS leader and it is an intelligent automation integration platform. It works on the concept termed, recipes.
A recipe is a group of steps that will tell Workato to get the task done. Very similar concept to a recipe for a cooking dish.
The three main components Workato requires to perform its activities are Connect (or Apps), Triggers, and Actions.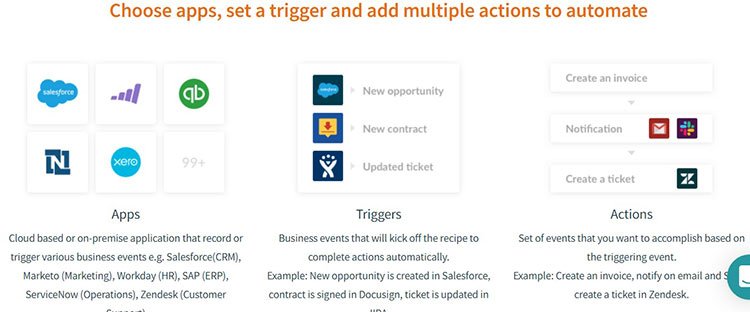 Connect- It is a cloud-based on-premises application that records different business activities. For example, Salesforce (CRM), Marketo (Marketing), Workday (HR), etc.
Triggers- These are the actual business events that start the recipe to complete several actions
Actions- They are a set of events that you want to complete, based on the triggering event.
Features of Workato
Workato quickly connects with your existing apps in a few minutes.
It supports auto-versioning feature that tracks all your changes and allows you to revert quickly without any loss in work.
It is a secure platform and can be implemented in large enterprises since it involves roles and other access controls.
Workato can automate complex business processes that involve long-running processes.
This iPAAS software helps you in identifying and eliminating duplicate records.
You get customizable job reports with an advanced queue management system that eases your routine activities.
Workato comes with 225,000+ community recipes and popular workflows.
Pricing
Workato comes with two options when it comes to pricing. Workato for Business and Workato for Product.
Workato for Business needs you to complete two steps –  one with starting your workspace at $10,000 for a year and the second with individually choosing your pack of recipes.
The company claims that Workato will easily bring integrations and automation to your product with minimum to no engineering effort at all.
Visit the Official Website: Workato
IFTTT (If This Then That)
If This Then That is a simple yet powerful Zapier alternative. It follows a series of simple conditional statements called Applets.
Applets are nothing but the changes that get triggered by other web services that are integrated with IFTTT. These web services are your day-to-day web apps like Gmail, Facebook, Telegram, etc.
It is completely free to use and it gets all your apps and devices talking to one another. For example, an Applet may send out an email to a recipient if he tweets using a particular hashtag.
Features
For users the applet creation is easy and for developers, it is very powerful.
It is everything as a service-type automation platform that gets your work done easily.
It is very diverse and has a list of increasing applets. You will be introduced to almost a new Applet every day.
You do not need to be a developer or an engineer using IFTTT.
IFTTT also includes native Android and iOS apps. That helps in performing integrations with smartphones and smartwatches.
Pricing
It is completely free for users but for developers, it is $199 per year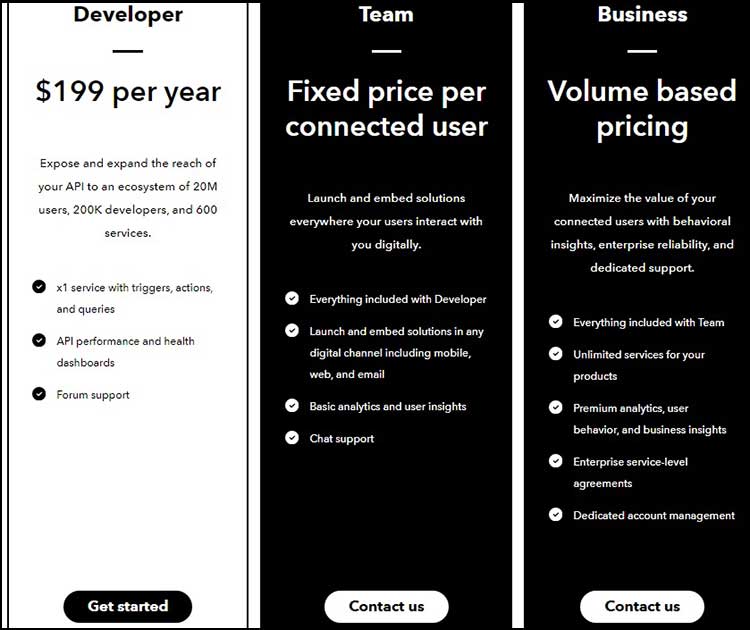 Visit the Official Website: IFTTT
Automate.io
It is a program that helps in integrating your cloud-based apps. You can automate your marketing, sales, and other business activities.
By using automate.io you can create simple yet effective and complex but powerful workflows.
Additionally, Automate.io tool also allows you to create your own custom complex workflows which involve adding delay, conditional logic, formatting of data, etc.
This tool has a long list of app integrations that speed up the work process. Moreover, automate.io is available with a free trial.
Features
You can create integrations in very little time. Use the Webhooks/Rest API for connecting to all other leading web apps.
There isn't any requirement to perform coding.
You can save your time and effort by turning on its automated data sync option.
Drag-n-Drop facility is available for newbies or users who are new to automation.
It is secure as automate.io uses data encryption and you also get to audit the logs.
Pricing
There is a free plan with other paid plans. Some plans are suitable for individuals and professionals while others are for Businesses and Enterprises.
Automate.io plans for Individuals and professionals.
Free: It is good to start with this plan. One can upgrade/downgrade at any time.
Startup: A plan much better than free. For users requiring 10,000 Actions.
Growth: This plan is for normal automation and workflows ($49 per month).
Automate.io plans for business and enterprise.
Business: For small businesses with moderate requirements ($199 per month).
Enterprise: For large-scale enterprises and corporations ($399 per month).
Visit the Official Website: automate.io
Check out: Wayback Machine Alternative
Elastic.io
Elastic.io is another Zapier alternative that not only connects on-premises APIs but also connects other cloud applications quickly and securely.
This tool has a vast library that holds many different pre-built connectors for multiple business functions and activities. There is an option of creating your own custom components for building new products on the top.
Features
The dashboard of this tool is very easy to understand, providing very easy monitoring and fixing of errors.
There is an intuitive designer that can easily transform data between different applications.
It is developer-friendly where you can easily extend the workflow for newer integrations.
It is a hybrid integration platform that connects both, on-premises and cloud applications.
Pricing
Elastic.io offers plans for Self-Service and Enterprises. There is no free plan available with this tool
Elastic.io Self-Service plans
Small: € 199/month – billed annually
Medium: € 499/month – billed annually
Large: € 999/month – billed annually
Elastic.io Enterprises plans
Small: € 1499/month – billed annually
Medium: € 2499/month – billed annually
Large: € 4999/month – billed annually
X-Large: Information only available on request
Visit the Official Website: elastic.io
Microsoft Flow
Microsoft Flow also called Power Automate is another cloud-based software allowing users to automate workflows and tasks. With this tool, one needs to work really less and get the most out of the tool.
By using Microsoft Flow, the user also gets other services like One Drive, Outlook, Dropbox, etc. It is very easy to start working with Flow. Helping you to automate time-consuming routine tasks.
Features
Microsoft Flow also known as Power Automate has got various templates to choose from. There are templates for email, productivity, social media, data collection, etc.
You can consolidate most of the Microsoft apps with Microsoft Flow
It is customizable and has built-in conditional flows, data filtering, and data monitoring.
Users can create their own custom workflow across several different apps.
It supports Android, iOS, and Windows (mobile) platforms.
Microsoft Flow has a huge knowledge base that has different sections for beginners, intermediates, and experts.
Its Robotic Process Automation systems record and play back human interaction with software systems that convert manual tasks into automated workflows.
Pricing
It does not offer a completely free plan. But there is a 90-day free trial for using Power Automate. There is an option to go with licensing by user or licensing by flow.
Licensing by User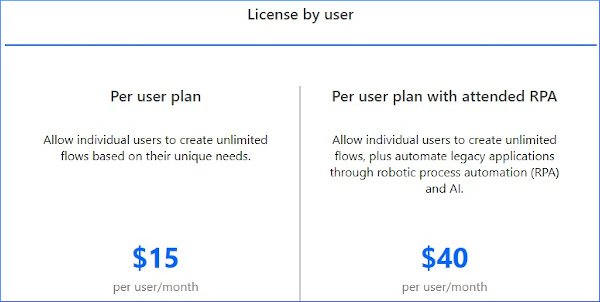 The Per User Plan is billed at $15/user/month and the one including the RPA is billed at $40 /user/month.
Licensing by Flow
This type of plan is for unlimited number of users across an organization.
This plan allows unlimited number of users to perform five flows per month. Although additional flows and add-ons can be purchased on the go. This plan is billed at $500.
Visit the Official Website: Microsoft Flow (Power Automate)
Integromat
Integromat is a highly advanced web-based automation tool that integrates different web apps, services, and systems. The company claims that it is the glue of the internet.
With over 1500 templates, Integromat has a solution for all activities required in various business functionalities.
With Integromat you can perform live execution in real-time, to observe how your data passes through the pipeline.
In the above image, when a new email arrives in Gmail it adds a row to the Google Sheets filling the entry there. Following that, the email had an image attachment, so a rule was written to post the images on Facebook and make a copy on the local drive. To perform both the actions at one single time a built-in router has been used in between.
Features
You can look at the detailed information about each and every workflow to better understand which data gets processed in the entire flow.
Integromat comes with built-in routers that let you duplicate the data very easily and thereby, create data diversion if needed, thus saving you a lot of time.
The Error Handlers allow you to deal with exceptions very effectively. You can create your own custom error-handling route to handle certain exceptions in the way you want. Additionally, Integromat also allows you to input specialized commands to troubleshoot those errors.
Integromat comes with in-built iterators that can split your data into individual parts. Making it easy for you to process them separately. On the contrary, aggregators will do just the opposite. Their task is to merge multiple individual bits of data into a single bundle.
With the inclusion of HTTP/SOAP and JSON modules, Integromat can now connect to any web service on the internet as well.
Pricing
Integromat has a free plan with a limit of 1,000 operations per month.
The paid plans are as follows;
Integromat Basic Plan: $9/month — 1 step above the free plan
Integromat Standard Plan: $29/month — For individuals/professionals starting out
Integromat Business Plan: $99/month — Required for small businesses
Integromat Platinum Plan: $299/month — Suitable for enterprises or large corporations
Visit the Official Website: Integromat
Piesync
The most preferred two-way sync platform that integrates and connects all your cloud-based apps.
It is a true Zapier alternative built for complete customer data synchronization. Saving lots of hours from performing manual data entry to keep business data updated and secured.
The company claims that it provides integrations with 220 apps, and are launching a new connection every week.
Features
Piesync supports two-way syncing that way you can combine data from multiple apps to generate a 360-degree view.
No matter the business size. Piesync is suitable for all business sizes.
Piesync allows for historical data to get synced as well.
Information updation works in both the ways, so everytime everything is updated and ready for you.
Setting up Piesysnc is quick and easy. It has also got a free trial of 14 days.
It can integrate with almost all CRMs, Marketing Apps, VoIP, Accounting apps, E-Commerce apps, Management apps, Smartphones, etc.
Sharing of contacts within the team in premium plans is also available
Pricing
There are two plans – The Piesync Starter plan and Piesync Pro plan. Both the plans have a 14 day free trial.
The above image is showcasing prices keeping 1000 contacts in sync. Prices will vary with the increase in the number of contacts.
Visit the Official Website: Piesync
Pleexy
Pleexy is an automation tool which was built keeping individual task management needs in mind.
Pleexy syncs your task manager with the most popular tools so that you can keep a track of your activities more efficiently.
Task prioritization is easy to perform as you can see them straight on your Pleexy task manager. This way you will always know what is the most burning activity to attend to, preventing you accidentally skipping any activity.
There are two task managers – Todoist and Wunderlist, that have their own set of integrations with other web apps.
With Pleexy your data is safe and secured when flowing in transit or at rest.
Features
Pleexy is easy to setup and use
All your tasks can get streamed into the task manager.
You have to configure the search bar and how Pleexy searches for a particular task by selecting individual projects, queries, etc.
Pleexy allows you to set customized syncing rules including the ones when any changes occurs to a particular tasks on both the sides of the integration.
You can view the complete history of changes which have occurred during the synchronization.
Pricing
Pleexy offers you with two plans – a free plan and a paid plan.
Pleexy offers a free plan which is completely free forever. The premium plan is billed annually at $3.33/month. Although there is a 14-day free trial to start using the premium plan.
Visit the Official Website: Pleexy
Tray.io
Tray.io is an integration and automation tool for fast growing firms and enterprises. The main objective of this tool is to help you in integrating your entire cloud stack using powerful automated flows.
This tool was created keeping in mind, that it should be easy enough for any non-technical person to perform automated workflows. Meaning, there shouldn't be any type of coding involved.
Tray.io can quickly scale up your business by automating vital processes in marketing, sales, and support.
Features
It is having a user-friendly interface with drag-and-drop editor.
Tray.io has a universal connector that connects any web-based software, including apps that aren't even listed in their library.
You can build complex workflows involving multiple steps and multiple apps, using preferred language and tools.
Tray.io provides good customer support via phone, or in-app chat.
You can scale up or down for an unlimited number of workflows without incurring any additional switching costs.
Tray.io stores log data so that you can later inspect workflows that had already been executed in the past
In an event of a workflow failure, Tray.io alerts the user
Tray.io provides data encryption, manages sessions via IP address, offers two-factor authentication, and behavior modeling systems
Pricing
Tray.io offer 4 different premium plans.
Tray.io Standard Plan: $595
Tray.io Standard Plus: $1,450
Tray.io Professional: $2,450
The enterprise plan is kept at custom pricing and it is provided upon request.
Visit the Official Website: Tray.io
Final thoughts on Zapier Alternatives
You can see that there is a wide range of alternatives like Zapier for you to choose from. Pick the one that best suits your organization's needs or requirements.
It has to ease the manual tasks done by users in different functional departments like sales, marketing, support, etc. and should also achieve your business goals.