When it comes to getting access to videos, nothing can be better than YouTube. But you have to listen and watch everything on youtube itself. Don't worry I have created a list of the best youtube to wav converters that will convert youtube videos to wav and save it on your device.
You can use YouTube for plenty of tasks like watching, uploading, and sharing videos. But one place where YouTube limits you is that it doesn't allow downloading any video. You can download youtube videos in your youtube app simply by clicking the download button.
If you want to store youtube videos on your sd card or phone memory you need a youtube premium subscription.
As we don't want to pay for downloading youtube videos so we need a way to directly convert youtube videos to wav files for listening at any time.
According to youtube policies, downloading or making copies of youtube videos is not allowed. It will be considered an illegal activity and you may have to face legal trouble for this.
Note: We do not encourage you to use yt to wav converter software for copyrighted videos. You should use this only for your own videos or creative common reusable licensed videos. If you want to use other people's videos backup them for personal use only.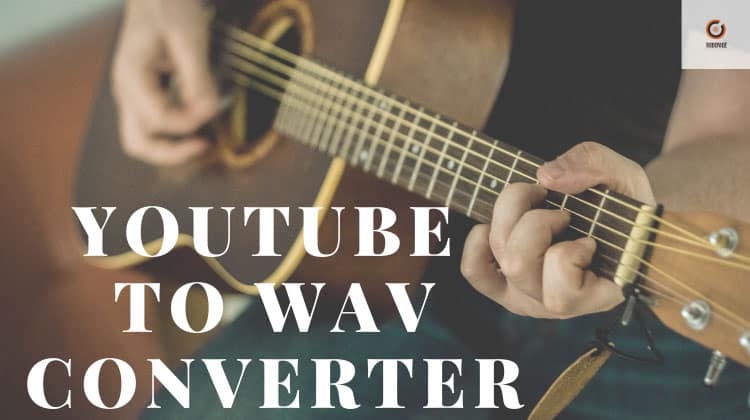 So, here, in this article, we have listed a few reckoned converters that can let you convert youtube video clips into the WAV audio format.
What is the WAV audio format?
The Waveform Audio File refers to a particular audio file format with WAV as the filename extension. It is one of the main audio formats used on Microsoft Windows systems for lossless, uncompressed, and HD audio types.
This format is convenient for storing all the necessary information about audio files, such as sample rate, bit rate, audio data, track number, etc.
What are the benefits of using a YouTube to WAV converter?
A YouTube to WAV converter can be useful in numerous ways. Here are a few reasons why picking such a converter is a great solution for you.
Allows easy editing and manipulation of audio files to obtain HD-quality audio
Lets you store your converted audio file on your PC
Lets you easily share the converted file to your music library or MP3 player
Top 5 YouTube to WAV Converters
As you now know the benefits of obtaining a WAV converter, you must know which are the best ones for easy conversion of YouTube videos to WAV audio files. So, here are the top 5 YouTube to WAV converters that you can opt for.
Highlights
Download YouTube videos
Download playlist
Download subtitle
Convert videos
This software comes with a pool of features that lets you perform several tasks on YouTube videos. You can simply use this tool to download videos and convert them into different audio file formats to use them for multiple purposes.
Features
Easy download of Full HD/ 4K/ 8K videos from YouTube and more than 10000+ streaming websites
With one simple click, download videos, audio, channels, and playlists
Convert your videos and audio to various formats like wav, mp4, mp3, m4a, mov, avi, etc.
10x faster speed for downloading
Bulk download of multiple videos
Download videos in its built-in browser
Download subtitles from YouTube
Convert your audio and videos without any quality loss
Protected privacy of your downloaded file
Highlights
An easy and quick download of YouTube videos
You can set the preferred file format
Web download without installing any software
Another impressive YouTube to WAV converter that you can opt for is Ontiva. This web-based platform lets you download and convert your YouTube videos to the WAV audio format easily. Simply copy the URL of the video from YouTube and paste it into the box given on this platform to convert it into WAV format.
Features
Set the output file format
Comes with an easy and dedicated convert button
Takes few seconds to prepare the file for the download
Retains better audio quality
Easily set the destination folder
Highlights
Download YouTube playlists
Download entire channels
Supports very long videos
ByClick Downloader is quite promising as a converter tool for Windows systems, which you can use to convert your YouTube videos into the WAV audio format. With this software, you can swiftly back up all your videos from any platform.
Features
Backup videos from YouTube, Vimeo, Facebook, Dailymotion, and many other sites
Save the file in various formats like HD, WAV, MP3, MP4, AVI, etc.
Supports HD videos
Provision for multiple downloads
Download private YouTube and Facebook videos
Automatically add tags of the title and artist name to each downloaded output file
YTD is a video downloader that converts youtube to mp3 or mp4. It allows you to download audio, and video and convert them to MP4, MKV, M4A, MP3, and AV formats. You can download videos in 8K, 4K, 2K, and 1080P from major websites like TikTok, Facebook, Dailymotion, Metacafe, Yahoo, LiveLeak, etc. If you have an unstable internet connection and using YTD video downloader then you will be pleased to know that it automatically resumes downloading when internet connection fails.
Features
Download Videos from more than 50+ sites
Integrated video player allow you to watch videos while downloading
You can convert video to MP4, 3GP, MPEG, and AVI
Available for Windows XP/Vista/7/8/10/11
Highlights
High-speed conversion and download
Top-notch security
Multiple device-compatible
Are you tired of converting your favorite YouTube videos to the WAV format at a slow speed? Well, then Loader.to is the best choice for you, as it offers quick YouTube video conversion on its simple and easy-to-use web-based platform.
Also, you need not worry anymore about eating up your device's hard disk space with another software or application as it facilitates an easy online conversion and download with just one click.
Features:
Copy the YouTube video's URL and paste it in the box for a quick conversion
Completely free
Compatible with Firefox, Google Chrome, and Safari
Compatible with all OS
Fast and secure conversion and download
Vidjuice UniTube is a software that lets you download and convert videos from not only youtube but also from more than 10000+ sites across all devices. You can download videos, audio, playlists, and youtube channels. One of the most interesting features of UniTube is that it let you download live-stream videos in real-time. If you want to download some private videos, UniTube can be your choice as you can download Vimeo private videos, Facebook private group videos, Instagram stories, and OnlyFans videos with this tool.
Features
Downloading from more than 10000+ sites
You can download playlists, videos, audio, and whole channels
8K/4K/2K/1080p/720p downloading options
Real-time downloading of live-stream videos
TikTok videos can also be downloaded without a watermark
Save videos directly to cloud
Built-in video trimmer to cut videos
Highlights
Download YouTube videos
Download playlists
Free online download
Now comes the last yet not least one, i.e., CoConvert. This web-based platform lets you download videos from YouTube for offline viewing. You can easily convert your favorite video to the WAV format to enrich your playlist with some great tracks so that you can groove on it later.
Features
Copy-paste the URL of the YouTube video and convert them into WAV format
Download videos faster from various streaming sites
Download high-quality WAV audio files
Customize the settings for easy download
Things to Consider While Picking a YouTube to WAV Converter
While you find the best YouTube to WAV converter for your tasks, you need to consider some crucial factors. Here are some of them.
The converter must be easy to use. Look for faster navigation and user-friendliness in the tool.
Make sure the software has an impressive and easy-to-understand interface that includes all the necessary options for file conversion
The software or tool must be fast enough
Prioritize the legal ones that deliver safe and secure downloading and conversion facilities
Conclusion
Using a good YouTube to WAV converter can be quite beneficial as you can now download and listen to the audio of your favorite videos anytime, anywhere without the need for the internet.