If you face error like "These files can't be opened" while trying to open a file on Windows. You might be thinking that whether you are using old version of windows or you need to update windows.
But people face this can't open file error with Windows 7, 8 and Windows 10.
So, there may be several reasons due to which you face this error.
Whatever the problem, I will tell you the solution according to the problem.
If Problem Related to File Type
Every file has an extension, this extension may be txt or docx. Depending on the file extension the program installed on your computer open that file.
For example a file with extension txt opened with notepad and a file with docx extension opened with Microsoft Word.
What is Filename Extension
A file extension is an ending of file after dot which helps us identifying type of file. So it is suffix at the end after the period which is usually two to four characters long.
Operating system installed on computer use these extensions to identify which apps or program required to open that file.
For example if you have installed Microsoft Office in Windows operating system. Then you can open a file with extension docx(2007/10) or doc(2003) using Microsoft word.
But you have not installed microsoft office then you may see this "Windows can't open this file" error.
Actually there are thousands of file extensions associated with one or more applications. But we do not need to remember all and their associated apps.
Some of them are very common and listed below.
| | |
| --- | --- |
| File Type | Extensions |
| Audio Files | aif, cda, mid, midi, mp3, wav, mpa, ogg, wma, wpl |
| Compressed Files | 7z, arj, tar.gz, z, zip |
| Image Files | ai, bmp, gif, jpeg, png, svg |
| Microsoft Office Files | doc, docx, xls, xlsx, ppt, pptx |
| Font Files | fnt, ttf, otf, fon |
Also Read: 9 Best Free Duplicate File Finder
How to Check file Extension
For security reasons in latest window versions file extension types are hidden by default. But you can check and change file extension type.
To check file extension type in Windows 10:
Open My Computer > Go to View at Top Bar.
Check File name extensions checkbox.

And file extensions will become visible.
How to Open File
Now if your file is not opening just check the extension of the file. If you file extension is one of those listed above then you have to check whether you have compatible app or program installed.
If you do not find file extension from the table then you have to search on google with the extension name to find compatible program.
Sometime you may fall into a situation where you could not find any compatible program. These files may be some form of binary code that a human can't understand.
These files may be windows file like dll file. So you can't open these files or can't understand if you try to open with any incompatible program.
So if you are trying to open a file and facing windows cannot open this file type of error. Then after checking file extension you have to install compatible program.
In some cases even after installation you may have to select the program from this list. For this you have to click on More Apps and select program from the list.
You may also fall in the situation where any other program may be used to open the file.
File extension may be changed
In this case you have to worry more. Because even after compatible program your file may not be opened.
So either your file is corrupted or your file extension may be changed due to ransomware. To avoid this situation your computer must have anti virus installed.
If Problem Related to File Blocking
Sometime we got a warning message under General Tab of file properties saying "This file came from another computer and might be blocked to help protect this computer."
Here Windows gave us a warning and did not give us error "These files can't be opened". This is done to protect us from an executable file i.e. .exe file.
In this case solution is very easy. Windows will gives us an option to unblock file which means you know what this file is all about and will not harm your computer.
File may be Encrypted
Sometime file you trying to open may be encrypted and Windows may show security warning that these files cant be opened.
To open this kind of file, follow these steps:
Right click on file and go to properties.
Click on General Tab.
Click in Advanced Tab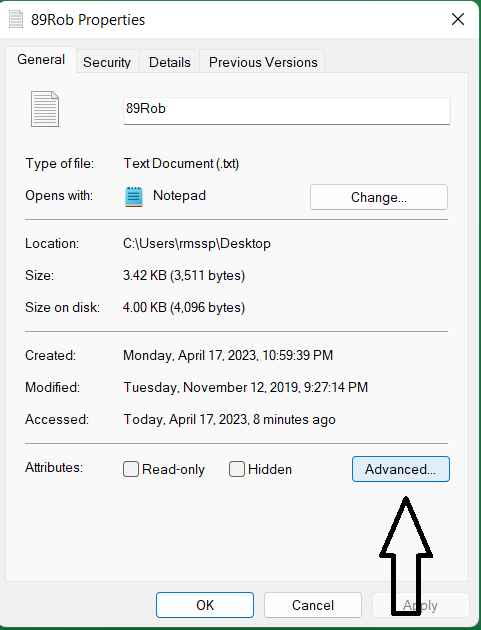 Now see if Encrypt contents to secure data check box is selected or not. (In this case it is disabled as this option is not enabled on Windows Home Edition)
Now if file is encrypted you must have valid certificate to open this. That can be taken from the person who encrypted file.