Are you thinking of making your website rank high in SERP? Before launching your new website, it is essential to look at the history of some famous websites that work in the same domain.
But are you wondering how to do it? Well, that's when the Wayback Machine, an internet archive website, comes of great help to you.
A Wayback machine can give you better insight into a website's design, development plan, screenshots, and many other details. I personally like the historical screenshots captured by this website archive.org
But do you often find the server of the Wayback machine down? Or you want even more stats for your competitors.
Well, don't worry; you can try out other Wayback machine alternatives available in the market to ease out your task.
So, do you want to know what those alternatives are? Well, then this article is apt for you!
What is a Wayback Machine?
Wayback Machine is referred to as one of the best internet archive websites that several people use daily. To develop a strategic plan, the Wayback Machine offers the most reliable services. It shows the indexed history of any website, how it was created and how it eventually evolved.
The Wayback machine helps you to learn more about the competitors in your niche. Also, it comes of great help when you want to have access to the lost information about a web page.
You can even find old redirects to achieve top-notch SEO for your site. You can use the Wayback Machine to compile a sample list of URLs to check the status code.
This web archive site lets you discover old URL structures too. Some people use the Wayback Machine to examine Robots.txt and validate analytic code placement to make the site rank more effectively.
Though the Wayback machine is one of the reckoned digital archives, if you want to try something new and enjoy intriguing functionalities, opting for Wayback machine alternatives won't be a bad choice at all.
Wayback Machine Alternative Sites List
Archive.today
Stillio
iTools
Domain Tools
Yubnub
Alexa
Pagefreezer
Time Travel
Difference Between Internet Wayback Machine Websites
So now that you want to try your hands on some other archive website, you need to be well-familiar with them and their offered features. For your convenience, here we have put forward a comparison chart between different internet Wayback machine sites.
Name
Unique Features
Price
Archive.today
Takes a snapshot of a domain
Saves the pages as text
Free
Stillio
Flexible scheduling of screenshots
Full height screenshots
Snapshot: $29/month
Hotshot: $79/month
Big Shot: $199/month
Top Shot: $299/month
iTools
Website analyzing
Website archiving
Free
Domain Tools
Provides all information of a website
Offers screenshot-based web archive service
Monthly: $99
Annual: $995
Yubnub
Works as a search engine to gain business information
Free
Alexa
Complete access to the site history
Provides insight into competitors
Advanced: $149/month
Plan for Agency: $299/month
Page Freezer
Data exporting and live browsing
Web page comparison
Monthly: $99
Time Travel
Self-archives the materials on web servers
Takes note of different components like texts, images, style sheets, etc.
Free
Best Wayback Machine Alternative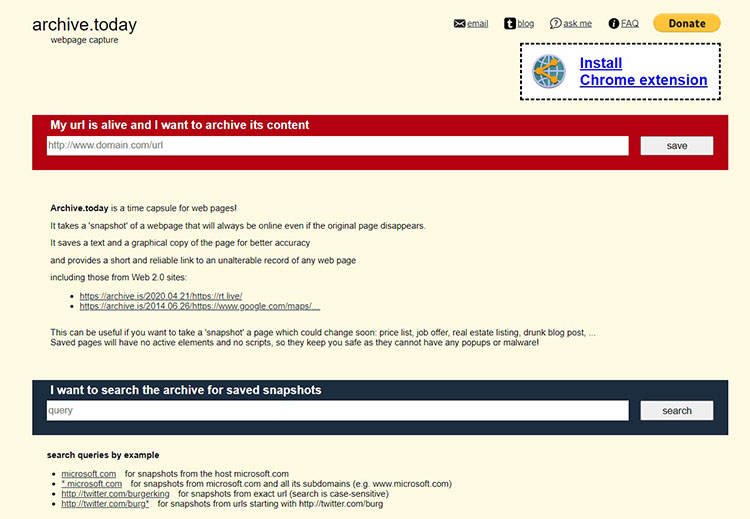 Archive.today can undoubtedly be your first choice when looking for an alternative to Wayback Machine. It seamlessly takes snapshots of the web page and checks the site's history for getting accurate details.
The website of Archive.today goes a step further as it offers a "save" option. It saves textual and graphical copies of the website to keep a back-up ready, even if the original page disappears. It is thus handy when you want to take a snapshot of a page that is about to change very soon.
The saved or archived websites will not have active elements and come without scripts so that you can easily save them without the fear of any malware. Here are the various features it offers, which makes it an excellent alternative to archive.org.
Features:
Takes a snapshot of a domain
Saves the HTML code of the pages
Also saves the pages in the form of a graphical copy
Sufficiently tracks changes in the site
What Makes it a Good Choice?
If you are looking for a user-friendly and easily navigable Wayback alternative that can create a textual and graphical copy of a web page, then Archive.today will be the right choice for you.
When it comes to quickly taking screenshots of a website, Stillio deserves a special mention. It works conveniently to capture website screenshots at regular intervals.
You can also set the frequency of capturing snaps – daily, weekly, monthly, or hourly, which makes it one of the easy-to-use sites like Wayback machine.
It works straightforwardly. You can add web pages that you want to track and set the desired frequency of capturing. Then you can simply get the saved screenshots on emails, DropBox, or Google Drive cloud services, as per your requirements. The new screenshots will automatically get added to your account.
Using this web archive site, you can manage your brand, track website compliance, current trends, competitors, SEO ranking, and verify content. So, the following are the features of Stillio:
Features:
Flexible scheduling of screenshots
Full height screenshots
Multiple IP Geolocations
API and webhooks
Auto-archiving
What Makes it a Good Choice?
Stillio is undoubtedly a great option if you are looking for an application that provides you with automated website screenshots at specified time intervals.
iTools work as both a website repository and a brilliant website analyzer. It lets you have better access to data like website traffic, contact information, website reputation, Alexa rating, and various other content of web pages. Thus, the dual function of this site makes it one of the versatile sites like Wayback machine.
It uses the Alexa tool for providing accurate information about the websites. It lets you search through the web in real-time and find images, discussions, people, and encyclopedias to extract most of the data.
iTools also offer a language tool to search words in dictionaries, Thesaurus, word games, quotes, translate language, etc. Besides, it lets you research the finance market to understand the trends before investing money. Thus, iTools serve as an impressive all-in-one tool for website analytics.
Features:
Website analysis
Website archiving
Data accessing through Alexa
Traffic analysis
What Makes it a Good Choice?
iTools work as excellent support if you are looking for an alternative to the Wayback time machine. It provides you insightful information outside screenshots and website coding structures.
Here comes another advanced web archive tool, i.e., Domain Tools. It comes with two main websites, namely Whois and Screenshots.
This site offers you an effortless way of accessing others' website history. On the website, you can easily view any site's screenshot history. And this attribute lets you easily find how the designs of the website changed over time.
You can check the Whois records for getting access to complete information about a site. It may include the site owner's contact information, the domain's registration date, IP history, and many more details.
In this tool you have to signup before accessing screenshots. Thus, it acts as a reliable alternative to Wayback Machine.
Features:
Provides all information of an archive website
Offers screenshot-based archive service
Gives access to the IP address, hosting history, and records of the website
Provides insight into the evolution of the website
What Makes it a Good Choice?
If you are looking for an advanced screenshot-based internet Wayback machine-like website, Domain Tools will be ideal.
To stay ahead of your competitors, you might feel the need for a tool that will give you precise information. And Yubnub serves all the necessities. It offers complete details regarding an archive website that is relevant to the business.
Besides, Yubnub uses an easy user-interface and works as a search engine. It lets you develop and use commands that are linked to a particular website and its services.
As soon as you get into the website of Yubnub, just type the URL of the page you intend to analyze and click on the "Enter" button. The tool will readily give you an insight into the most popular results to have a clear idea of websites.
Features:
Works as a search engine to gain business information
Quick showcasing of results
Immersive user-interface
Simple to use
What Makes it a Good Choice?
It works as one of the best tools, which offers complete information related to the business of a website archive.
Alexa is one of the most popular and reliable internet time machines. It is the trademark of the famous eCommerce site Amazon. It comes with a full history of websites, along with complete browser information.
This tool is beneficial when it comes to performing competitive analysis. As soon as you insert the URL of the webpage, Alexa will provide you with competitor SEO keywords and complete website statistics.
You can also get access to the final details of previous visits of audiences and the time of their visit. Besides, Alexa gives off statistical data like the website's age, its domain details, and referring domains.
Features:
Complete access to the site history
Provides deep insight into competitor site
Offers access to audience insight, competitive benchmarking, Alexa Ranking, and engagement matrix
Facilitates traffic statistics
What Makes it a Good Choice?
If you are looking for an effective alternative to Wayback machine to get a detailed competitive analysis of a website, Alexa is indeed the right choice.
Are you searching for a tool that can automatically archive websites, social media posts, and mobile texts? Well, then Page Freezer will be the right choice for you. It helps you with proper monitoring, capturing, and archiving all the online data available on a website.
Page Freezer seamlessly utilizes the crawling technology of Google. You need not download or install any additional software, as Page Freezer offers everything at ease. This internet archive website simplifies litigation and compliance by rendering its top-notch archiving software services.
Features:
Data export and live browsing
Web page comparison
Digital signature and legal proof archiving
Encapsulates corporate chat conversations
What Makes it a Good Choice?
For capturing online conversations, this tool is a great option. It lets you keep track of all risks for financial services and corporations.
Finally, our list of web archive sites comes to an end with Time Travel. It is developed based on the Archive.today tool. It can serve as an upgraded internet archive product.
This tool provides web users with an interactive and friendly interface, making it an easy-to-use site like Wayback machine. Moreover, it supports a memento-based web program that helps in prompt and easy finding of web archive contents.
As Time Travel acts as a search engine and makes use of a wide range of internet archives, you can easily use any of the archives and display them on Archive.today. It usually searches the entire server to find web pages. The records on this site can be revised easily and regularly.
Features:
Features a bar chart for displaying tested and missing components
Self-archives materials on web servers
Takes note of different components like texts, images, style sheets, etc.
Time-based web page revelation
What Makes it a Good Choice?
Time Travel works as a great choice of searching tool to view every site's versions from the past.
Also Read: 9 Best Zapier Alternatives
FAQs about web archiving
How do I find the web archive websites?
To find a page that is no longer accessible or view an older version of a webpage, you can go to the websites given above and enter your desired web address. In case the page was archived previously, the dates will appear on a calendar of the respective years.
Are web archives ligitimate to use?
Wayback machines and their alternatives work as a legitimate and non-profit repository of old archive websites and pages that got archived for a long time.
Bottom Line
So, when you look for a reliable alternative to Wayback machine, most of the tools give you a lot of information and various data.
However, if you seek our opinion, we would say Archive.today to be the best Wayback machine alternative.
With the unique feature to create a copy of a website both graphically and in HTML format, "archive.today" provides in-depth information of a site free of cost.