Tumblr is popular micro blogging platform but if you are here you must be looking for alternatives to tumblr. Stay with me as I am going to share 11 best tumblr alternatives.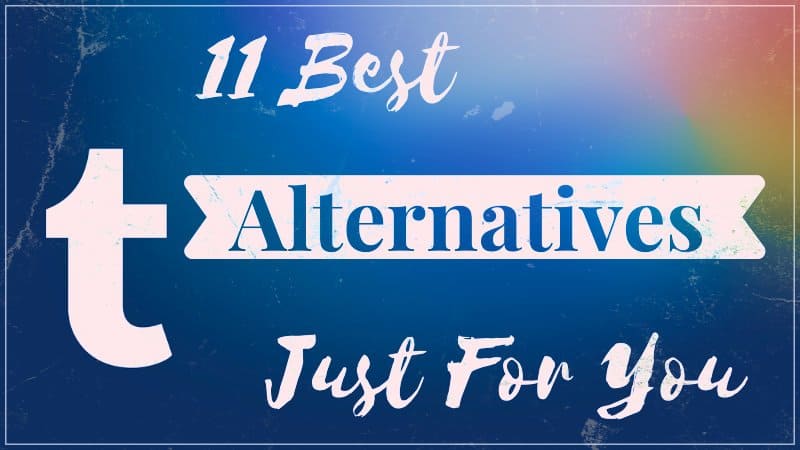 Nowadays information can be shared with others by various ways like sharing from a social networking site, via messenger apps or by image and/or video sharing sites.
But, nothing can get better than Blogging. Blogging is nothing but sharing one's essence of ideas with the entire world, whether the reader knows you or doesn't. Most of the Blogs contain at least 800 to 1000 words or more.
But what if I told that there is something called as Micro Blogging which is nothing but sharing your thoughts through laser focused content.
It give you the opportunity to post images, videos and links. Blogging is kind of tiresome for few readers or for people who are constantly on the move.
That is what Tumblr is about. Tumblr offers its audience a Micro Blogging platform with the goodness of social media. Which has brought up more than 166 billion published posts till date.
Like most people, I too like Tumblr…
"Being a tech lover, I read and follow content on multiple platforms. But following my passion on Tumblr is so easy that I can post relevant content for my audience and also stay updated simultaneously,
Tumblr is a network of millions of user-generated personal websites that lets you perform micro-blogging activities by choosing simple icons related to posting text, quotes, links, audio, video and chatting.
The dashboard displays feed just like Facebook. You can like posts by clicking the heart icon, comment by simply clicking the re-blog icon of someone else's post, and even follow someone's post.
Being as nice and impressive as it all looks. What if you are tired of Tumblr and want to try out some other apps like Tumblr.
Not to worry…
We have curated this article just for you. Where in I will tell you about 11 Tumblr Alternatives that would nearly give you the same experience as it did with Tumblr.
Moreover, you get to build a better social network as you start using other mediums too. Who knows, you might find an easier or a better site than Tumblr.
11 Best Sites Like Tumblr
Blogger was developed by Pyra Labs and bought by Google in the year 2003. Blogger is a blog publishing service which lets users to publish blogs with a time-stamped entry.
The blogs being hosted by Google, can generally be accessed through a sub domain called blogspot.com.
With the new design, Blogger is attracting multiple users once again. Feature like drag-and-drop templates for editing, adding posts specific to location from GeoTagging makes blogging interesting.
Perhaps new toolbars like share buttons let you share your content and comments very easily, faster loading time and simple undo and redo buttons are all adding up to the UI simplicity making it a beautiful looking Tumblr alternative, every Blogger would crave for.
The only downside seen with Blogger so far is that your blog's hosting doesn't happen on a web server.
But being backed up by Google doesn't make it look much of a problem. You may have your own custom domain. Pointing the URL to a custom domain doesn't cost you anything.
Alexa Ranking:
Blogger stands at an Alexa Ranking of 259.
Pros:
Very easy to set-up and start
It is backed up by the tech giant, Google
Point your Blogspot Blog address to a custom domain for FREE
You can easily integrate Adsense for Blog Monetization
Cons:
It cannot be scaled
Themes (Templates) and Plugins (Tools) are quite less
You will need your own custom domain
Who should be using?
Users who are starting out Blogging, should give it a look and make use of it for micro blogging. Also advisable for people who want to start out Blogging but just want to test the waters without spending too much.
A Micro Blogging and social networking website, Soup lets its users to upload text, reviews, quotes, links, images and videos with a very simple to use dashboard.
Additionally Soup also allows its users to change the skins of their dashboard making it more vibrant and choice-enabled.
Soup.io let's its users to perform sharing and other activities from popular websites like Flickr, Youtube, and RSS Feeds. Making it a website that can easily aggregate activities performed on other social media apps like Tumblr.
The feed is beautifully featured with an infinite scrolling and re-posting of contents from other users and groups on Soup. You can even browse through several video channels, like and share their contents, which later on displays from your feed.
It's like a scrapbook. You can make a total remix of the topic on the web which you follow the most, by joining Soup groups based on those topics.
You can join and post to these groups to later on form your own stream of collaborative posts. In short, Soup is interesting and works good making it an easy to use Tumblr alternative.
Alexa Ranking:
Soup stands at an Alexa Ranking of 10,589
Pros:
Similar to Tumblr, so getting started becomes quick and easy
Schedule your posts just like an Email
More focused on options that help you in creating a community
Cons:
No scope of implying a monetization technique
Needs more skins or plugins
Who should be using?
Good for people who want to follow topics, blog and re-post content.
Curated content and highly rich in quality. Medium has become one of the popular blogging platforms.
It also allows micro blogging where in you can post smaller chunks of your main content by simply importing posts from other services and editing according to your style.
As the tag line says, "Get smarter about what matters to you", Medium is profoundly good at delivering rich valuable content to you.
The algorithm is very much intended to do so for keeping you engaged about topics you love, and authors you would like to follow in your space.
With 120 million readers, and curated content Medium offers features like keyboard shortcuts, link sharing, allowing images, videos and short audio clips. That is why Medium is unlikely to be left out from our list of Tumblr alternatives.
It also offers real time engagement metrics that let you know how many people viewed your content and how many claps you have been getting.
That's an important metric for writers, as it gives room for further improvements.
Alexa Ranking:
Medium stands at an Alexa Ranking of 97
Pros:
Content on Medium is super rich in quality
You have options like private/public posts with intuitive formatting for each
Importing a post is easy
Real-Time metrics
Generate new followers for you
Cons:
Restrictions with customizations
Social networking only happens by posting
Users can't re-blog posts from others
Who should be using?
People who take up writing seriously.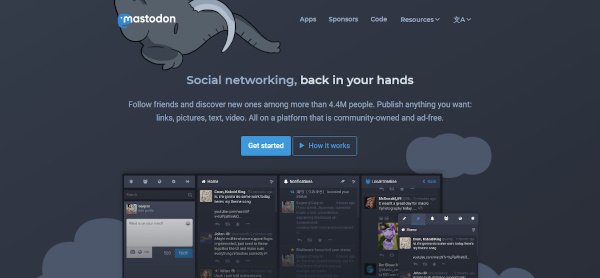 Mastodon is an open source social network used by more than 4.4 million users worldwide from its initial release in 2016.
It also supports multiple languages. Mastodon is quite similar to Tumblr where users can make profiles, post and share messages, images, and videos. Users can also follow other users.
It is a community-owned, ad-free social platform. Unlike other social media networks, Mastodon is decentralized. That means there is no one server or one specific company running Mastodon.
Here you have a character limit of 500. Users can style their posts, adjusts their thumbnails, add new featured images by using something called as focal points, hide things behind spoiler warnings to increase anticipation amongst other users who are following such posts.
Even if you messed up the design portion of curating your content, Mastodon offers delete and redraft options to quickly make corrections.
Other than hosting your own server, Mastodon allows you to post content and still enjoying community-type features like sharing of content, liking other user's content and following other users who have hosted their own server. This feature of Mastodon makes it a cool Tumblr alternative.
Another feature of Mastodon which you may like is the feed. Mastodon's feed is chronological, ad-free and non-algorithmic. That means you have the power to decide what you want to see.
Alexa Ranking:
Mastodon stands at an Alexa Ranking of 128,856
Pros:
It is decentralized
There is big community
You decide what you want to see
No Ads in feed
Cons:
A little confusing in the beginning, but easy after a few hours.
Who should be using?
People who are sick and tired of ads and want an ad-free social media network.
Posthaven operates by asking its users an upfront monthly fee of 5$ per month for a blog account. You don't need anything else. Posthaven takes care of the domain and hosting and claims to last forever.
It has already started seeing multiple users and is among best hosted blogs.
You can create a post with text, images, music, video, and send it via an email to post at posthaven.com. Your post will be automatically posted. Such is the level of security with Posthaven.
You also get better security options like password-protected blogs and email notifications for any blog activity performed.
If you want a Tumblr Alternative that is going to be there for good then that's Posthaven.
It charges an upfront fee of 5$ per month to maintain everything in order for features it offers like post by email, post by web, auto-post to Twitter & LinkedIn, beautiful image gallery, anti spam comment sections, multiple contributors per blog, etc
The only downside is that there isn't any free trial offer which could give users a better understanding before purchasing a blog account.
Alexa Ranking:
Posthaven stands at an Alexa Ranking of 219,610
Pros:
Created keeping in mind to last forever
Highly durable URLs
You can use your own custom domain name
Password protected blogs
Cons:
Required a free trial account for limited number of days
No option of discounted price for users who are paying a yearly fee
Who should be using?
People who want to reliable service and are okay to pay for it
Pillowfort, a small social media and blogging platform is a hybrid of Tumblr, Twitter and LiveJournal. It pretty much functions just like Tumblr.
With likes, replies, private email, re-blog options and a nice clean bottomless home feed. This site will give you proper Tumblr vibes.
Giving more than normal control on how users can view, access and hide specific content Pillowfort has made several improvements.
Now members can even chat with other via a discussion board and re-blog other user's posts, to the communal feed.
To keep the conversation going on Pillowfort has included a concept called threaded comments allowing multiple conversation chains.
There is also an NSFW filter to customize what is allowed and not allowed on a user's feed. Pillowfort offers a tagging system and a page for each user's blog.
All these key elements add to Pillowfort's design and user-experience, making it as close as the next Tumblr alternative.
While Pillowfort is in its beta stage right now, you can donate 5$ via Paypal for a registration key. Since, registrations are closed at the moment and will reopen very soon.
Alexa Ranking:
Pillowfort stands at an Alexa ranking of 130,175
Pros:
Threaded comments for multiple conversations
Create communities under any name
Tagging system
Cons:
Signups could be purchased at $5, but really unsure at the moment
Who should be using? People who like active involvement in community based chats/comments.
Typepad has been around from the year 2003 and offers its brilliant services to some of the big brands like Marriott, Salesforce, The Discovery Channel, Amazon, Zynga, and many more.
The other benefit of using Typepad is that it also promotes your blog on its own network, giving you more chances of getting traffic to your blog. It offers numerous tools, plugins and themes for getting started and running.
Typepad has multiple options like "Plus" charged at $8.95 per month, "Unlimited" charged at $14.95 per month, "Premium" charged at $29.95 per month, and "Enterprise" charged at $49.95 per month.
Tools, themes, plugins, storage, and support varies for each of these subscription plans. The best part is that each of these plans come with a 14-day free trial. So, that you can try and decide what best suits you.
If you are looking for a powerful Tumblr alternative which is not only trusted by solopreneurs but also used by big brands then without any doubts, it is Typepad.
Alexa Ranking:
Typepad stands at an Alexa ranking of 3,230
Pros:
14-day free trial for every plan
Support included for every plan
Highly reliable
It has many beautiful templates and layout options to choose from
You can control the site design and Monetize by ads
Cons:
The basic plan called "Plus" is charged at a higher side, $8.95 per month
Who should be using?
People who are serious about blogging and who are looking for a well-established platform.
Ello a social networking service states that it is a global community of artists dedicated to creative excellence, built by artists, for artists. Built in the year 2014 it showcases art, photography, fashion, and web culture.
Ello claims to its users of never to show ads and no enforcement on choosing a real name. Ello has large community of artists giving you an opportunity to connect with real artists around the world.
There isn't much scope of social networking but the fundamental reason an artist joins Ello is to create a following like Tumblr, and monetize by selling his/her artwork.
Alexa Ranking:
Ello stands at an Alexa ranking of 42,118
Pros:
The power to sell your artwork by simply clicking the sell button
Freedom of choice to post any kind of artwork, including NSFW
Cons:
Social interaction is less and can be improved
Who should be using?
Mainly who are into art, photography and fashion and want to earn a living.
Reddit, the front-page of the Internet as it claims to be. Reddit started back in the year 2005 as a webste which was only taking in links and allowing discussions over them.
Since then Reddit has now worked upon multiple parameters where users can post text, links, images and videos.
Making it a perfect destination for bloggers interested in micro blogging. Reddit has more than 330 million active users worldwide and 138,000 active communities.
Nowadays you can say that Reddit's core is the posts from its users and an active community with flourishing upvotes (karma points) and comments. A user can follow another user in the community or outside.
Reddit is strictly moderated against spam and other malicious activities.
Built around the fundamentals of users submitting texts, images, links and videos Reddit is considered another Tumblr alternative.
The best part about Reddit is that anyone who feels passionate and is interested about a topic can create a subreddit (community) on it.
Moderators are allowed to administer and regulate post creation and other aspects of the subreddit.
Alexa Ranking:
Reddit stands at an Alexa ranking of 18
Pros:
Helps to see what's happening on the Internet right now
Anyone can create a Subreddit
Has high traffic, good for link building activities
Cons:
Multiple user disagreements can quickly bury the post article
Who should be using?
People who love to actively participate in a message board system where they learn from the community and give back in the most valuable form, creating a like-minded following for themselves.
Pinterest is a social networking website that is driven by visual media like pictures, GIFs and videos. Available in 27 languages, Pinterest has reached upto 300 million monthly users around the world.
It is totally free and allows users to upload, save, sort and manage media content, generally called as "pins", collecting and gathering it on something called as a "pinboard".
Like the concept of file and folder, here it is but naturally understood that user can like multiple pins (which are similar of-course) and save it on his/her pinboard.
Pinterest also offers a business page, where users can pin multiple images on a single pinboard. Offering ease to their buyers while making buying decisions.
The core of this app to like some one's pin and further saving and share someone else's pin (repin) is much like how a user likes some one's post and shares it (re-blog) on Tumblr .
These two features of Pinterest makes this app like Tumblr.
Pinterest has gone a step further with regard to privacy. Providing options like hiding a user profile from search engines.
Alexa Ranking:
Pinterest stands at an Alexa ranking of 149
Pros:
Keeps you hooked, you can't get bored
Good level of privacy
Cons:
Spamming images with more than required links
Who should be using?
Users who want to drive traffic and sales
Also Read:
If you are looking into the goodness of both blogging and social media Steemit is another Tumblr alternative. Perhaps there is one more thing most notable about Steemit. It rewards its users with cryptocurrency.
A New York based privately held company built on block chain system. Steemit is a very powerful decentralized application consisting of multiple categories to choose from.
Users can write articles, read other user's articles, like, comment and even resteem (reshare internally) other articles which they liked, just like Tumblr.
Based on the STEEM blockchain, a user earns cryptocurrency with more and more interaction on their article.
Steemit only contains super high-quality, meaningful and logical articles which deliver the right information to its readers.
Reading does not require any kind of registration but writing and earning does require you to register.
Alexa Ranking:
Steemit stands at an Alexa ranking of 14,634
Pros:
You get to read super high-quality content
You get rewarded for your original content
Cons:
Very difficult to start out in the beginning
Sometimes the curation does not work
Who should be using?
People who are interested in creating and curating content that not only provides value for its readers but also rewards the authors.
Conclusion
Just like Tumblr there are more platforms out there which give similar vibes like Tumblr, while using it.
We have curated this article according to the demands of users who not only wanted to know Tumblr alternatives for micro blogging but also wanted to indulge into activities generally performed on a social media network website.
Having the benefits of following others and creating a following for yourself, try out these 11 sites like Tumblr and do let me know your feedbacks in the comments section.