Today, sharing media files, documents, internet from mobile to PC has become a common trend.
You may don't know how to transfer files from phone to pc or transfer files from pc to android. So here is the complete guide in which you can get the information about data exchange.
Everyone who owns a smartphone or PC is sharing data and files with others device.
But there are some people who are still new to this trend and don't know how they can share files with devices.
The most common thing that people still don't is how to connect the smartphone with a computer and start sharing files.
There are many options for transferring files from smartphone to PC.
Whether you have Mac OS or Windows, you can easy transfer data, use smartphone internet or use wireless display and even more as Type-C USB has arrived in smartphones.
Also Read:
How to Connect Mobile to PC or Laptop
Wired Connection (USB 2.0, Type-C)
Wireless Connection (Require a wireless network card or a laptop)
1. Wired connection (USB 2.0, Type-C)
Where you have USB 2.0 or Type-C, it is always faster than the Wired transfer speed. A wired connection can be used for charging, media transfer and photo transfers.
Depending on the computer software, it can allow different feature and functions. You can modify, update and delete the files you want.
2. Wireless Connection
This connection type also allows devices to share data and files between devices. Bluetooth can be slow, where Wi-Fi allows users to transfer files at much greater speed compared to Bluetooth. The connection can be used for wireless display projecting and playing the games in a local area network.
How to Transfer Files from Phone to PC (Method 1 – Wired)
Connecting mobile to a computer is very simple and easy.
1. Take smartphone, connect your USB cable then connect the other end to any computer USB port.
2. Once connected, your PC and mobile will automatically detect the smart device is connected to them, both will ask for your actions on the device.
NOTE: Whenever you connect your Windows computer to a smartphone it automatically detects the smartphone.
In some cases, people have outdated windows don't have the android driver, it can be Windows XP or Windows 7 without any service pack.
To support the android device in your PC you need a driver.
Download ADB Driver – If your computer is not detecting any android smartphone.
3. Your computer will open up the explorer, and it will display your files.
However, you have not allowed the computer to gain access to your files and that is the reason folder is empty.
Select File Transfer option from your notification bar.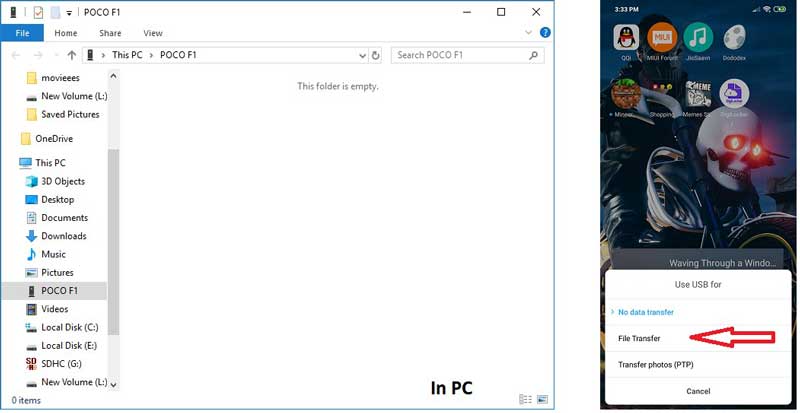 Once you have select File Transfer/ media device (MTP), your files on the phone will be displayed. Now you can begin your file transfer by simply copy-pasting.
Transfer files from phone to pc wireless (Using Apps)
App to Transfer Files from Android to PC (Method 2 – Wireless)
There are many apps to transfer files from android to pc wireless. AirDroid is one of the popular app for data transfer.
AirDroid let you transfer files with and without sign up on the app.
Method 1: Transfer Files Without SignUp
Step 1: Install AirDroid app on your mobile.
Now copy this ip address and paste it in any browser on your PC. So here I am going to open this
And this is the ip address it will ask me to accept so here I am going to accept it on my mobile.
Now here you can copy your photos And download on your computer
Copy all other files. Now see here I have some images and I can simply download these images
So what you have to do simply select file and click on this download button
Now it will ask to save this file and save on desktop. So this file will be saved on the desktop.
Method 2: SignUp on AirDroid for Data Transfer
In order to start, you must have AirDroid software on both smartphone and computer.
Download Android/iOS app and Desktop client.
Step 1 – Once you have downloaded the app and desktop client. Open the app in the smartphone and sign up for an account, you can use Google for Quick sign up.
Step 2 – Allow the application for accessing contacts, files etc. after that you will have a Security & remote function dialogue – Your files should be turned on the list so that you can transfer files from Smartphone to PC.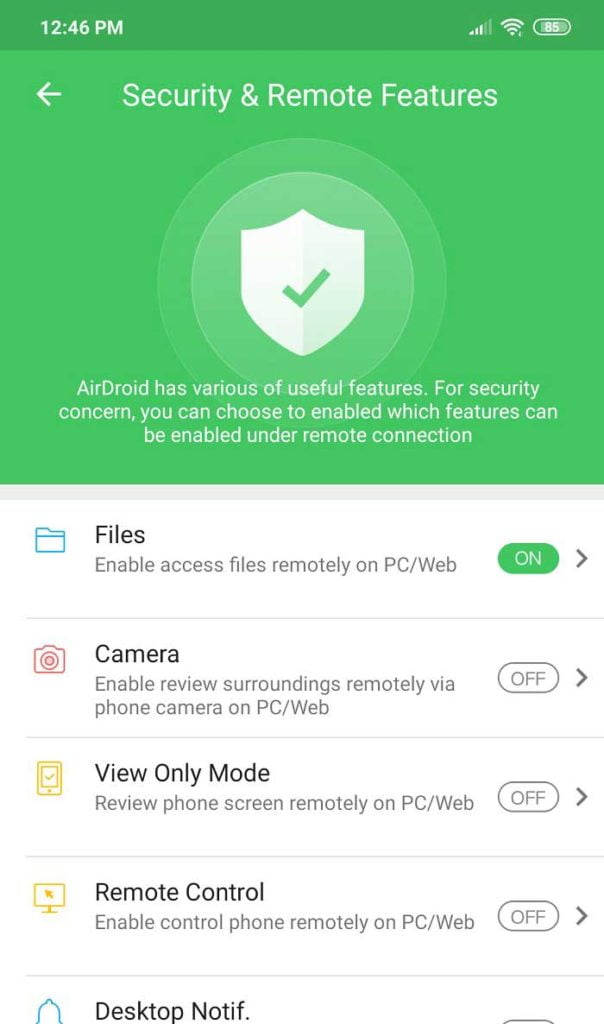 Step 3 – Now go to your PC and install AirDroid Desktop Client. Then open and sign in with the account you have made recently.
Step 4 – Once opened you will see Home, nearby and friends option with your device name and menu list of the left side.
File Transfer– It will give you access to read and write files on your device all you have to do is Copy-paste or Drag and drop the files you want in your smartphone.
Remote Access (AirMirror) – This option is very useful as it allows you to remote control your camera, smartphone keyboard and monitors your device display.
NOTE: If your PC and smartphone are connected to the same network/same IP address then it will not going to upload the file or take your internet bandwidth.
Also Read: Apps Like Airdroid
Step 5 – In order to send files from your smartphone to PC, open AirDroid app. In the home screen, you will see my device, Nearby, Friends tabs.
Step 6 – Select your PC name and start sending files just like WhatsApp. You can share apps, direct camera pics, videos, music, files or custom selected files from your SD card.
You will receive your files in C:\Users\"PC name"\Documents\AirDroid\PublicStaging.
NOTE: AirDroid don does not need an internet connection. You can create a hotspot in your smartphone then connect your PC to that hotspot. AirDroid will be able to transfer or receive files from your device.