Qualcomm announced its new Snapdragon 865 and Snapdragon 765 mobile platforms chipsets. According to Qualcomm, Snapdragon 865 has 25% faster processing CPU and 20% faster GPU than qualcomm snapdragon 855.
Snapdragon 855 processor price is around $ 53 and will have to check what it will cost for 865 and 765.
Both chips are compatible with 5G and offering high resolution cameras with improved graphic performance. Let's check out Qualcomm Snapdragon 865 features in detail.
In year 2020 devices based on 865 and 765 will be commercially available.
Snapdragon 865 is the flagship chip that will be used in latest flagship android phones.
Oppo, Nubia, Realme and Xiaomi have already confirmed that they will use Snapdragon 865 chipsets on their flagship phones in 2020.
This chip is compatible with X55 5G modem but the modem is not integrated.
Qualcomm announced two versions of 765 SoC which are Snapdragon 765 and Snapdragon 765G. Both of these will come with integrated X52 5G modem.
Qualcomm Snapdragon 865 Features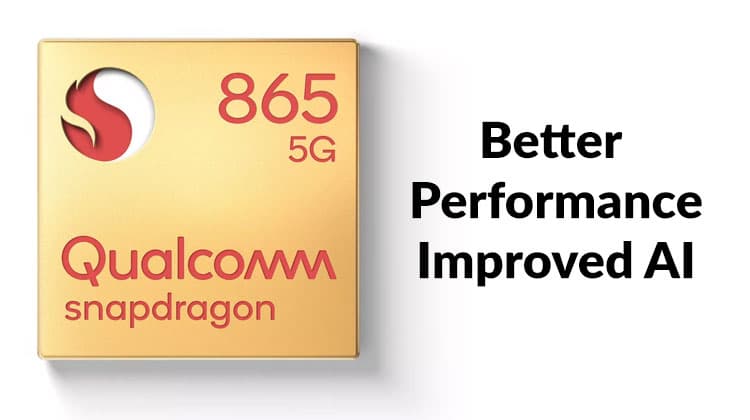 Qualcomm working on Snapdragon 865 Soc from last years and now in the end of 2019 year its production going to be started.
In the first quarter of 2020 Snapdragon 865 phones will be in the market for sale.
This chip is also made using 7nm fabrication process using TSMC technology.
Also Read: 5nm, X60 5G Modem and much more in New Snapdragon 875
CPU and GPU
SD865 architecture has Kryo 585 CPU and Adreno 650 GPU. Snapdragon 865 CPU has 8 cores, 4 cores are known as performance cores while the remaining 4 cores are known as efficiency cores.
SoC's performance Cores are made up of ARM cortex A77 cores. Out of these 4 Kryo 585 cores three runs at up to 2.4GHz and one prime core runs up to 2.84GHz.
Efficiency cores are made up of Kryo 385 cores (ARM Cortex-A55) clocked at 1.8GHz.
New Kryo 585 CPU in Snapdragon 865 said to offer 25% better performance and power efficiency than Snapdragon 855.
New Adreno 650 GPU as compared to SD 855's Adreno 640 GPU is offering 20% faster performance.
Snapdragon 865 SoC will bring big improvement in gaming with 144Hz refresh rate displays and 10-bit HDR.
Qualcomm also announced that these SoC's (both 865 and 765G) will have first ever updateable GPU drivers. And driver updates for graphics processing unit drivers will be available via Google Play Store.
This update feature is very similar to Nvidia and AMD GPUs on desktops. User will get driver updates for onboard GPU as soon as update is released like in case of desktop drivers.
Connectivity
Snapdragon 865 has not integrated modem like 765 and 765G. It uses Qualcomm's X55 modem for connectivity.
X55 works with both 4G and 5G networks. According to Qualcomm, 5G peak download speed for this is 7.5Gbps while 5G peak upload speed is 3Gbps.
X55 modem supports both standalone and Non-standalone 5G networks for all key regions and bands like mmWave, and sub-6 in both TDD and FDD frequencies.
For Wi-Fi and Bluetooth Qualcomm FastConnect 6800 will be used. It supports Wi-Fi 6 onboard and Bluetooth 5.1 with supported codecs including aptX Adaptive, aptX TWS, and aptX Voice.
Check this too: A12 Bionic or Snapdragon 855 which is best?
Camera
There is big improvement coming to the camera with Spectra 480 ISP. The new Spectra 480 ISP supports up to 200 megapixel photo capture and 64MP photo capture with zero shutter lag. This is called as biggest update for cameras as per Qualcomm.
Along with this, it can capture 8K videos and 4K videos at the rate of 120FPS. It also provides unlimited slo-mo videos at 960FPS with no recording limit.
Video recording in Dolby Vision HDR with support for Quad CFA sensors and Bayer sensors are another improvement.
Artificial Intelligence
Snapdragon 865 chip uses 5th generation AI engine Hexagon 698 powered by new Hexagon Tensor Accelerator. AI in snapdragon 855 is being handled by Hexagon 690 DSP.
According to Qualcomm Hexagon 698 promises 4 times TOPS (trillion operations per second) performance over Hexagon 690 DSP in SD855.
AI performance is rated at 150TOPS with only 35% better efficiency. For always on tasks like waking up virtual assistant with voice command will consume lesser battery with new sensing hub.
Support for LPDDR5 and LPDDR4 is also there.