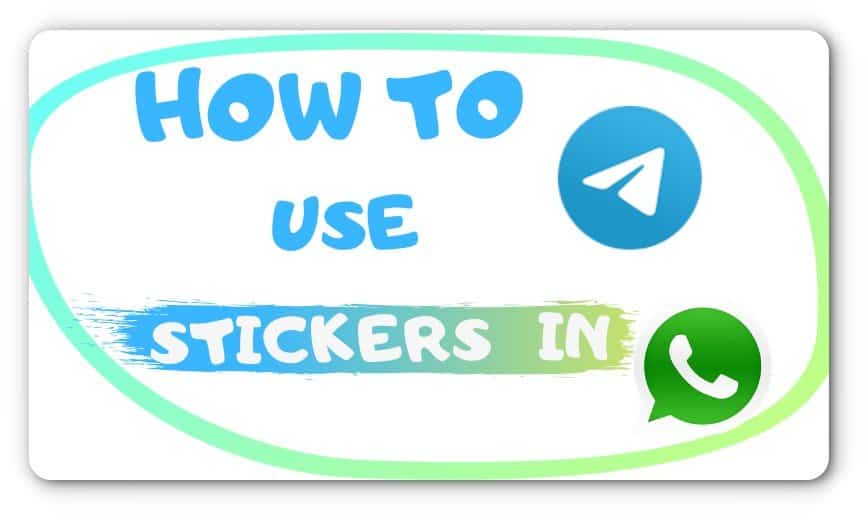 Telegram is the new cloud-based instant messaging app for both Android and iOS markets. It has gained popularity due to some features like storage, security and additional features like sending cool stickers.
For quite some time now, Telegram has had a variety of sticker packs and looking at the current scenario of WhatsApp's limitations to the sticker party.
One can actually go for this third party app to enjoy the best of both the worlds.
Chat on WhatsApp and send cool stickers to your WhatsApp contacts, downloaded from Telegram. Not only Telegram but you can also use hike stickers in whatsapp.
This article focuses on fulfilling ones need to send the best stickers from Telegram to WhatsApp.
Feel free to go through this step-by-step handy guide for the complete procedure on how to use Telegram stickers in WhatsApp.
Download the Telegram Sticker Pack
Open the Telegram app and click on the 3 bar icon, which appears on the top-left corner of the app.
That will display various options, and you have to select "Settings".
From there you will be able to see various settings, click on "Chat Settings".
As the Chat Settings window opens, go down and click on the "Stickers and Masks" option.
Within the stickers and masks option you will see "Trending Stickers", under suggestions. You can add stickers pack by simply clicking on Add button.
Select any pack from the Trending Stickers collection by copying its link. You can copy the link once you click on the 3 dots on the right side of the sticker pack.
Head back to the Telegram main window.
Sticker Downloader Bot
Click on the "Search" icon and start typing, "Sticker Downloader".
The sticker downloader bot will appear, click on it and that will open a chat window of the Sticker Downloader Bot.
It gives you basic instruction, you can follow it if you want, but the most important thing is to type in the keyword "Settings".
That will inform the bot of replying you with 3 options to save the image. Select the webp format.
Followed by that, you can now paste the copied link (the link you copy after downloading sticker pack) and send the message.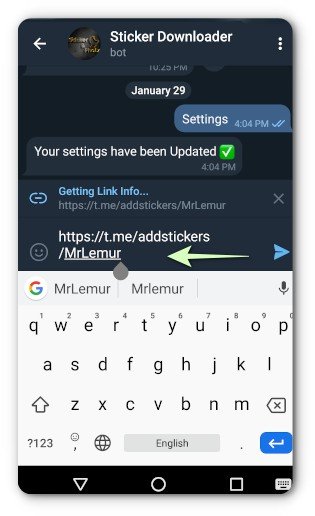 The bot will return a reply with a zip file containing your favorite sticker pack. Once you receive file, just download it.
Open any file manager software and unzip the contents to the local internal storage memory of your phone.
Personal Stickers for WhatsApp
Download an application called as Personal Stickers for WhatsApp on your phone. After downloading it, open the app and on its homepage you will be able to see the sticker folder.
If you can't find the sticker folder then click on the image icon and search for the path manually. The path where you have saved the Sticker Pack.
You will find all the stickers appearing over there. Select them one-by-one and once done, press the tick mark icon on the top. Optionally you can name it whatever you desire.
Use your Sticker Pack in WhatsApp
Once all of this is completed, you can now open WhatsApp and select the contact whom you wish to send your new stickers. Open the Stickers tab and your new pack will be displayed over there.
The Personal Sticker for WhatsApp app works in between both the apps, Telegram and WhatsApp. It lets you easily navigate for third party stickers under WhatsApp Sticker tab.
So that, once you created your personal sticker then that will be available in WhatsApp sticker tab for good.
Conclusion
These were all the steps of sending Telegram Stickers in WhatsApp.
WhatsApp has a few restrictions when it comes to use Stickers, but there are ways to get it done. We all want to chat seamlessly with awesome personalized experience and this article was meant for that.
I hope you must have it useful. Until WhatsApp comes out with better and more options for Stickers you can use it this way and continue chatting with your friends and family members.
Do let me know your experiences and share valuable insights in-case you find any more techniques of using telegram stickers in WhatsApp.