There is a huge demand for free online PDF editing websites or free online PDF converters that can convert your document to a PDF file. In this article, I shared 5 best PDF editing websites that can make your work easy.
PDF is a known standard document format for e-paper. Normally everyone uses PDF documents for their work or for a school or college assignment and more. PDFs become popular because they can't be edited easily as a file in Word format (docx).
There is a lot of software out there in the market that can edit or create PDFs easily, but the problem is most of them are paid and required to be downloaded which is time-consuming.
Many people use Adobe Acrobat for the editing and it is paid. But there are many websites out there that can do editing just like Adobe for free.
And you can always try them before paying for PDF editing software. There are always some people who invent new technology to do the impossible in a different way. That is the reason, people like us can edit a PDF document online for free.
We have created a list of best websites for online PDF Editing. These websites will require a file to edit and all the editing tools will be on the websites. Each website has a different user interface, different tools, and functions.
All these websites can offer you on-the-go editing, easy and fast (leaving No. 5). Once you finish, you can download your edited document to your computer and save it.
5 Best Free Online PDF Converter
Here I am sharing pdf editor free to use and these are online pdf editor. By using these websites you can edit pdf files. You can select your best free PDF editor and use it as per your need.
PDFescape pdf converter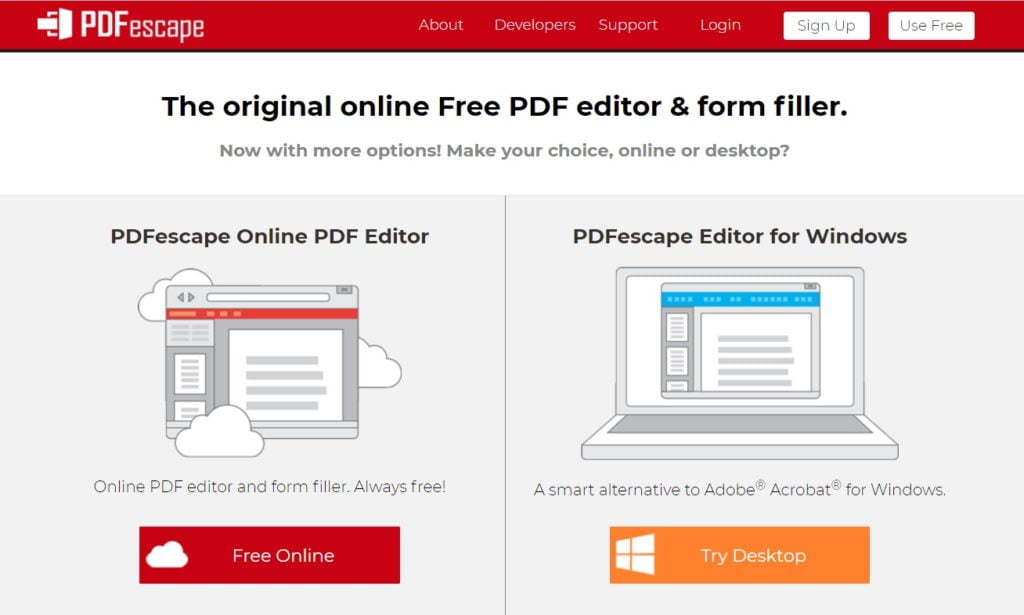 PDFescape websites offer one of the fastest and easiest PDF editors. Not only it support browsers like Chrome, Firefox, IE, Opera, and Safari but also offers free PDF editing software for Windows 7, 8, and 10.
It has an interface on the left side just like Photoshop, and it provides tools for Text and Image editing, free-hand editing, importing images, and whiteout. Websites also offer offline editor (software) for Windows which is free and ad-free.
PDF2GO PDF Editor
PDF2GO is another best PDF editing website that not only offers PDF editing but also many tools for PDF like compressor, converter, splitter, and more.
It offers a unique and friendly environment for editing without showing any ads. The websites offer powerful tools that add text, pencil, highlights, dashed lines, shapes, checkmarks, and more. And along with this you can compress and merge your PDF.
Online PDF Editor (Sejda)
Online PDF editor web application is offered in Sejda. The main website itself offers many powerful tools for Merging, converting PDF to Word or Word to PDF, editing, compressing, and slitting.
Despite the "Online PDF editor" being on the BETA program, it works perfectly. The editor offers a unique interface: it gives most of the portion to the PDF file and less to the tool, allowing it to be edited closely. You can also add different signs, and annotate shapes and images.
PDFzorro pdf converter
PDFZorro is another free online PDF converter website that offers easy, fast, and free PDF editing. The website is very trusted as it uses an SSL connection, making it secure and safe.
It offers an interface similar to PDFescape, along with many features and a zoom-in feature, so that you can edit your PDF very closely. All the standard required tools are available on this website. It provides a compressing tool as well as a converting tool just like the above websites.
DocHub Free Online PDF Converter

DocHub is also one of the best PDF editing websites for editing PDF files. We might have preferred DocHub to the second place, looking at its features and powerful tools but as it requires you to sign in in order to edit your PDF files, it is on the fifth position. 
Although the websites do not provide editing on the go as it requires an account, when you upload a file it will be stored on the cloud, allowing you to edit the file whenever you want.
All you have to do is sign in and all the documents you have edited on this website will be presented to you on the dashboard. Apart from this, you would love the website editor as it is very simple, fast, and offers the required tools for editing.