Discord is no doubt one of the hot favorite application for most of the gamers. It has become so powerful that allows its users share audio, video, and text with fellow Discord friends.
Very recently Discord has also come up with options to perform voice and video call. That has literally increased app engagement among Discord users.
Such features have made Discord available for multiple operating systems. The in-app screen share feature allows users to take advantage while gaming or watching their favorite shows online.
Lately users have faced problems like Discord screen share audio not working in their computer.
Thus, there's a need to know what causes Discord audio not to work while screen sharing, and in this article we will also look at all the possible ways of fixing the issue.
Reasons For Discord Screen Share Audio Not Working
Updated Version
Well, for most of the users who have recently downloaded the Discord Desktop app from its official website.
If you have recently downloaded Discord Desktop version from its official website then this problem doesn't apply.
In the initial days of the update where the developers released audio with screen share, this feature was not so stable. I'd recommend you to update the application.
Corrupt Audio Drivers
Just like all other applications, Discord also uses audio drivers installed in the computer. If the audio drivers are corrupt or not working properly then you will experience some issues.
Missing Administrative Access
Talking about screen sharing and over-looking this will give you some problems. While screen sharing, your computer remotely to other users, it is mandatory to give administrative access to Discord.
Application Issues
Some applications tend to not work properly with Discord. You could reinstall both, the application and Discord. If it still doesn't work, then you should look for alternative applications.
Before we get into the solutions of fixing the issues, please be sure to have login credentials and administrative access with you.
Solutions to Discord Screen Share Audio Not Working
Solution 1 : Restart your Computer
It sounds very easy, but that's true. Most of the issues get resolved by performing a simple restart to your computer.
The reason is fairly simple to understand, sometimes the services required for the application and Discord, to get activated like the microphone and other related services might have just not loaded and started on their own.
To find them manually and restarting them is a little tedious than actually restarting your computer. Therefore a reboot is always powerful to get things back to work.
Solution 2: Update Audio Drivers
This could be a bigger issue than simply doing a restart and you might want to look into it deeply. To update audio drivers you will need to go to Device Manger (for Windows).
Go to device Manager by clicking on Windows + X key on the keyword and select Device Manager from there.
After that you will see the Device Manager windows, click on the Audio Inputs and Outputs. You will see Microphone, right click the microphone and choose update driver.
Following that you will get a window which asks you to manually update it from the local computer or search online.
I'd recommend you to click search automatically for updated driver software on the Internet.
If incase it takes longer to locate. You can manually go to the manufacturer's website and download the latest audio drivers.
For example if your motherboard manufacturer is Intel, going to Intel's website and downloading audio drivers recommended to work with your current Operating System is the right move.
Solution 3: Give Administrative Access
In case Discord audio is still not working while screen sharing, then look into the administrative rights of the application.
Before introducing the Screen Share feature in Discord, the audio used to work flawlessly. However, this feature requires more resources from your computer where there is a concern about privacy.
Most Operating Systems do not automatically allow for this action. Therefore, you will have to navigate to Discord's application file in the computer, and grant administrative access to it.
For doing that, hit the Windows key and start typing Discord. When you see the application, simply right click it and select open file location.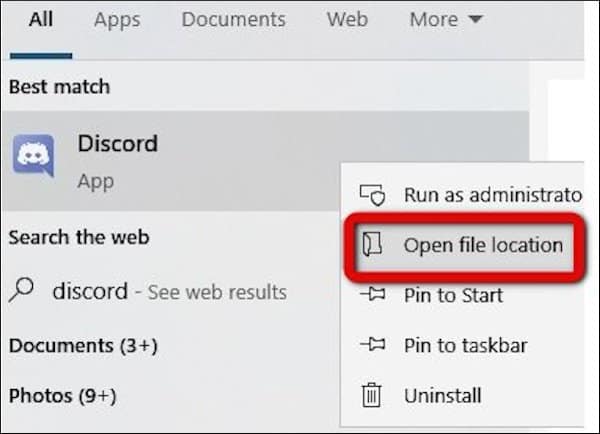 That will take you to Discord application file. Right-click the file and select properties, then select the compatibility tab and check mark "Run this program as an administrator".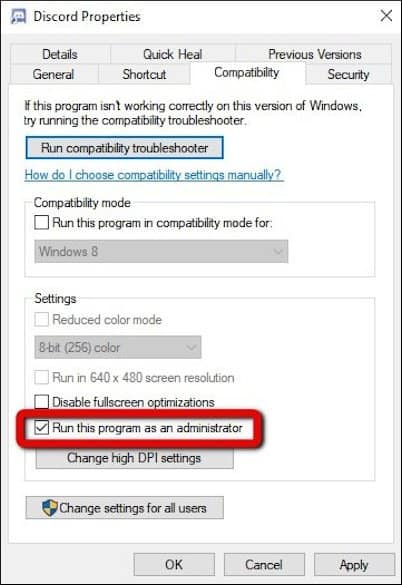 After that you just got to press Apply and Ok. Now try running Discord and check if the issue has been resolved.
Also Read:
Solution 4: Check Computer Audio Settings
To check this you will have to click Windows + I key on the keyword to open the Windows Settings window. From there you will have to go to 2 places – System and Privacy.
Click on System, then click on Sound. Verify the Output and Input, basically the Operating System mush have automatically selected the Input and Output devices by default.
Following that, click on the "App Volume and Device Preferences". You should be seeing Discord with Default Input and Output settings.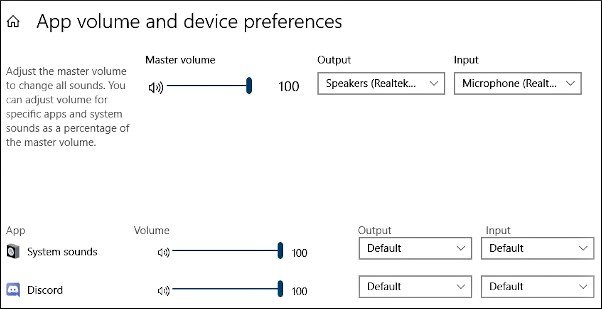 As you can see here, the Discord app makes it in the App Volume and Device Preferences, after starting the app. So, this was the first thing to verify.
The second thing to do here click on Privacy under Windows Settings main window.
For that you will have to come back and then click on Privacy.
After clicking on privacy, you will see multiple options. Click on Microphone located in the left bottom section.
Then make sure the switch under "Allow apps to access your microphone" is on and Discord is listed under "Allow desktop apps to access your microphone" with the switch toggled on.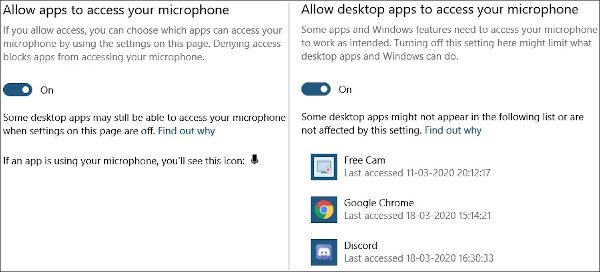 Check these settings and change wherever applicable and then see whether the issue is resolved.
Solution 5: Uninstall Apps Creating Problem
Generally, this will not affect the activity that you want to perform with Discord. But, you never know, a third party unverified application can create a problem in your computer.
So, if you have recently installed a third party app then that might be hindering with the services required for Discord to run audio properly while screen sharing.
To uninstall the third party application, press Windows + R key on the keyboard and that will open the run program. Type in appwiz.cpl and hit ok.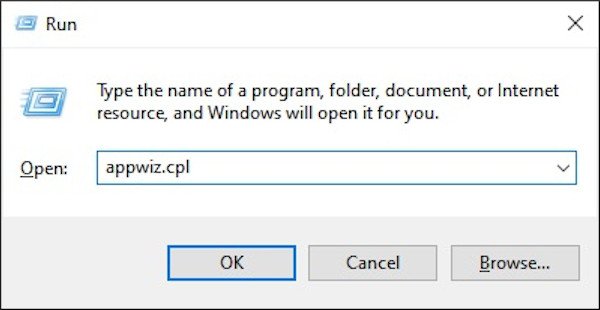 That will open the Programs and Features window. You can uninstall the third party tool or application which is hindering between Discord's audio while screen sharing.
Solution 6: Reset Discord Voice Settings
This solution is more to do with Discord itself. If you are still facing Discord screen share audio not working, give this method a try.
For completing this, head to Discord and click on the settings icon, next to your username and make sure the mic is on.
In the settings window go to Voice and Video which is located under App Settings.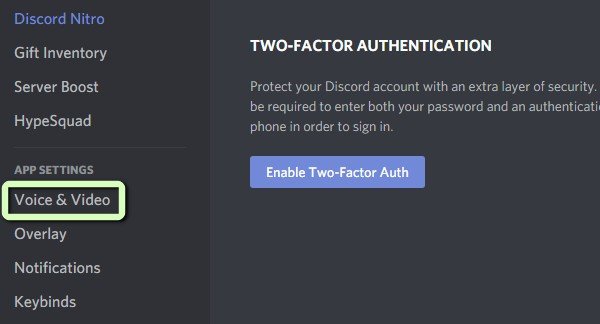 When entered the Voice and Video window look for Reset Voice Settings located at the end of the window.
After clicking that you will be asked to confirm your action as it will clear previous mutes and volume settings which had been stored for activities like Voice activity and Push To Talk in Discord.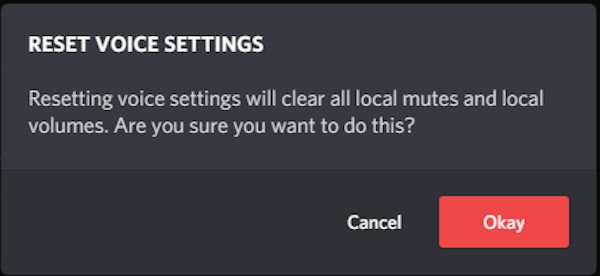 I would also suggest you to perform a system restart as that will enable the current services with the appropriate hardware of the computer.
After restarting do check whether the audio is working while screen sharing in Discord. If not then head to the next solution.
Solution 7: Add Target Application to Discord
I have heard a few people complaining about Discord audio not working when they screen share with web browser like Google Chrome, Mozilla Firefox.
To integrate it's best if you'd add the targeted software to Discord.
Note: For few PCs it is required to run Discord as administrators, for others it is not mandatory do check either ways to see what works for you.
This generally happens if the application developer of the target application has performed some updates or fixes. Adding or reading the software generally works in this case.
For performing this activity you will have to go to the Settings icon and click on Game Activity under App settings. On the right hand side you should be seeing an option called as "Add it".
Click on that and add the application where you will be performing screen sharing. For example, Google Chrome, Firefox, etc.
Note: It is good to toggle the overlay switch to On.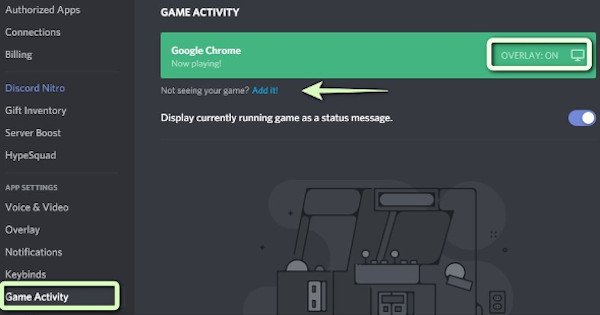 Solution 8: Try Discord Push To Talk
Discord gives its users two features to utilize the audio, they are Voice Activity and Push To Talk. By default, Discord uses the Voice Activity feature to perform all communications. That also includes the audio in screen sharing.
But, you could try enabling the Push To Talk in Discord. For complete information on how to enable and configure Push To Talk in Discord properly refer the article.
For now, let us look at how to enable that in brief.
Click on the Settings icon and then click on Voice and Video Settings, under App Settings. Make sure the default Input and Output devices are set.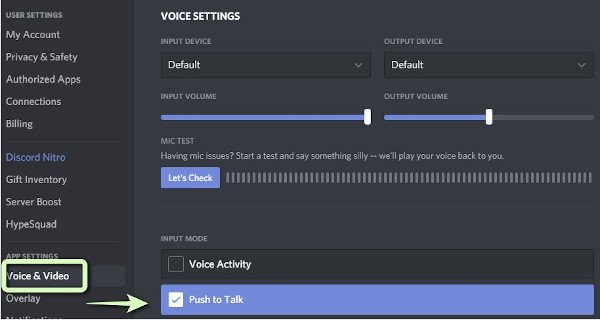 Test the audio in screen sharing after performing this step. As the name says Push To Talk, you will have to set a key on your keyboard. That key has to be pressed whenever you'd like to send audio to the opposite side.
Most probably by this way Discord audio will start working while screen sharing. If it doesn't then get to the next solution.
Solution 9: Avoid Full Screen for Application/Game
As per my discussions with few users, I have got to know that by minimizing or restoring the size of the targeted application or game, the audio in Discord starts working while screen sharing.
So, it might be a way that could be hindering and causing you trouble. You never know until you try it.
Try avoiding full screen of web browsers like Google Chrome and Mozilla Firefox, if you have added that for performing screen sharing.
Solution 10: Clear Discord Cache
If all the above solutions are not working, then possibly there are some additional files that are not allowing the basic activities like mic to pick up when screen sharing from a third party application like a game or a web browser.
Discord makes use of roaming data for providing basic operations to save the preferences of users and perform temporary operations.
Clearing the cache of Discord might help you resolve this issue.
For clearing the cache, you will have to first exit Discord and quit from the notification tray as well.
Then press Windows + R key on the keyword to open the run program. Type in %appdata% .
This will open the AppData Roaming folder. Navigate to Discord and delete it.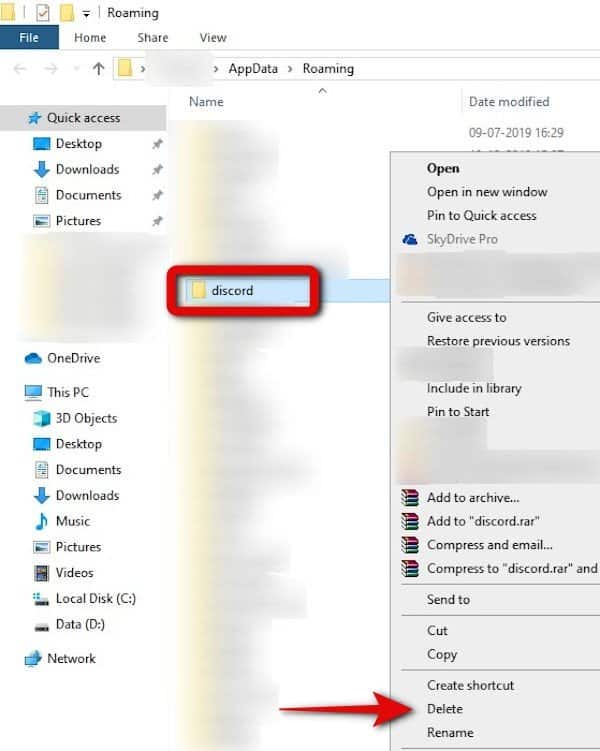 After deleting the folder you will have to restart your computer. Launch Discord to verify if the problem persists after restart.
Solution 11: Reinstall Discord
After trying multiple options if see Discord screen share audio is not working then try uninstalling the application and reinstalling it from its official website.
That may resolve your problem. But if in case you're still out of luck then it's wise to contact their support team through email.
Discord's technical team could have a possible solution with respect to your computer's Operating System, hardware details and other favorable applications you'd like to use for screen sharing.