Nowadays lot of gamers are replacing apps like Skype and TeamSpeak with Discord, as their most preferred mode of communication while gaming.
The application works mind-blowingly well with all the features a gamer could ask for. Its flawless mode of communication with both, the Input Voice and Push-To-Talk feature are getting a lot of attention from gamers world-wide.
Yes, you've read that right, a Push-To-Talk feature. If you'd like to know more about it, you could learn how to enable and configure Discord Push To Talk.
But recently, I have seen some users complaining about Discord Mic Not Working. This is a minor microphone glitch for a few users and for other Windows users, it is a simple fix.
The issue is actually that you can hear other users while playing a game but others are not able to hear you. That means your Discord application is not picking up voice activity from your microphone.
This is seen mostly on the Discord Desktop application and not usually seen on the web version.
The sole reason one would download an application on their computer is for using the app and all its features. Therefore, this issue is not something which can be neglected.
Unfortunately there isn't a single fix that will magically solve your problem. But, I will go through all the possible fixes which could solve the issue of mic not working in Discord.
Depending on the situation I would like you to try what works best for you.
Before we get into the methods of solving our problem. Perform the following checks;
Is the microphone working with other applications?
Check the headset with other applications. Best is, if you have an alternative headset, you can test that with Discord.
Is there any problem with the microphone driver?
You will need to check that in Windows Device Manager. Press Windows + X key on the keyboard and select Device Manager.
The first option will be Audio Inputs and Outputs. Under that, check if there isn't any yellow warning sign next to the Microphone.
If there is a problem then you will have to install the driver. That can be done manually by going to the manufacturer's website and selecting the driver setup file which matches the Operating System you are using.
This can also be resolved by downloading third party freemium tools which automatically detect the missing or corrupted drivers. You can select the utilities which are not functioning properly and the tools will download the latest files for you.
Methods on Solving Discord Mic Not Working
Check App Permissions (For Windows Users)
If you are a windows 10 users, it is required to know whether the OS has automatically detected voice and video feature from Discord. If not then you will have to go to the settings and manually turn the voice.
You can open settings by simply going to the start menu and selecting the settings icon or you can press windows + I on the keyboard.

From there you will see the Settings window where you will have to select the Privacy option.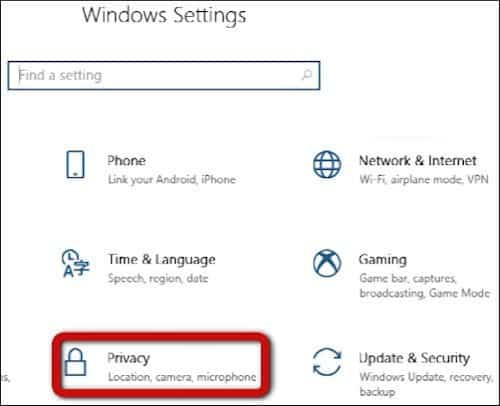 After you click on Privacy option, you will see a list of different parameters under the left hand side of that window. Select Microphone under App Permissions.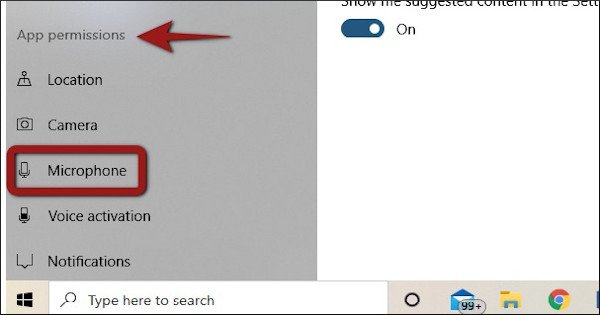 After you select Microphone, make sure Allow apps to access your microphone is switched on and Allow desktop apps to access your microphone should also be switched on. With that you should be seeing Discord under that list.
With these steps of giving microphone permissions you can solve the issue of Discord mic not working. Note that this method will require a system restart. If the problem persists, then go to the next step.
Push To Talk vs Voice Activity
Have a look whether the Push To Talk feature is working fine. For that you will need to get into Discord App.
Generally Discord always starts when Windows boots up. So it is best that you first quit Discord from the Notification Tray.
Verify whether the mute button is not selected and then click on the settings icon below in Discord. The one which is next to your username.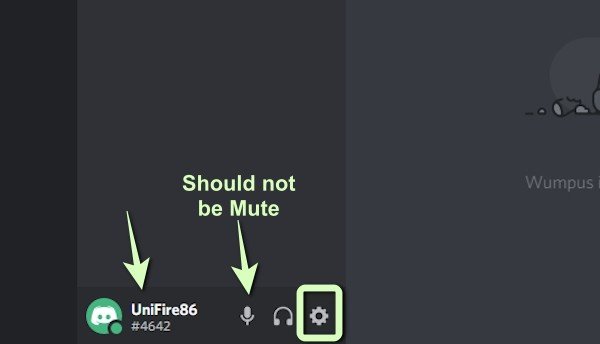 You can see the username, the mic is not mute, and you will need to click on the settings icon.
After that you will have to go to Voice and Video under App Settings.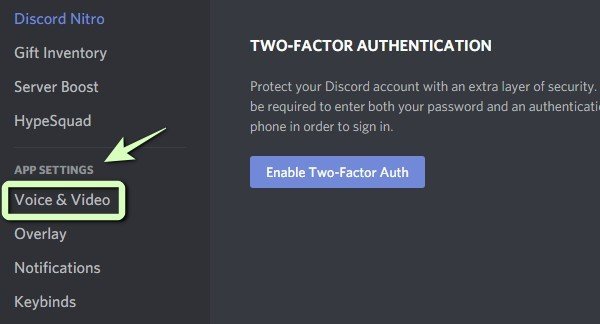 From there you will be taken to Voice and Video Settings. Here you will find 2 features under voice, which are Voice Activity and Push To Talk.
For both the features you will see a section called Mic Test. Press Let's Check button under Mic Test to test your microphone under Voice Activity and Push To Talk.
You don't need to change any other settings like changing the Input Device, Output Device. Leave them on Default.
As you can see, the application on my end is working perfectly fine. I get a similar output when I select the Push To Talk feature. Note that the solid green line in the end of the image depicts input sensitivity. Toggle that switch on to see the input sensitivity at your end.
If the mic test fails and you continue to have Discord mic not working issues then go to the next method.
Also Check: Top 5 Audacity Alternatives for Voice Editing
Changing Discord Mic Automatic Input Sensitivity
Sometimes the Automatic Input Sensitivity gets in the way and prevents your mic from functioning properly. There is a Toggle Switch which is on by default.
It takes the voice input automatically and in normal conditions it shows a solid green when the mic is performing well. Note that this option can only be done for Voice Activity and not for Push To Talk.
If you switch it off you will have to manually change the sensitivity bar. By default it was at full. You can change it to half, i.e. the center. It's worth a try.
Under the same Voice and Video settings go to Automatically Determine Input Sensitivity and turn the switch off. Later manually adjust the bar at half, i.e. -50dB and try speaking. You should be able to see yellow and green in the bar.
If you don't see it this way then toggle the switch back on and head to the next method.
Manually Select Microphone in Discord
If the previous method is not working for you, then surely it could be something with Discord which has not been able to pick your microphone. By default, the Input Device is set to Default.
You will have to change that to your microphone which can be selected from the drop down list. Under the Voice and Video Settings look for Input Devices at the beginning of the window. Drop the menu down and select your microphone.
After selecting your microphone, keep the Input Volume to Full and press Let's Check. By this method most of them get back their microphone working perfectly fine in Discord. But still if you have issues with mic in Discord then check out the next method.
Also Read: How to Disable USB Port in Windows 10
Quality of Service and Legacy Subsystem
Under the same window (Voice and Video Settings) if you go further down you will see a section called Quality of Service.
Quality of Service is a feature which a router understands very well. It prioritizes voice, video and data packets in such a way that the user gets a triple feature experience all at once.
But some routers misbehave a little and for that reason you can disable the Quality of Service High Packet Priority by toggling the switch to off. Note that by default it is on.

Once you've disabled QoS (Quality of Service) you will also need to roll back to legacy audio subsystem. So that Discord understands you are running on limited resources.

If you still find Discord mic not working then try using the next method which is to disable exclusive mode.
Also Read: How to Enable Discord Text to Speech
Disable Exclusive Mode in Windows
In Windows Operating system there are some drivers which take over exclusive control. Allowing that can cause some problems with Discord. For some headphones the microphone in Discord will get quiet.
So, if that is the case then this quick fix is just for you.
Go to Settings by pressing Windows + I key on the keyboard. That will open up Windows Settings main window. From there select the System option (that's the 1st one) and then go to Sound.
From the Sound settings, select Sound Control Panel on the right hand side.
That will take you to Sound Properties. From there select Recording (it's the 2nd tab).
Select Microphone from the list and go to properties.
Uncheck the Allow applications to take exclusive control of this device, select apply and ok after that.
Reset Voice Settings
Finally, if nothing seems to work from the methods mentioned above then I would recommend you to reset the voice settings in Discord.
For doing that, you will have to select settings icon next to your username. Followed by that, click on Voice and Video Settings and head completely down to find the button, Reset Voice Settings.
You will be asked for confirming your action. Reset will clear all local mutes and other settings which you may have done earlier.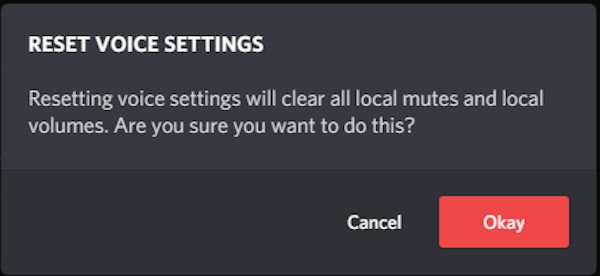 These are all the possible methods I am aware of and most of you will be able to resolve the Discord mic not working issue. But still, if the problem persists then you can head to official support of Discord.
Their team are trying really hard to get a permanent fix for this issue. Until that time, you can use the Discord Web version.
If you tend to use the Discord Web Version for Push To Talk, then I would recommend you to keep the focus on the browser tab.