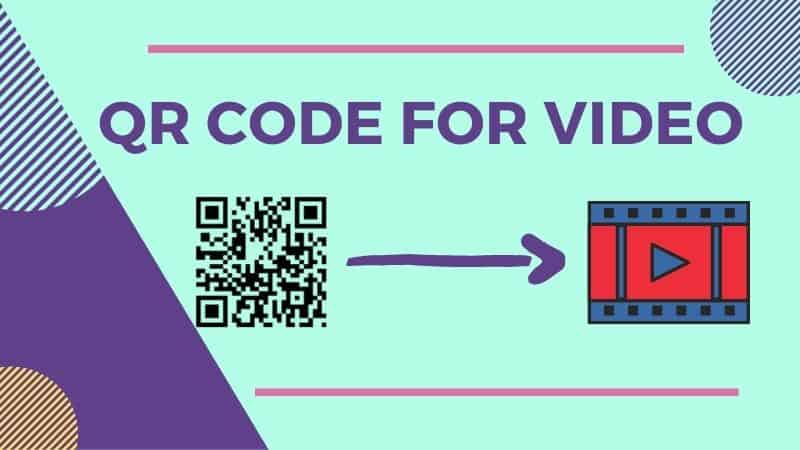 QR Codes are everywhere. They are in marking materials, postcards, brochures, business cards, billboards, etc. I have seen them everywhere on anyone who is trying to promote something or the other.
Recently, I have also seen QR Codes that can open up a video. How cool is that…
Now, you can send a personal invite to someone having a QR code printed on that invitation. The recipient can scan the QR code on his/her mobile to see a wonderful video that has been attached to the invitation.
The question is how to create a QR code for a video? Well, this is a pretty new technology so I am going to give a complete information on;
What is a QR code?
How does it work?
How to create a QR code for a video?
Before we create QR code for video, let us first properly understand what is a QR code and how does it work.
What is a QR code?
QR codes stand for the acronym, "Quick Response". Unlike barcodes, QR codes are 2D (two-dimensional), i.e., they can store information horizontally (from left-to-right) and vertically (from top-to-bottom).
They can store almost 7000 numeric characters or 4296 alphanumeric characters.
In plain terms, a QR code can store information like website URL's, plain text, phone numbers, email addresses, etc. and can be read by a mobile phone.
How does a QR code work?
A QR code works in the same way like how a barcode works at your local supermarket. It can be scanned by your smartphone camera. Each QR code consists of black squares and dots that represent the small pieces of information stored in the code.
Once your smartphone scans this information, it gets translated into something that can be easily understood by the user.
Almost all mobile phones have a QR code scanner. The scanning happens very quickly and that makes QR codes very simple to access information.
Now that you have clearly understood about QR codes and how they work, let me show you how you can create a QR code for a video and use it on any printed material or make it available online.
How to Create a QR Code for a Video
If you want to make QR code for video, you will first need to understand that the video should be present online. That video should have a link which can be shared. By using that shareable link, you can easily generate a QR code.
Here are the steps that you will need to follow;
Upload the video online
Get the Shareable link to generate a QR code
Scan the QR code
Upload the Video Online and Get the Shareable Link
I will upload the video online and get a shareable link. We will looking at the
Uploading Video on YouTube (Video Hosting Website Example)
For getting the video online, make sure that the video is ready so that you can upload the video on any hosting websites like YouTube, Vimeo, Dailymotion, etc. If in-case you would not like to upload the video to a video hosting website, then a simple cloud service like Google Drive, Apple Cloud, etc. will do fine.
Start the YouTube application on your phone or open the YouTube website on your computer. Click on the create video icon located on the top right corner.
You will see a window where you will have to select your video file and upload it on to YouTube.
As the video gets uploaded, give it a proper title and description.
Once the upload has been completed, press the Next button
After clicking on the Next button you will see a video elements screen. If you want to add an end screen you can include one otherwise it's just optional, press Next.
The next window is for video visibility. Here you will have to select Public. Since, unlisted videos do not appear in YouTube search. If you would want your video to be available for everyone then it is better to select public, and then hit on the Publish button.
Now, it's time to copy the shareable link.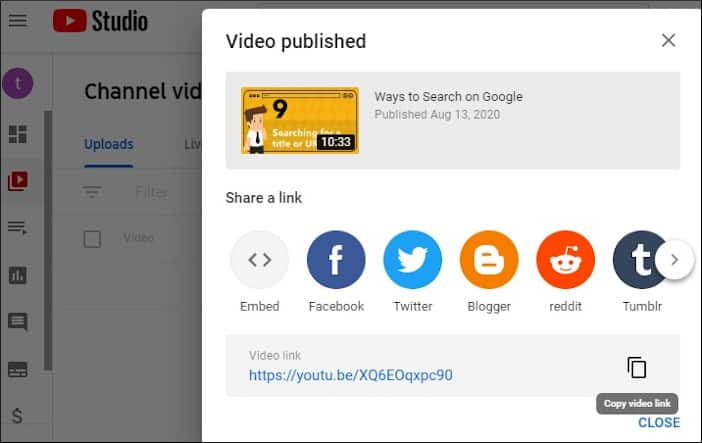 Uploading Video on Google Drive (Cloud Service Example)
This can also be achieved by uploading the video on any cloud service like Google Drive.
For doing so, open the Google Drive app on your phone on your computer. Upload the Video by clicking on New. Once the video gets uploaded, right-click on the file and select Get Shareable Link.
Also Read: Best Youtube to WAV Converter
Use Link to Create QR Code for Video
By now your task of uploading the video and getting the link is over. You will now need to use that link to generate a QR Code for the video.
For doing so, you need to utilize third party services like apps on mobile phones or an external website that provides you a QR code.
Some of the free websites that can do this task for you are as follows;
You can use any of the above links. I will show you by demonstrating the tutorial via QR Stuff.
QR Stuff is a free QR code generator and an online QR code creator.
Go to QR Stuff's website and click on YouTube option if you have uploaded your video on YouTube or click on the Website option if you have used the Google Drive method to generate the shareable link.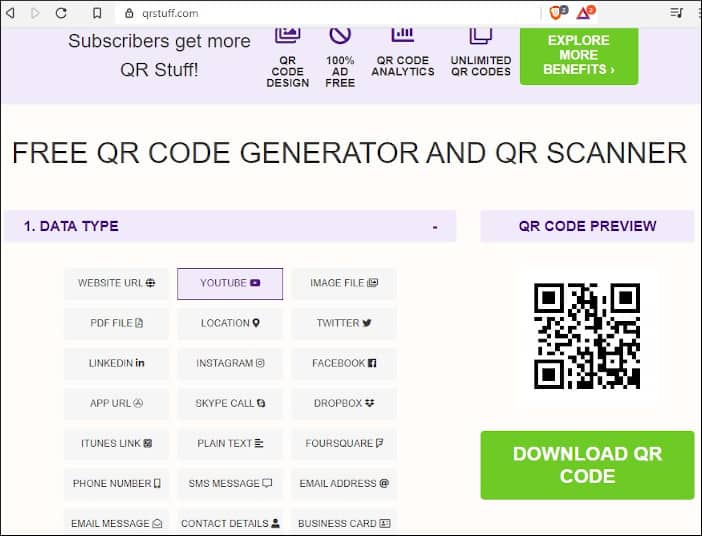 Later you will need to paste the video link under the content section. You can either put the YouTube ID in the Video ID field or paste the entire link in the Video URL field.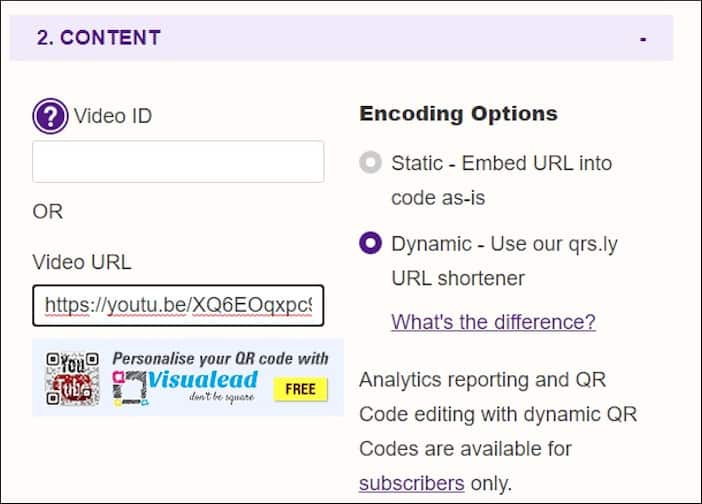 Finally, under the style section you can make editable changes to the size and resolution and also select the file type (jpg/png).
Print your QR Code on your printing material like flyers, brochures, business cards, etc. send it via an email or just create a visual QR Code to use online.
Visual QR codes can be shared and sent to others also.
Congratulations, you have successfully learnt how to create QR code for a video. Let me now tell you how useful is this for scanning on smartphones.
Scanning QR Codes on Smartphones
Scanning on Android phones is a little hectic as all Android phones do not support Google Lens natively. Google Pixel, Sony Xperia, Compact and OnePlus smartphones natively support Google Lens. For the rest of the smartphones you need to download third-party applications.
Scanning on iPhone is an easy task, as you do not need to download any third party applications. By default, iPhone camera app supports the scanning of QR codes, provided it runs iOS 11 and above.
FAQs on Creating QR Codes for Video
Can I create QR code by my phone alone?
Yes, you can upload the video online, get the shareable link and also generate the corresponding QR code for your video by using your alone.
Is it mandatory to upload a video for generating a QR code?
Yes, having a video uploaded online is required, otherwise you will not get the shareable link.
When to create a QR code for video?
It is best for printing on brochures and business cards. If you have a physical product, you can add a QR code on it that corresponds to a how-to video explaining your product in much more detail. I have personally seen QR codes on wedding invitations where the code corresponds to a pre-wedding video shoot that finally invites all the guests.