Everyone is well aware of the fact that after using a computer for some time, it is definitely going to slow down. You will feel like every click you perform will take ages to complete.
Not all of them can easily clear PC slow-down issues. For such users, even simple computer maintenance tasks look very laborious. But, with the proper guidance one can eradicate computer slow down problems.
Removal of unnecessary files and processes can dramatically increase the speed of your computer. Luckily, there are many applications that can speed up your PC/Laptop thereby, managing and optimizing your device for smooth operations.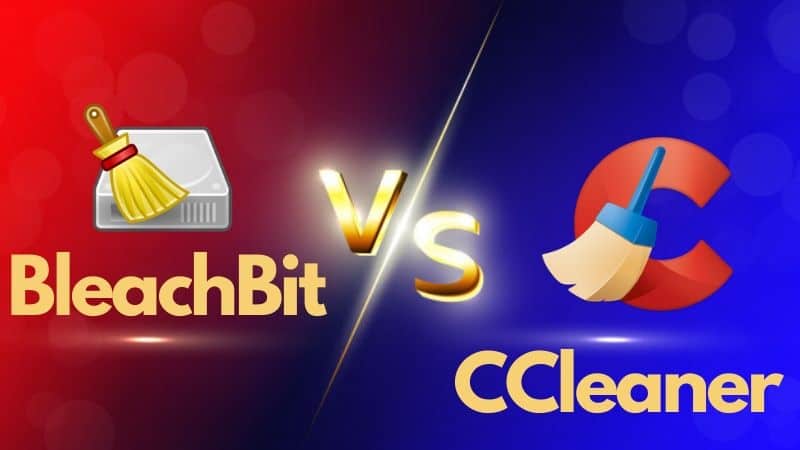 In this article, we are going to look at what the average home user needs to use, between BleachBit vs CCleaner. Understanding both of them will give you a clearer picture as to which one would suit your requirements for cleaning your bogged-down operating system.
Bleachbit vs CCleaner – An Overview
| Categories | BleachBit | CCleaner |
| --- | --- | --- |
| Pricing | Completely Free | Works on Freemium Model |
| Tiers | One single Free Software | Free, Professional ($19.95), and Professional Bundle ($29.95) |
| Open Source | Yes | No |
| Operating Systems | Windows, Linux, and MAC OS X (CLI only) | Windows, MAC, and Android |
| Portability | Yes | No |
| Best Features | A less frequent and manual process | Removes unwanted files, performs secure delete, can remove unused Windows registry keys and data, shreds temp files, clears, deletes cookies, clears internet history, and logs |
| Scheduled Scans | No | Yes |
| Updates | Includes third-party features | Automatic updates available |
| Support | No | Yes |
| Ratings | 4.8 (Based on 65 reviews available on SourceForge) | 4.2 (Based on 6,247 reviews available on Trustpilot) |
| Languages | Available in 64 languages | Available in 47 languages |
| Interface | Very easy to use | Moderately intuitive to use |
| Includes Third Party features | No | Yes- for HDD defragmentation, File Recovery, and PC information |
| Scriptable | Write your own XML Cleaner Scripts | Not Possible to write your own scripts |
| Download Link | BleachBit | CCleaner |
Why download BleachBit?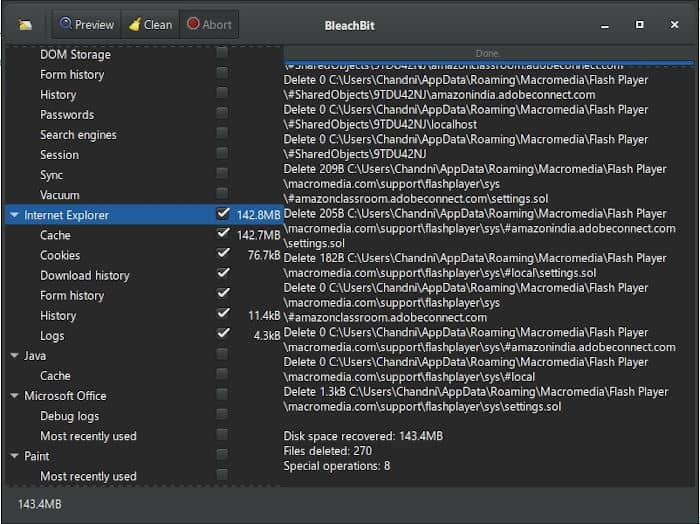 BleachBit is a totally free software. Although there is an option of donating to its developers, that is totally up to the user.
Since it is free, it has been protected under the GNU license and therefore, is an open source software. Another advantage of open-source software is that it can be easily audited by third-party security companies. That's the best part of any open-source software.
On the other hand, CCleaner is not completely free. Although it does have a free version, but comes with a lot of limited functionalities like controlling application-specific processes, removing tracking files and browsing data, fixes, and tuning PC performance.
Features and functionalities like deep cleaning, real-time monitoring, clearing browser history, automatic update, HDD defragmentation, file recovery, etc. are only seen on CCleaner Plus and CCleaner Professional Plus.
The free version of CCleaner does not come with these additional functionalities.
In my point of view, a user who is new to PC/Laptop cleaning applications must try out BleachBit and understand how things work in the first place. If the user has additional cleaning and PC performance requirements then it is customary to go with an application that provides support, and that is CCleaner.
BleachBit Features
BleachBit comes with a lot of features. Unlike other free software, BleachBit comes fully-featured with almost all the functionalities a user needs for cleaning his/her computer/laptop.
The file shredding feature is so good that even other recovery software cannot recover the private files that you have shredded via BleachBit.
BleachBit can easily cover up traces of shredded/deleted files in such a way that the space in which the file is used on the HDD, will always look free. Prevention of Data Recovery is one of the most prominent features of this application.
You have the power to import and update winapp2.ini cleaner files that can give you access to 2500+ additional cleaners.
BleachBit comes completely clean, without any adware, spyware, malware, backdoors, additional add-on software like browser toolbars, or any other value-added software.
BleachBit can easily free up a lot of memory by deleting the following;
unused swap partitions
OS backup files (the ones that are not needed)
Temp files across the entire operating system, clean the recycle bin
web browser history, cache, cookies, passwords, sync information
Microsoft Office debug logs and most recently used files (these files take up memory)
Search history, thumbnails, most recently used from the Windows Explorer
Vacuum the web browser's or any application's database to reduce space and improve its speed
and much more…
All this adds up to free a lot of disk space that eventually increases the health and lifespan of your Hard Disk Drive. It maintains your privacy by deleting private files and shredding files to hide their contents.
Finally, it does its job very well by improving the system's performance.
CCleaner Features
CCleaner basically has three tiers for its home users. One is the free tier and the other two come at a cost.
The free CCleaner can control the computer resources used by the applications, optimize your computer startup, and remove file tacking and browsing data- thus giving a private and safe browsing experience and constantly monitoring PC performance.
Professional CCleaner can perform everything that the free CCleaner can handle and also;
perform a deep cleaning of your hard drive volumes
perform real-time junk monitoring
automatically clear your browsing history as soon as you close your browser
and gets automatically updated
Moreover, the Professional CCleaner does come with a 14-day free trial so that you can try it before purchasing the application.
Whereas, the Professional Bundle CCleaner goes a step further and includes 3 additional functionalities;
It has a Defraggler that keeps your hard disks healthy and running smoothly without many I/O errors.
There is a File Recovery feature called Recuva which can recover any file that you have accidentally deleted.
It also includes a PC information feature called Speccy that can instantly spot issues and also give you your PC information in real time.
The Professional Bundle CCleaner does not have a free trial and it comes with an option to bundle up to 3 PCs with one single license key.
Features and functionalities like real-time threat monitoring, scheduled scans, disk defragmentation, file recovery, etc. easily take CCleaner to the next level and BleachBit does fall short over here.
Personally, I have never gotten excited by third-party disk defragmentation tools but scheduled scans and file recovery features add value to the application, and that's where the organization acquires more customers.
Frequently Asked Questions on Bleachbit vs CCleaner
Is it safe to use BleachBit?
I agree that BleachBit application is not backed up by any big organization, but it does the job of any home user and gets his/her PC running smoothly after the first use itself.
How safe is CCleaner to use?
An application coming from a reputable company does have a good support system which you can rely on if there are any issues. I have not seen the software loaded with third-party value add-ons that just junk the computer anyway.
Can CCleaner be used for Business?
Yes, CCleaner can be used for Business. The company has created several other applications for Business use like CCleaner Network, CCleaner Business, CCleaner Cloud, and CCleaner Technician.
These applications can perform all the tasks that are seen in the Professional Bundle, and additionally, they can clean multiple user profiles, handle remote management of the application through desktop-based and/or web-based, perform audit reports of the completed scans, monitor Active Directory, and send customized email alerts to users.
Final Thoughts – Going for BleachBit or CCleaner
So, how did it all go? What do you think, which application is better and can serve your requirements? And what you will choose between BleachBit vs CCleaner?
Answering this question is up to you. It all depends on your requirements. If you use your computer/laptop moderately, it is best suited that you go for BleachBit. Well, that also includes computer users who are in the field of IT and know a lot about machine maintenance.
As they very well know, how to fix multiple PC issues with the least possible investments.
But, on the other hand, if you are a user who is not so proficient in computer maintenance and often uses your PC to perform multiple activities like extensive usage of Microsoft Office, PDF readers, extraction of files from RAR formats, heavy usage of image/video editing, then you need to go with an application that can counter the junk created by such activities.
CCleaner is a reputable software coming from an organization. I do agree that it is not open source but paying a little won't harm you in the long run and you can efficiently perform all your activities without anything to worry about like, a slow-down of PC performance, multiple lags each time you try to multi-task activities, recover accidentally deleted files, etc.
Additionally, you get the corporate's support system to help you out, if in-case something terribly goes wrong with your computer. You will not have to pay extra bucks to a computer technician to fix issues related to PC performance and junk clearance.