Showbox was an entertainment mobile application available for Android, and iOS. You could watch thousands of movies, TV shows, series, and sports shows for free.
But sadly, due to heavy pressure from studios, television producers, and sports broadcasting agencies, Showbox has been banned in many parts of the world.
The reason for its ban was that Showbox used to violate intellectual property rights and thereby was subject to copyright infringement.
Now that Showbox is no longer available on Play Store or App Store, you will not find support for the app from any official source.
Hence, we have curated this list of the best Showbox alternatives that lets you watch your favorite TV shows and movies.
Note: Using any of the app mentioned below will be a kind of torrenting. It is highly advisable to use a VPN that can protect your online anonymity. Moreover, a VPN can also open doors for you to view content that's not available in your country/region.
Best Showbox Alternatives
Let's look at the best Showbox alternatives one by one;
FreeFlix – Has an impressive library of movies, TV shows, Anime, Live TV, etc.
Sony Crackle – Stream the best movies and TV shows for free.
Pluto TV – Free streaming TV service having popular and on-demand content.
Movie HD – Watch latest Movies and TV Shows in HD (1080P Quality).
Kodi – Multiplatform media player, lets you watch live shows, radio, music, movies etc.
PlayBox HD – Offers live TV shows, movies, series, and unlimited videos.
TV Zion – One app that can stream all your entertainment.
FreeFlix HQ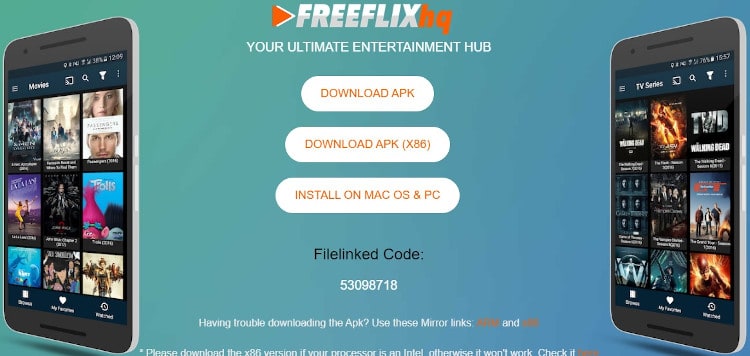 This free entertainment streaming app offers you Movies, TV Shows, Anime and much more. You can easily find latest movies and recent episodes of popular TV shows.
FreeFlix allows you for downloading the content. It works flawlessly on Android, iOS, Windows and Mac OS. With regular updates available, this app offers new and trending movies and TV shows.
Moreover, the layout of this app is perfect to fit on large devices like TV as well. Hence, getting a Firestick to work around FreeFlix HQ would not be a bad idea at all.
Below are the best features of FreeFlix HQ;
Users can download and watch all the content at 1080p quality.
Supports Firestick and is therefore good to watch on TV.
App is super easy to use and also allows to filter by category.
You can easily customize the interface to suit your preferences.
With more than 70 languages and support for subtitles, this app keeps you glued.
FreeFlix already comes with 5000+ Anime content.
WWE fans can watch wrestling for free.
Click here to download.
Sony Crackle
This Ad-supported streaming service is available completely for free in the US. For using this service anywhere outside the US, make use of a VPN or a web browser that offers VPN service by default.
Over the years there have been many improvements on Crackle and it now offers very popular movies and TV shows. The best part is that you can stream movies and TV shows on multiple devices like Android, iOS, Smart TVs, Gaming Consoles like PlayStation, Xbox 360, etc.
With the simple interface, Crackle offers featured movies and shows on the home page of the website and the mobile app. But you can also sort content by recently added, popularity, by genre, or alphabetically arranged.
Best Features that make Sony Crackle a best Showbox alternative;
You can watch movies and TV shows without signing in
Offers trailers and clips
Having an account lets you create a watch later list
Let's you watch R-rated movies if you are signed in
Content keeps rotating – meaning the old content is replaced by new ones.
If the old content has to removed, you will see a countdown note on the listings page
Has a decent list of movies from the 50s, 60s and the latest drama and comedy types.
Works on Ad-revenue model, so you never got to pay for any subscription.
By hovering on the thumbnail of any movie or TV show, Crackle gives you information about content type, 2-liner plot summary, watch time, and year of release.
Click here for official website.
Pluto TV
Pluto TV is a streaming service that offers Live TV and on-demand content. It offers a selection of more than 250 channels with thousands of free movies and TV shows completely for free. Since, it runs on an Ad-supported revenue model.
From March 2019, Pluto TV has been taken over by Viacom. Here you can easily find content from channels you've seen before and other channels that you might have not even heard of. Meaning there is no geo-restriction in watching Live TV.
There is big change in the user interface that took place in March 2020. Now, Pluto TV has streamlined the entire process of content discovery and playback. Having a linear theme that lets you decide by jumping into the main TV categories like sports, movies, news, etc.
By the help of Dash Radio, it makes different Internet radio stations available to you.
Pluto TV can be watched on web browsers and there's also a desktop app for Windows and Mac OS. But, that can only be used in the US.
By the help of a VPN you can easily watch Pluto TV on a web browser anywhere in the world. Nevertheless, international version mobile apps are available for Android and iOS.
Unique Features of Pluto TV:
Comes from the house of Viacom. Meaning, there's loads of content for binge watching – be it Live TV or on-demand content like movies or TV shows.
It runs on ad-revenue model. Therefore, it is free to watch. You just have to be patient enough for ad commercials to run in between the shows.
Runs very well on other devices like Amazon Fire TV, Apple TV, Roku, and even PlayStation 4.
Offers Internet Radio Stations, provided by Dash Radio. You can listen to music like hip-hop, pop, electronic, etc.
Has lately addeded 2 British specific channels, offering 24/7 "Made in Britain" shows.
Pluto TV has a Curiosity section that features Science TV, Docu TV, and NASA TV, kids can watch and learn about future technology.
Click here for official website.
Movie HD
The Movie HD App offers amazing Movies and TV shows just like the other Showbox alternatives. It is fast and very easy to use.
This app is currently available for Android and iOS only. If you want to watch movies from Movie HD, you will have to download third-party emulator like Youwave or Bluestacks. It offers content in 360P, 480P, and 1080P quality.
Although you can still download movies and your favorite TV shows. Even if you are using an emulator on PC. Movie HD supports ChromeCast and Fire TV as well.
Best Features of using Movie HD
You can easily watch and download movies and TV shows.
All the content is categorized by different genre.
Favorites can be added to Watch Later list
The app gets updated on a regular basis. Therefore, as soon as any new Movie or TV show is available, it gets added to the app.
Movie HD is Ads Free
There are 3D movies also available for watching.
Kodi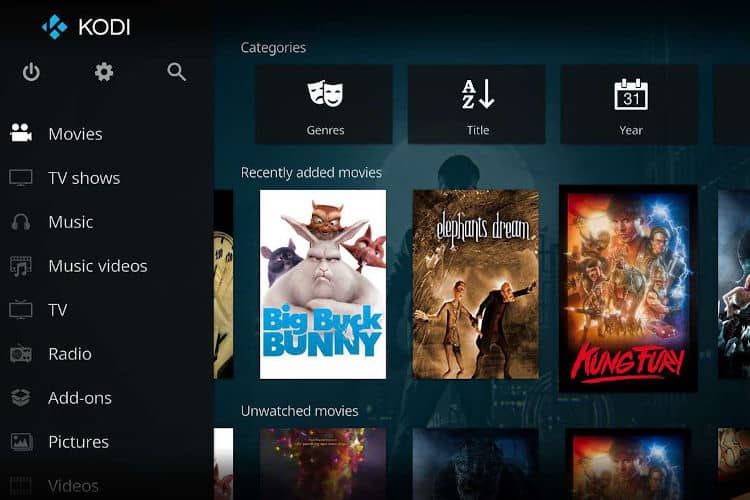 Kodi is a free and open-source media player that gets installed on multiple devices. Kodi has loads of third-party plugins which let you watch your favorite movies, TV shows, and other content like documentaries, anime, etc.
Note: The app does not provide any media itself. Users must play their own media or point Kodi to another third-party online service. Hence, the use of add-ons is a must here.
Developed by a passionate group of developers, Kodi is open-source and gets updated much quicker than any other Showbox alternative.
Kodi can run on multiple devices like Windows, Mac OS, Android, iOS, Linux, Raspberry Pi and other TV boxes that makes it one of the widely used best Showbox alternative.
Moreover, it is an infinite gallery of add-ons. Some of the most loved ones are Exodus, BBC iPlayer, Genesis Reborn, Poeidon, USTVnow, Tubi TV, and even Netflix and Hulu Movie TV.
Features that set Kodi in this list
Feature-packed media player that lets you play music, movies, TV shows, documentaries, Anime, etc
You can peform all types of customization from themes to skin.
Works on add-ons. They are the backbone of Kodi.
Kodi allows for installing official add-ons and third-party add-ons as well.
All your content can get stored in one single place.
The user-interface is 10 foot, keep TV audience in mind. That makes Kodi a great choice to run on TV through FireStick TV or any other TV boxes.
Supports all audio and video files.
Kodi also has multiple plugins where-in you get the opportunity to stream content from free video service providers like YouTube, Vimeo, etc.
The library of Kodi is kept organized by scrappers. That helps you easily organize videos by information like genre, title, year of release, actors, directors, etc.
It lets you watch Live TV, listen to radio, perform recordings, and much more.
Click here to visit official website.
PlayBox HD
PlayBox HD is an application where you can watch all your favorite films, TV shows, and series free of cost. With its simple to use interface and menu system you can easily find all the content.
The best part of this app is that it also works on a slow/minimum Internet connection. Although the quality offered for entertainment viewing is lower compared to regular watching. Therefore, you need not wait for unnecessary buffering periods.
PlayBox HD can be downloaded for Windows. You will need to use a third-party emaulator like BlueStacks to run PlayBox HD on your windows computer. For Mac OS you will need a similar emulator like vShare. For Android and iOS, Playbox HD has to be downloaded from third-party sources.
PlayBox HD Features that people love
Playbox HD is completely free for streaming content online.
It has a huge database of movies that gets updated on a regular basis.
Since, it supports a slow internet connection; there are options to download your favorite content at a moderate quality.
The search bar lets you easily find your movie or TV show.
User-interface of Playbox HD is simple, attractive and impressive to use.
TV Zion
TV Zion can be termed as one of the best Showbox alternative as it has a lot of content. You name it, movies, TV shows, documentaries.
With its neat and stylish interface, this app offers an overall satisfying entertainment experience. TV Zion has a strong content library that also offers the most trending and popular titles.
The menu system helps users to quickly navigate between movies and TV shows. TV Zion lets you search your favorite content by genre, year of release, and even New in HD.
Once you select your favorite content, it opens in full screen letting you see everything related to that piece of content. Another point to mention about TV Zion is that it supports voice search. This comes in quite handy when viewing from a certain distance.
The seamless integration with Trakt.TV helps you to pick up and resume watching from where you left. Trakt also allows for personal collection, watch later list, history, and liked lists through Zion's Trakt browser.
Notable Features of TV Zion:
Can be played on Android TV with a separate UI for TV and touch devices.
The Debrid Suite gives you the freedom to stream your favorite content anywhere; as long as the devices are synced with one another.
Debrid allows for HQ streaming of torrents.
The AutoPlay feature allows TV Zion to auto play the highest quality link of any video file automatically for you.
AutoNext feature of TV Zion automatically plays the next episode without any intervention, even while using an external player.
TV Zion supports advanced meta data detection that reports the exact resolution/bit-rate to help you in choosing the best link for viewing your favorite show.
It comes with Special content section that shows Up Next section, New in HD section, Airing Today section, and Recently aired Section.
You can easily customize the thumbnails by changing their grid size, choosing between poster/screenshot thumbnails, or even disabling texts on thumbnails.
Link filtering and sorting can be done by advanced parameters like resolution, bit-rate, ping time, file size, and quality.
TV Zion also comes with 4K movies and subtitles database.
Click here for official website.
Also Read: Rabbit Alternatives to Watch Together
Conclusion
There is something for everyone in the above mentioned apps. Some are good for movies, while others have a greater collection of TV shows.
Try out these best Showbox alternatives to experience the best entertainment, and that too free of cost. With these apps you will almost find all your favorite movies, TV shows, documentaries and other entertaining content.
Remember, it is always safe to use a VPN that hides your online identity. Be sure to browse safely. And we do not endorse watching movies on platforms which do not follow intellectual property and copyright infringement rights. There are also some websites to watch movies free of cost legally.