In today's world not even a single computer system is 100% free from problems. Some systems have problems the time we buy them, while others slowly start facing issues overtime.
There are multiple issues which are related to system and usage habits. One such annoying problem most of us have faced till date is the duplicate files piling up in the computer system.
Duplicate files can be anything from photos, videos, documents, or even multiple software setup files downloaded from the internet. These files not only clutter the hard disk space but also degrade the system's I/O performance.
Moreover, computer systems do not find and delete duplicate files by default. That's the reason we have come up with a good selection of best free duplicate file finder software.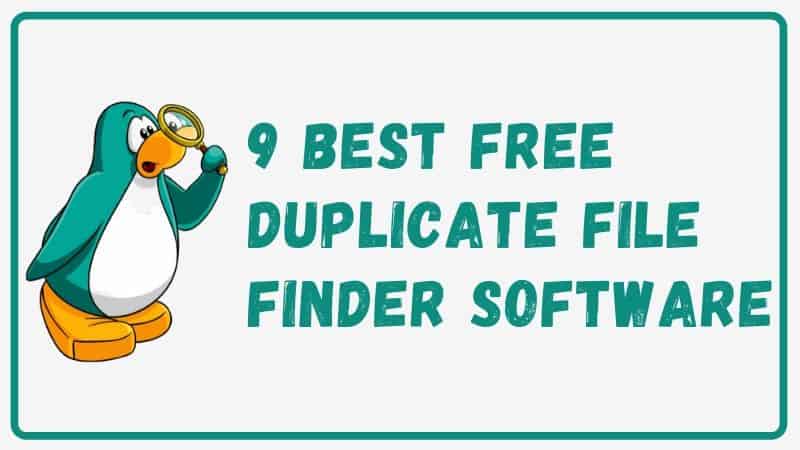 Important Note: When you start looking for duplicate files on your computer system, make sure you are running the software on user created folders only. Do not attempt running these software on system drives or system generated folders.
Additional Read: A Web Page is Slowing Down Your Browser
Best Free Duplicate File Finder Software
CloneSpy
If you often download file from the Internet you will have a crowded hard disk drive. CloneSpy can find duplicate files having the same file name, title, and even extensions. It can also find duplicate files of similar sizes as it performs byte-by-byte comparison.
Although the interface looks a little bit outdated but the software does a very good job. CloneSpy is available for download as a standard software and a portable software.
That said, CloneSpy can also find duplicates that are not even exact matches, but are similar. It can search for duplicate files on windows 10.
Go to the CloneSpy website and click on download. It will download the setup file.
Once you start the installation, you will be asked to choose the installation type. Remember that this software can be even be installed on your portable USB drive.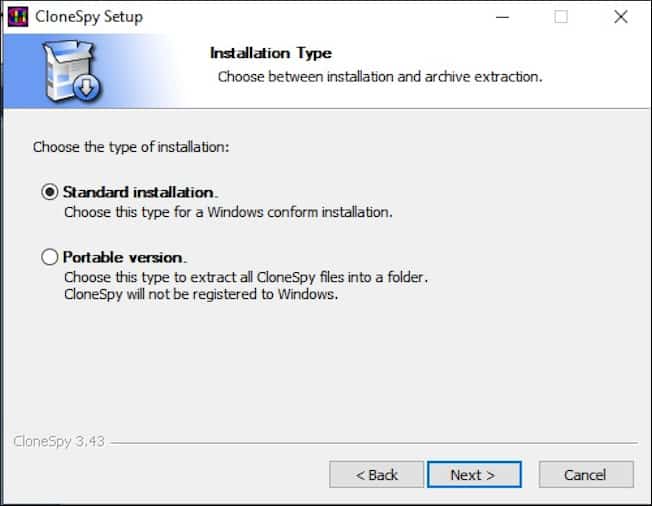 You can see that I have selected the Standard Installation.
Following that you will be prompted to choose the Windows 32-bit and 64-bit versions.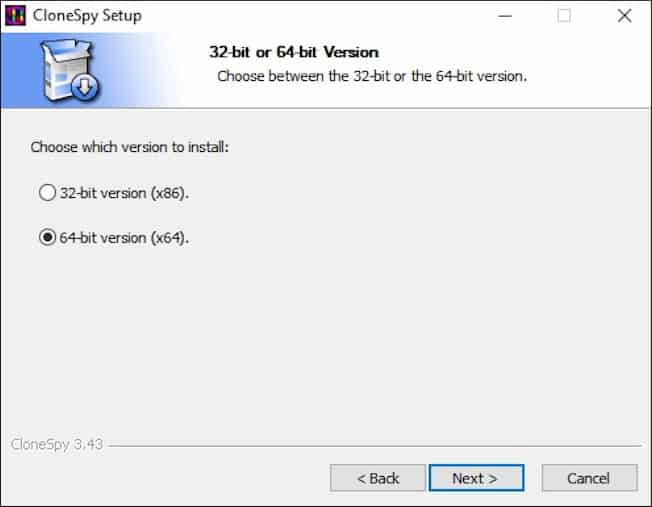 After this step the software gets installed. You can now start the application and this is how it looks like.
Once the application is ready, you need to click on the ADD FOLDER button. That will open another window for selecting the required folder from the appropriate path.
You can see that I have selected the folder and finally clicked on OK.
Once the folder is visible in the Pool section, you can click on START SCANNING button.
Once it finds duplicates, the application will prompt you for further instructions as shown below.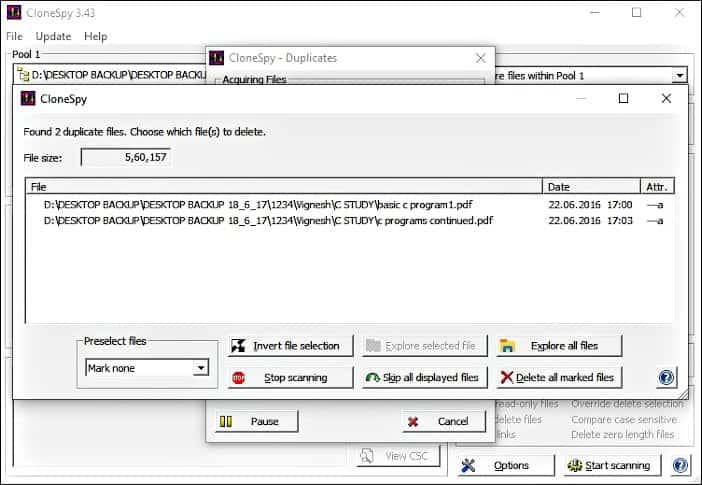 Here CloneSpy has found two files of the same file type with similar content within both of them. Now it is up to the user whether he/she explores the files for further clarifications or simply clicks on a single file and deletes it.
CloneSpy is a simple yet fast duplicate file finder tool, and it is also free to use. The only possible negative attached I found is that the interface looks a bit old.
Note: I have tried to show all the possible steps as to how a user should select a folder and run the program to delete duplicate files. Henceforth, I will only enlist the application with their features, as all programs do the same job. Feel free to read and choose the one that would best suit you.
XYplorer

A double-pane software to remove duplicate files for Windows which has a perfect duplicates detection feature.
It is so advanced in its operations yet it's easy to use, that the FIND FILES feature gives you an extra option of sorting out duplicates in your own search option. XYplorer lists the files by Name, Date Modified, Size, and it's content.
Unlike CloneSpy, XYplorer is only portable. Meaning, it does not require any installation. From the moment you download it and extract it from the ZIP file, it stores all its configuration data in the application data folder specified by you (path given you). It can also be loaded on you USB drive stick for on-the-go requirements.
XYplorer can be customized as per your requirement. You can change its fonts, colors and toolbar buttons. Plus it has even got a dark theme mode.
Althogh XYplorer is now a paid software but you can try the trial version which is completely free for 30 days and works like a charm.
Awesome Duplicate Photo Finder
A 100% free and powerful tool with which you can search for duplicate files on Windows 10, especially image files. As the name suggests, this program deletes duplicate images.
Moreover, this app even shows you the similarity between two similar images with a percentage. You can choose to delete the duplicate or keep it. Setting the parameter of finding similar images is totally upto you.
An easy to use program that can perform the job on image types like JPG, BMP, PNG, TIFF, and GIF.
This software does not come with any Adware, Spyware, or even registration requirements. Just download it and you are good to go. Awesome Duplicate Photo Finder is free of cost and the setup file is only 1MB in size. It is the perfect duplicate picture finder for Windows 10.
dupeGuru
This is one of the best free duplicate file finder for Windows, Linux, and even MAC OS. Yes, it is cross platform and is coded in Python.
dupeGuru can find duplicate files by filename or its contents. The algorithm can get deep and find duplicate filenames even when there is a mere similarity.
The app can efficiently find similar music files and pictures. dupeGuru has a special Music Mode where it shows music-specific information in a separate window. The Picture Mode lets you view the similarity between the images with its filename, side-by-side.
Thanks to its fuzzy matching algorithm that makes dupeGuru a fast software to find and delete duplicate files. Moreover, because of its cross-platform abilities, it is also a free MAC duplicate file remover software, which is a bit hard to find.
Duplicate Files Deleter
If you really want to know what is the best free duplicate file finder then Duplicate Files Deleter is the app.
It will remove all duplicate files from your computer system by performing a thorough scan. Post the scan, the original and duplicate files are shown to you one after another. It also performs a detailed analysis of how much hard disk space you can save once the duplicates get deleted.
Moreover, it also shows you the original locations of the files, so that you know what is getting deleted and most importantly from where it is getting deleted.
This app is capable of performing a byte-by-byte comparison of files and can simultaneously check for duplicate files using CRC32 Checksum with the file size.
One can use multiple options with this Duplicate Files Deleter like excluding files from getting scanned, applying file size filters to rule out scanning large files, applying special filters even after the scan gets completed, and much more.
It comes with a special file comparison algorithm that can find true duplicate photos, be it JPG, PNG, GIF, BMP, TIFF, or even RAW.
AllDup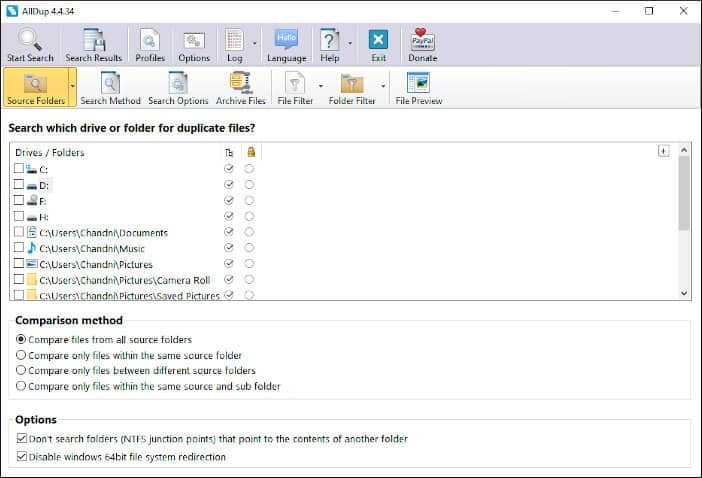 Another feature-rich duplicate file finder application is AllDup. It removes duplicate files from your computer system at a much faster rate compared to other software.
The scanning of duplicate files takes place by combination of filename, file extensions, date modified, tags, etc. Moreover, AllDup takes the extra leap by going further and finding duplicate texts, music, and image similarity.
AllDups picture mode does the job intensely by finding similar images with respect to file name, file size, and image colors.
AllDup scans and shows you the duplicates, you can decide on keeping the files or delete them. Moreover, the app is designed in keeping the deleted files in a backup folder for safety purpose. Just in-case you have accidentally deleted an important file.
The best feature of this software is that you can search inside archives having extensions like RAR, ZIP, 7Z, CAB, EPUB, and many more. That allows to scan for files without extracting them.
It is powerful and one of the free duplicate file finder for Windows computer systems.
Auslogics Duplicate File Finder
Another best free duplicate file finder is Auslogics Duplicate File Finder. This app can quickly find duplicate files, be it text files, images, music and even large video files.
It provides a preview feature for you to decide whether you need to delete the duplicate file or move it another location.
With a neat interface this app gives you different search parameters to find duplicate files like file types, file sizes with minimum and maximum options, file names, created and modified dates, etc.
Unlike other apps, Auslogics Duplicate File Finder does not utilize byte-by-byte comparison, instead it uses MD5 Checksum, and that drastically increases the scanning speed of the software. Thereby, completing large selections at a fairly reasonable time.
The user-interface is not so user-friendly but the simplicity of this app comes with one-click operation for scanning. Once the added folders are scanned which results into showing you duplicate files, then its upto you to choose between sending the file to recycle bin, rescue center, or delete it forever.
Visipics
Visipics is just like Awesome Duplicate Photo Finder, it is specifically developed for finding duplicate images.
Offering a simple user-interface, this application performs scanning of files beyond the checksum that lets it apply 5 image comparison filters to measure the similarity between two or more identical images.
All the duplicate files are shown to you side-by-side with user information like file name, file type, file size, etc. Visipics also offers advanced features like auto select mode, saving of higher resolution image, keeping space-saving file type, etc.
Visipics is fast and effective and the most important feature to note in this app is that the application lets you to work on other things while even running the scan process.
Anti-Twin
This is a small application which performs the search for duplicate files on your computer system. This application will scan files based on multiple factors to avoid inaccurate search results.
The user gets the option of using COMPARE FILE CONTENT option that helps in comparing the complete binary content of the files on your computer system.
The only negative I have encountered while using this software is that it does not support scanning of duplicate files which are located in different location, at the same time.
Just like any other duplicate file finder, this software also offers byte-by-byte comparison of file content and pixel-based image comparison.
Anti-Twin software is also a free MAC duplicate file remover and is also available for WINE to run on Linux operating systems.
Anti-Twin can also work on corporate networks to help delete duplicate files within the network environment. Finally, it is a free software and can be downloaded from here.
Conclusion
There you go, I have compiled 9 best free duplicate file finder software in this article. These are one of the best in finding duplicate files from your computer system and thereby freeing up much of your hard disk space.
Software like Awesome Duplicate Image Finder, Duplicate File Deleter, and CloneSpy are powerful and free to use. The only issue with such software is that their user-interface looks very outdated. But, they do a great job.
I encourage you to use a couple of them and stick to one that most suits your requirement. Do drop us your valuable comment if you know any better software to remove duplicate files.