In this article I am going to tell you about free program to manage fonts. Nexus font manager is free font manager for windows. Let's check out how to use nexus font to better organize fonts.
Managing fonts is difficult task to do. You may have to use different fonts for different projects. Sometime you have to preview fonts, install them and uninstall when not required.
Keeping so many fonts on the windows does not bog down the operating system like the older versions of windows. But it is always recommended to keep the fonts to minimum for good performance of Windows.
NexusFont can manage already installed fonts, uninstalled fonts and do a lot more than this. In simple words it gives you the facility to use fonts without actually installing them on Windows operating system and more than that.
Benefits of NexusFont
Install new fonts
Uninstall fonts which you don't use
Manage fonts
Print font lists
Compare fonts
Activate fonts
Deactivate fonts
How to Use Nexus Font in Windows 10
The first thing which you have to do is to download NexusFont setup. Now install NexusFont on windows. You can download free fonts from different font websites.
After installation of Nexus Font you will see icon for NexusFont on desktop or start menu. Click on its icon to open this.
After opening Nexus Font will load and you can see already installed fonts as shown.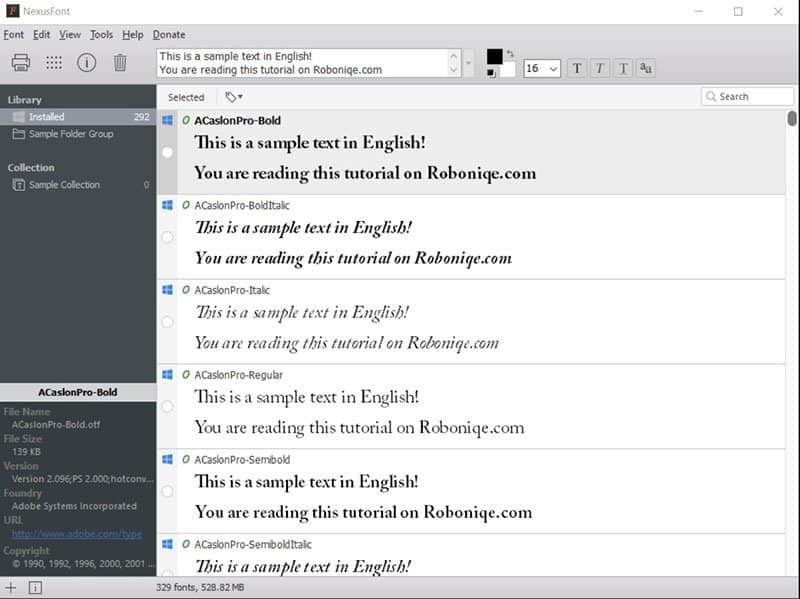 Nexusfont provide more options than just installing fonts. Like you can create your own folder of fonts with Nexusfont.
The important thing is that it will not actually move fonts from fonts folder of windows. It can build a database of fonts.
For example you can create a folder for Google Fonts without actually installing them and can use them on your system.
For this I have a folder on Desktop with name Google fonts and saved Ubuntu fonts in this folder downloaded from Google Fonts official website.
Now I can use these fonts on windows without installing them. For this I have to create a new folder in NexusFont.
How to a Create New Folder (e.g. Google Fonts)
To create new folder to Nexusfont left click on + icon and select New Folder Group. Give a name to this folder e.g. My Google Fonts.
Right click on the name of folder(My Google Fonts) and click on Add Folder.
Now browse to folder where you saved your fonts in my case I saved Ubuntu fonts at desktop in Google fonts folder.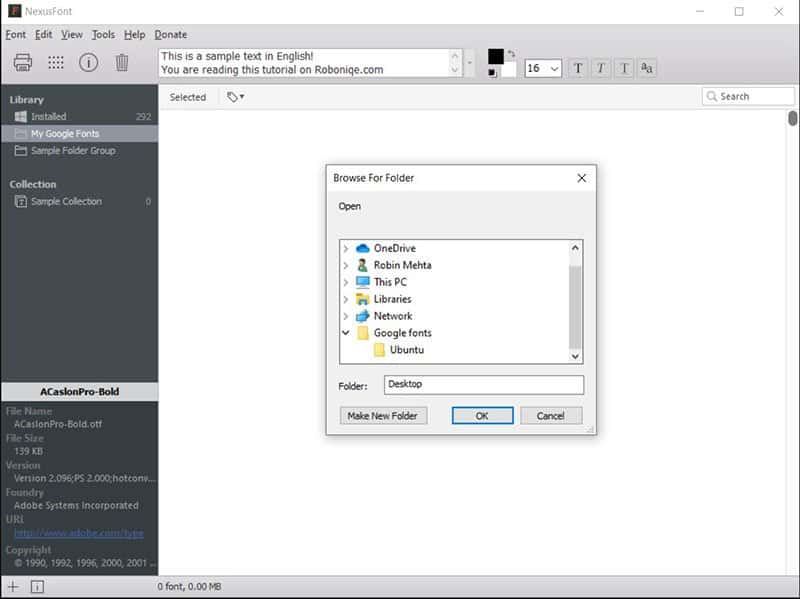 Here you have to select sub folder if your fonts are in sub folder.
Now your fonts will be available in Nexusfont.
Similarly you can add more Google Fonts to your folder (like in my case folder on desktop).
And you have to select that folder by right clicking on your folder (like here on My Fonts folder).
Here you have option to install fonts or you can simply use them withour installing. It will not bother your operating system and you could use your fonts.
To install font simply right click on the font name and click on install. And to uninstall you have to do the same thing right click and click on uninstall.
You can see already installed fonts in installed folder under Library.