We have come a long way in terms of digital payment. Nowadays, payments and transfers have become so easy that anyone can easily pick up a phone and do the cashless transaction.
You can already see a bunch of apps that are designed for payments and transfers for instance Paytm and Google Pay (Tez). In this article we will see how to use Google Pay App.
How you can set up Google pay (Tez), add back account and further start doing payments and transfers.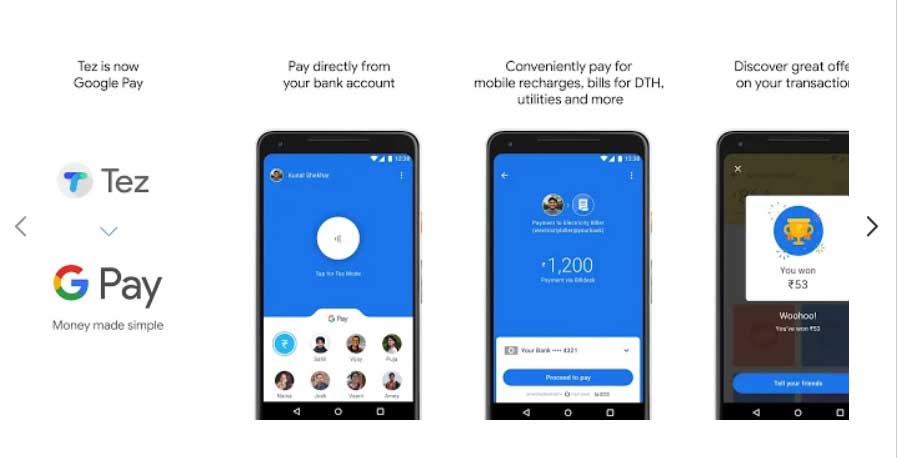 What is Google Pay App (Tez) ?
Google pay (Tez) meets that all standards of UPI (Unified Payment Interface), registered with NPCI and work with all major banks, including their partners: HDFC Bank, Axis, ICICI and State Bank of India.
"Tez" stands for "fast" in Hindi, and the app is very lightweight and offers minimal layout, making it easy-to-find options for transferring money using UPI IDs, QR codes, and a new Cash Mode that uses Audio QR to facilitate transfers.
Also Read:
How to Download Google Pay App?
Whether you are an iPhone or Android user, in order to use the app, download the app from Google Play Store (Android Download) or Apple store.
Once you have downloaded the Google Pay (Tez) app into your smartphone. It's time to set up the app.
Step 1– First, open downloaded Google pay (Tez) from your smartphone.
Step 2– After that, select your language from the list to get started then add your phone number.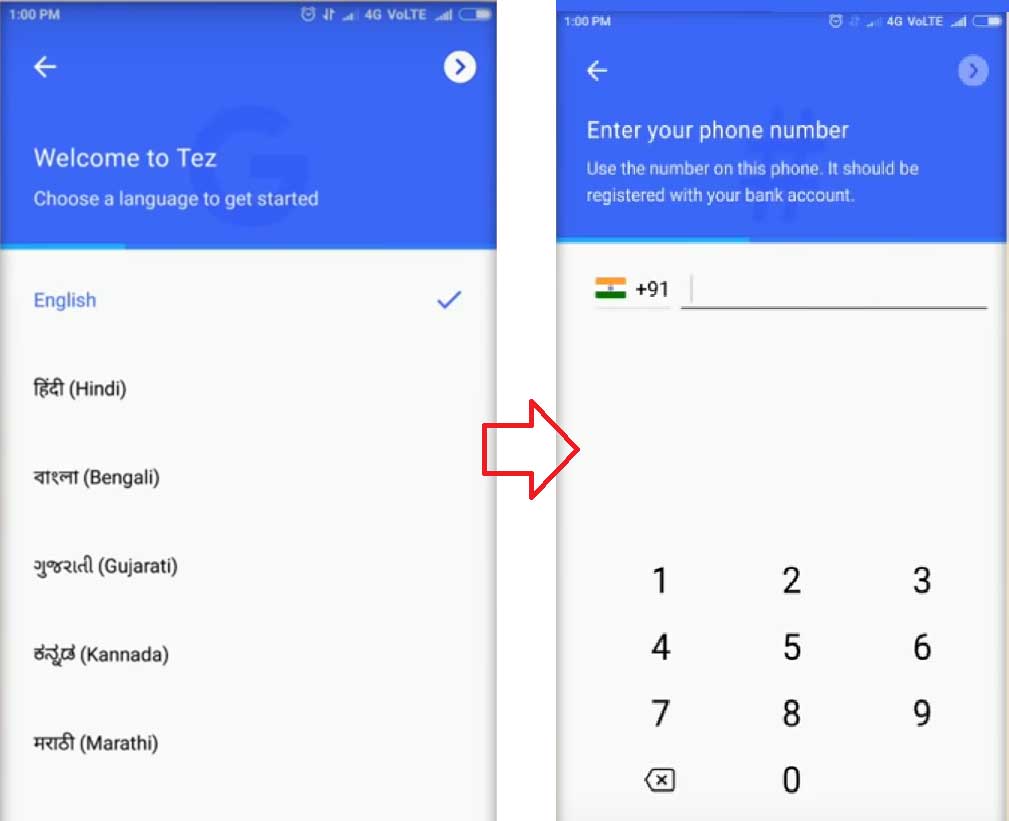 NOTE: Make sure that the phone number you enter connected to your bank account that you are going to add in upcoming steps.
Step 3– The app will ask for permission – allow it to access texts, contacts, and your device's location.
Step 4– After giving Google Pay access, you can choose Google account added in your device or any different account. If you have a single account in your device, it will be automatically selected.
Step 5– After selecting your account, tap Continue.
NOTE: To verify your phone, Google will send an OTP and automatically verify your phone number.
Step 6– After your phone number is verified. You can set a PIN for Google pay (Tez) or Use your screen lock. You can select your existing screen lock or you can set up a new four-digit Google PIN for extra security.
Step 7– Once you have set Google PIN or screen lock, tap on continue.
Now initial setup is complete. You will be directed to Google Pay (Tez) home screen.
Because your bank account is not linked with Google Pay (Tez) service, you can't send and receive money for now.
How to link your bank account?
As mentioned early, it is recommended that to use the phone number in the app that is connected to your bank account. No matter how many accounts you have you should enter the phone number that is connected to your bank that you are going to add.
Step 1– While on Google pay home screen, tap on Add bank account that is on the top.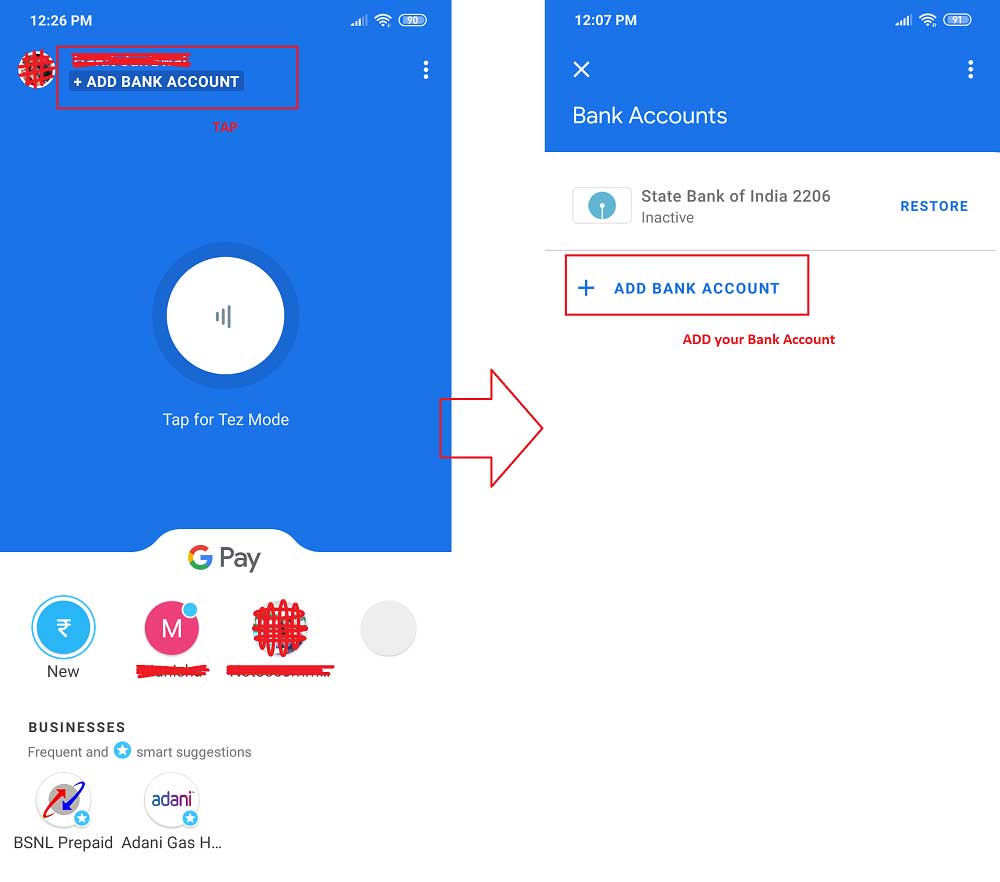 Step 2– A list of banks will appear, select your bank. It will send a request to identify your bank account connected to your added number, if there is an account then it will appear in front of your like in the picture below.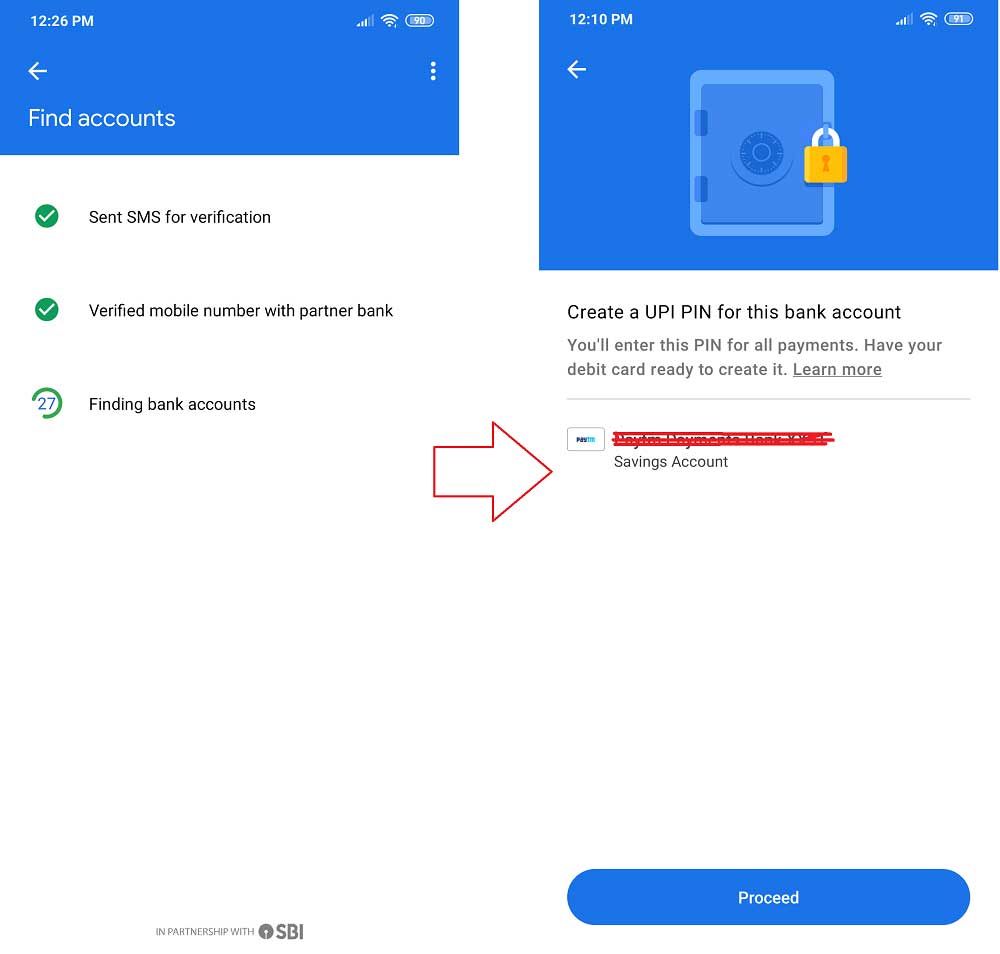 NOTE: After selecting your bank, it will send a message that will allow you to set up a UPI that will be used for every transaction.
Step 3– You can add desired UPI PIN for the bank account that will be used every time you make a payment or transfer. Now set your PIN then tap on Proceed.
Step4– After you have added your PIN. It will take few seconds for confirmation from your bank. Then blue tick will appear confirming your bank account is added.
NOTE: You'll get an OTP to authenticate your card, after that you can create UPI PIN that will be used as a key. After creating a PIN, you'll see a popup that says that your account has been added successfully. Now you are good to go, use the app for payment and transfer.
How to Transfer Money Using Tez?
Doing payments and transfers is the easiest thing in Google pay. Just tap on the T icon and select your option. It will automatically search nearby device and use audio QR to transfer money to nearby users.
When you about to play always enter your UPI, you created in previous steps. Then enter an amount and proceed.
If you wish you send money to Google pay user that is far away from you. Then select INR sign "New" just below the pay slider. It will show you added contacts that use the app or you can add UPI ID to find and send money to that user.

Also Read: