Want to know how to change snapchat username? You are at right place because even it's not possible there are some hacks to do so.
We all use Snapchat in our everyday life, and it is very famous with more than 22 million downloads on the Google Play Store because of its unique features. But Snapchat is not only famous for its features and filters but for its privacy also.
Snapchat is very serious about its users' privacy. They don't allow other users to take a screenshot on Snapchat without them knowing, and they also don't allow them to view Snapchat stories secretly.
However, we have a solution of how to view Snapchat Stories without knowing them.
Your Snapchat username is once set at the time you first create your Snapchat account. Snapchat does not allow you to change your identity because they don't want any fake users to disturb their loyal users.
But what about if you are stuck with an old or ugly username on Snapchat that you realize you don't really like anymore. We know you have tried going into your Snapchat settings to change it, but you might not have been able to find a way to do so; this is because, unfortunately, it is not even possible.
As we discussed above, Snapchat is very serious about its privacy and security. Based on the Snapchat Support team, they don't allow to change their username due to security concerns, so there is no way to change username?
But we have a few methods to help you. The first method is to create a new Snapchat account and the second method is change your display name. Check out both these methods and decide with which method you want to go.
Method 1. Change Your Snapchat Username by Making a New Account
This is the well-known method to change your Snapchat username by deleting your old account and creating a new account. But this method needs a lot of time because you have to migrate all your friends from your old account to new accounts.
However, this method comes with some disadvantages, like you will lose all your Snapchat scores and streaks. Also, you need to backup all the Snapchat stories and snaps saved on your Snapchat camera roll.
There is another hack by which you can use two Snapchat accounts from one mobile. Read more about the second Snapchat app without deleting the first.
How to Make a New Snapchat Account from the App itself
To make a new account of Snapchat using a mobile, you need to follow the below steps.
1. Open Your Snapchat account and go to your profile page.
2. Then Hit Setting by clicking the top-right icon to access the Snapchat settings.
3. Now scroll down to the bottom, and you can see the Log Out option to sign out from your old account.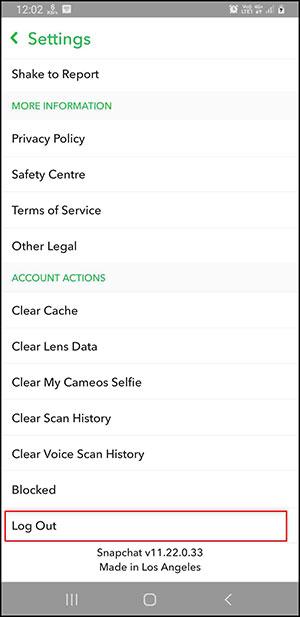 Once you log out from your old account, we are ready to create a new account.
4. After logging out from the old account, you will be redirected to Snapchat home page.
5. Now, you can see a blue button by the name Sign Up; click on that to create a new Snapchat account.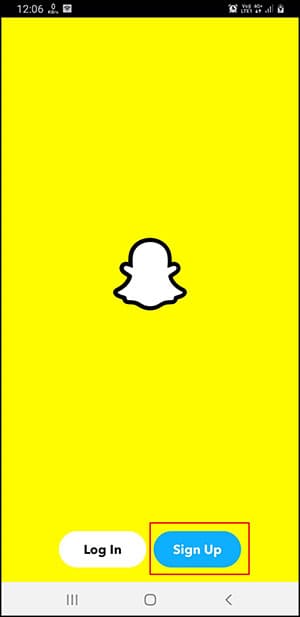 6. After clicking on the signup button, the app will ask for some permission which you need to give it to access the security of the smartphone.
7. After giving all the permission to the Snapchat app, you need to add your first name and last name, as shown below.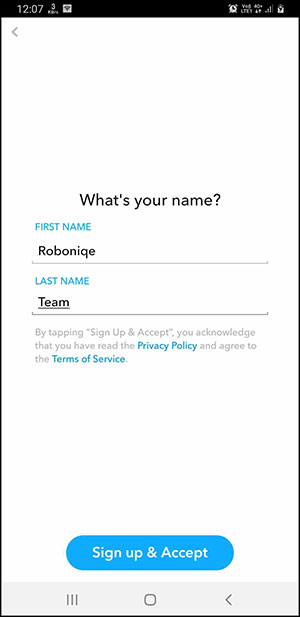 8. Once you give your first and last name app will ask for your birthday. Enter birth detail and proceed.
9. After giving all the information, you can see Snapchat automatically generates a username based on your first and last name, sometimes they use birthdate.
Our question was to change the username, so we can see an open call "Change my username," as shown below.
10. After Clicking Change my username, you can see an option to Pick a username based on your choice.
11. Once you set your new username, Snapchat will ask for the password and email. After providing this information, your new account will be created successfully.
Once you follow all the above steps, you can create a new Snapchat account with a new username for your Snapchat based on your choice.
And after creating a new account, now you have to swap between the old account and the new account by listing all the friends from the old account and send requests from the new account. After going through all this, you will get a new account with an old friends list.
You can also create a new Snapchat account from the web.
How to Make a New Snapchat Account from the Computer
To create a new account from the pc, first, open the official Snapchat website https://accounts.snapchat.com.
Once you navigate to the website, you can see the log-in to the Snapchat screen, and now you need to click on New To Snapchat? Sign Up button to make a new Snapchat account.
After clicking on the Sign-Up button, you can see the image below; once you fill up all the required details, you can create a new Snapchat with the new Snapchat username.
We have created our new account, then we have migrated all our friends from the old account to the new account. So the question is how to delete an old account on Snapchat. Here is the method.
How to Delete Snapchat
We cannot delete a Snapchat account directly from the app itself like other social media apps. In Snapchat, we need to go to the Snapchat official website, which you can access from here.
As shown in the below image, to delete Snapchat accounts, we need to fill username and password of Snapchat accounts to delete Snapchat accounts.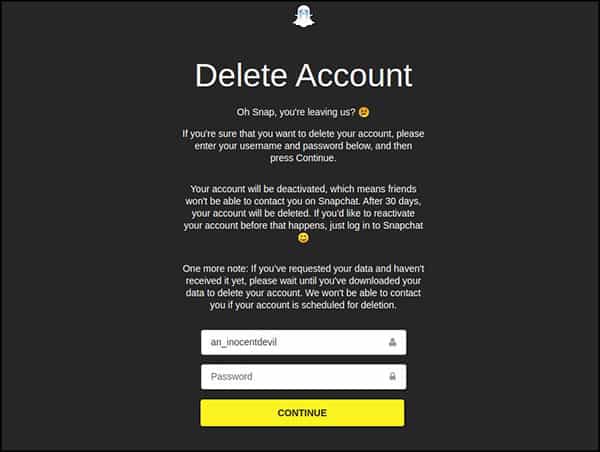 But deleting an old account and starting a new account is not everyone's piece of cake because you can't transfer account data, Memories or Snapstreaks from old account to new account. So unlike changing the username, you can just change display name.
Method 2. How to Change Your Snapchat Display Name
As we know, we cannot change our username in Snapchat once it is created. But we can change our display name as many times as we need. This is the easiest way to hide your ugly old username and create a new awesome display name.
To Change your display, you need to follow the below steps.
1. Open Your Snapchat profile page, and on the top right corner, you can see a Setting icon. Click on that.
2. Once you open the setting, you can see all your personal information inside the My Account option. You can see an option called Name with your current display name.
4. Click on the Name option to change the Display name.
5. Once you click on it, you can see something to change your name, as shown below. Fill up your new display name and click on the green Save button to finally save your new display name.
Using the above method, you can change your display name in the Snapchat app.
All the above methods are tried and tested by our team so that you can follow them without any misleading information.
Does Your Snapchat Username Even Matter?
It is unnecessary to sacrifice hundreds of connections and thousands of chats you probably collected by using Snapchat platforms for many years. It's just a username.
And it is not at all important, something that is worth stressing over. Our suggestion is just to change your display name and forget your Snapchat username even exists.
Wrap Up
That's all! We hope the methods mentioned above and information can help you change your username and display your Snapchat account name.
We hope this tutorial will guide you in the best way to find alternate solutions for changing the Snapchat username. If we have missed any other method or have any suggestions, please comment down in your comment section.