Snapdragon 845 is not good as compared to Apple's A12 Bionic. But comparison between Snapdragon 855 and A12 Bionic is quite interesting.
Snapdragon 855 is better in many aspects than A12 and covering a large chunk of mobile market.
One plus point with Snapdragon 855 is that it supports 5G. It is interesting to know about the best Snapdragon 855 phones in the market.
Snapdragon 855 processor is an upgraded version of Snapdragon 845. It is 3 times better as SD 845 with 10nm has been replaced by 7nm in SD 855.
5 Best Snapdragon 855 Phones
These phones based on Snapdragon 855 are amazing. As Qualcomm launched Snapdragon 865 so new phones based on new chipsets will be also coming to the market.
Samsung Galaxy S10 Series
Samsung Galaxy one of the most popular phone in the market launched S10, S10e, S10 Plus, and S10 5G in 2019.
These are four different version of their popular Samsung Galaxy S10 series.
Samsung launched Galaxy S10 series with Snapdragon 855 globally. But for some countries like India it is using its own Exynos 9820.
Galaxy S10 series has different screen sizes ranging from 5.8 to 6.7 inches.
All four variations support different batteries varying from 3100mAh to 4500mAh.
S10 and S10 plus has triple camera at back, S10e has dual rear camera setup while S10 5G has quad rear camera setup.
S10 and S10e has 10MP front camera while S10 plus has 10/8MP and S10 5g has 10MP + 0.038MP front cameras.
All mentioned above run on Android 9.0 Pie. S10 5G and S10e supports up to 256GB. S10e available in 6/8GB RAM while S10 5g available in 8GB.
Galaxy S10 and S10 plus has 125/512GB and 1TB storage. S10 available in 8GB RAM and S10 plus has 8/12 RAM variations.
Xiaomi Mi 9
Xiaomi Mi 9 phone was launched in February 2019. It has Snapdragon 855 and it was Xiaomi's first triple rear camera phone. Mi 9 can take better pictures than iPhone XS Max because of its 48 MP Sony IMX586 ½ Sensor.
It also has 20MP front camera. The screen size is 6.39-inch full-HD+ water notched AMOLED display with in display fingerprint sensor.
It has 6/8GB RAM variants with 128GB of internal storage. It is packed with 3,300mAh battery with 20W wireless charging and 27W wired fast charging.
It has super Slo-mo, moon mode, Game turbo mode and also available in different colors like Ocean Blue, Piano Black, Lavender Violet.
LG G8 ThinQ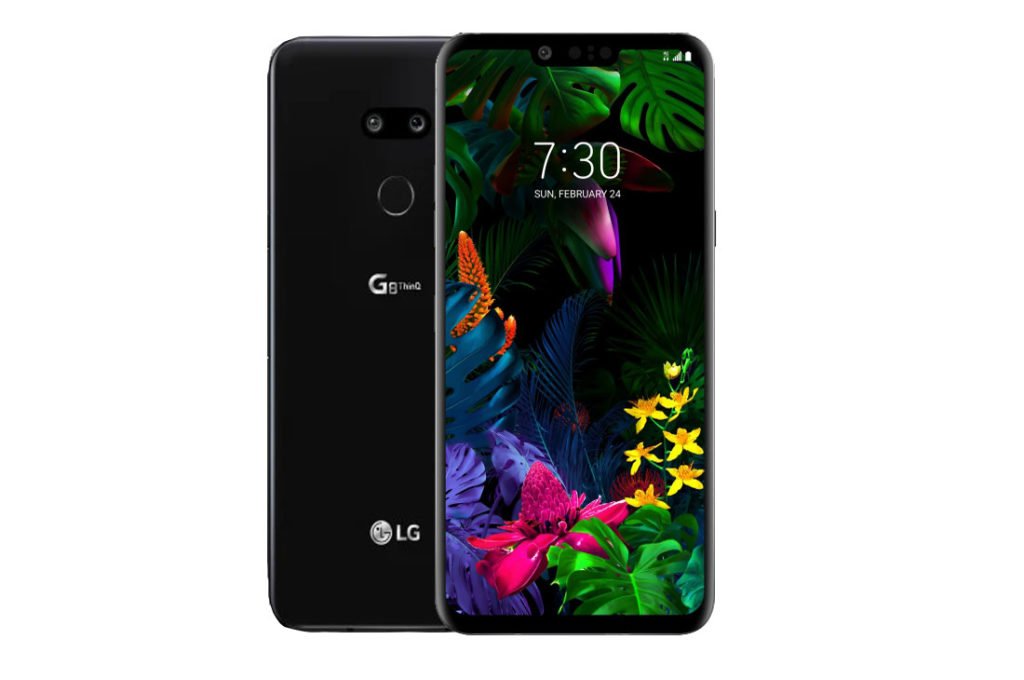 When we talk about LG phones those are not so popular. But LG is known for new innovations in technology. So here it is another Snapdragon 855 mobile phone LG G5 ThinQ.
This phone has scanning of veins feature which scans palm veins and allows advanced palm vein authentication to unlock your device.
You can also control your phone without actually touching it with air motion gesture feature in G5 ThinQ.
It also has 3D facial recognition and Z (time of flight) camera for depth detection.
The other features it has 6.1 inch QHD+ display, crystal sound OLED with BoomBox Speaker to vibrate surface of glass and generate audio.
It has 16/12/12MP rear camera and dual front camera. LG G5 ThinQ supports 6GB RAM, 128GB internal storage and 3,500mAh battery with fast charging.
OnePlus 7 and OnePlus 7 Pro
OnePlus launched its new OnePlus 7 and OnePlus 7 Pro in May 2019 as successor of OnePlus 6T.
OnePlus 7 looks almost similar to OnePlus 6T but it is not available in North America.
With 6.67-inch curved 90Hz Fluid AMOLED screen OnePlus 7 Pro looks beautiful.
Both phones running on Snapdragon 855 processor with latest Oxygen OS.
OnePlus 7 Pro available with up to 12GB RAM and 256GB UFS 3.0 storage and OnePlus 7 available in 6/8GB RAM and 128/256GB storage.
Two have 48/16/8 MP rear camera, 16MP front camera and 4000mAh battery.
Lenovo Z5 Pro GT
Lenovo Z5 Pro GT is officially World's first snapdragon 855 processor Phone. It has another feature which makes it different from other smartphones i.e. Slider Design.
Slider design means front camera will hide or show when you slide. It will give you full edge to edge 6.39-inch Super AMOLED Full HD+ display. Companies focusing more about giving you full space on screen and putting front camera on top of phone, under or behind it.
Lenovo Z5 Pro GT is successor of Z5 Pro which was running on Snapdragon 710. Z5 Pro GT has 24/16MP rear camera and 16/8MP front camera.
This phone has 6GB/128GB, 8GB/256GB and 12GB/512GB RAM variants with 3350mAh battery.