Every year, smartphone portable chargers are getting better and cheaper. In past, Portable chargers/power banks were costly and they had low capacity. Check out best power bank under 2000 Rs.
Power banks nowadays not only provide more capacity but embedded with new features and advanced technology.
There will be always a need for a good and reliable portable charger which can charge your smartphone 3-4 times and it must be good in portability which will make the power back best for travelling.
Now, we have created a list of best power banks which have a capacity above 10,000mAh and are under Rs. 2000/-.
Here are 8 best portable chargers that can charge your phones many times.
8 Best Power Bank Under 2000 Rs.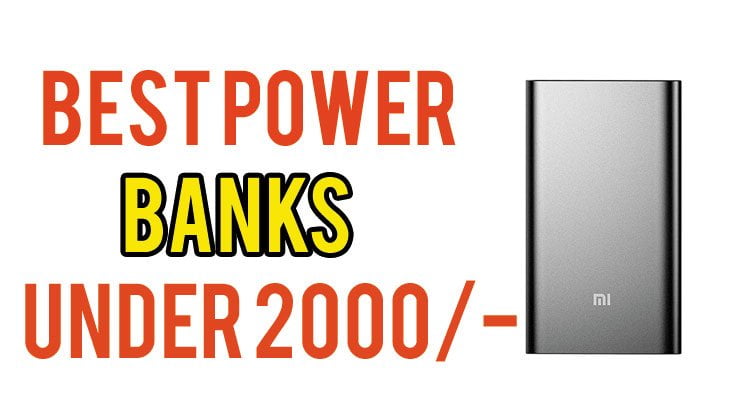 Mi Power Bank 2i 20000 mAh
Mi Power bank 2i is the latest power back by Xiaomi. It comes with the capacity of 20,000 mAh and it is manufactured in India.
Not only it supports dual USB ports for charging but also quick charge 3.0 on a single port. In order to charge the phone with quick charging 3.0 use of another slot should be avoided.
Features
Quick Charge 3.0
20,000mAh lithium polymer battery
Charge low power devices with low output
Price: ₹1499
Intex IT-PB 10K 10000 mAh
This power bank comes with the capacity of 10000 mAh from Intex and it has three USB ports which allow users to charge two devices simultaneously. It also has LED flash and LED indicators which shows that battery life.
Features
3 USB port – 1x [5 V/1 A] 2 x [5 V/2 A]
Plug and play
1-year warranty
Price: ₹1019
Philips DLP6006N Power Bank 11000 mAh
Philips is one of the reliable company and its new power bank DLP6006N is getting popular. This power back comes with the capacity of 11000 mAh and it has 3 USB ports, Built-in LED indicators to show battery life.
Features
11000 mAh Lithium-ion Battery
3 USB port
Torch
Price: ₹999
Ambrane PP-1133 Power Bank 12500 mAh
This particular power bank from Ambrane supports 3 USB charging ports, micro-USB (input). It has the common Ambrane design with leather texture on board, LED torch and indicators for battery life.
It also has overcharging protection. Most of the Ambrane users are satisfied with product excellent on Flipkart and Amazon.
Features
Charge two devices simultaneously
12500 mAh Lithium-ion battery
Available in 5 colours: blue, Silver, gold, white and black.
Price: ₹1,099
Skyska Power Pro 200 Power Bank 20000 mAh
Skyska Power Pro 200 is another power bank which is popular for its lifespan and durability. It comes with 20,000 mAh polymer battery and it has two USB slot.
It is also BIS citified and comes with IC protection which prevents overcharging and short circuits.
Features
20000 mAh polymer battery
Precise IC protection
Dual USB charging
Price: ₹1799
Mi 2i Portable Charger 10000 mAh
Mi 2i comes in two version one with 20k mAh and another with 10k mAh. Both have same features, and the only difference is they have different capacity.
It comes with 10000 mAh capacity and it has 2 USB port which can charge 2 devices simultaneously.
Features
9 layer circuit protection
2 UBS port
Quick charge support
Price: ₹799
Also Read
Intex IT-PB11k Power Bank 11000 mAh
Intex IT-PB11k is one of the most purchased Power Bank in India and it has the best reviews. It comes with a Li-ion battery with 11000 mAh of capacity and it has 3 USB ports.
It also has Built-In-torch and led indicators to show the battery life.
Features
3 USB ports for multiple device charging
11000 mAh
1-year warranty
Price: ₹899
Samsung EB-P3000 10000 mAh
Samsung is a global player known for providing good quality and durable products. Samsung has also built power bank name EB-P3000 which comes with 10000mAh of capacity.
Despite it has only one USB port for charging, it is still customer favourite choice. It has a very impressive design and it comes with a durable USB cable.
Features
Compatible with many devices
Sleek and Comfortable Grip
4 LED indicators
Price: ₹1,099
NOTE: There is only one drawback in these portable chargers and that is only some of them support small devices (fitness band and wireless headphones) charging. If you use Power bank that does not give lower power charging then it might damage your device.