The Internet-based Protocol Television, a.k.a, IPTV, is a new-age broadcasting module that eventually brings a change to our television experience. Do you know what is even more exciting about this IPTV player? It lets you have seamless access to a vast collection of digital television services. Whether you want to enjoy uninterrupted live content or stream an online movie video of your choice, IPTV players now make everything easier for Windows users.
So, in this dominant age of exciting digital content, why would you stay behind others? Get your preferred IPTV player today! In case you are a Windows user, and confused about which IPTV player to opt for? Well, worry no more; we are here to help you choose the best IPTV players for Windows.
Comparison Table
| IPTV Players | Compatibility | Key Features |
| --- | --- | --- |
| VLC Media Player | Windows, Mac, iOS, and Android | Supports a variety of file formats and protocols of streaming |
| Plex | Windows, iOS, and Android | Seamless content personalization |
| Kodi | Windows, Mac, Linux, Android, and iOS | Allows integration with plenty of add-ons |
| MyIPTV Player | Windows and Android | Seamless live playing from the m3u playlist |
| OttPlayer | Windows, iOS, and Android | Enhanced security and speedy content streaming without buffering |
Top 5 IPTV Players for Windows
Feature Highlights:
Video downloading from YouTube
Video conversions to other file formats
Normalizing audio for ear protection
VLC Player is currently the best IPTV player for Windows available free of cost. It is simply outstanding in every aspect and compatible with various devices like PC, TV, laptop, etc. The VLC Media player is by far one of the most intuitive IPTV software that is completely suitable for both the latest and older versions of Windows.
Pros:
Simple and straightforward interface with buckets full of essential tools
Very convenient to control with your keyboard shortcuts
Supports an extensive range of file formats and can play files like .mov, .avi, BlueRay, etc.
No need for any codec installation for reading the video and music files
Cons:
Prevents you from using tags
The program interface offers no customization
Final Verdict:
If you are looking out for an IPTV player compatible with many devices, VLC Media Player is a great choice. It supports both DivC and MPEG streaming. However, don't count on it for a customized experience.
Feature Highlights:
Runs with all major operating systems and devices
Easy-to-share Plex library with others
Auto integrated with media files and organizes the set-up for personalization
Another very intuitive and worth mentioning name, which is quite popular in this field is, Plex. The Plex media server is quite a user-friendly one that lets you store all your videos, media files, and TV shows in one place.
Do you know what is more interesting about this IPTV media player? The Plex Media Server makes it easier for you to access your device from any location, both on Windows and other OS.
Pros:
Its easy set-up is note-worthy
Automatically generates information about your files, episode list, cast, and summaries from the internet
Lets you watch and record your Live TV & DVR in any of your areas
Offers seamless automation to give you a tailor-made streaming experience
Cons:
To enjoy the songs from TIDAL, you have to get Plex Pass, which is a paid version
Lacks an appropriate amount of customization options
Final Verdict:
To get a personalized streaming experience, Plex is great. It can do wonders in integrating your collection with the relevant content from various online sources and let you enjoy a pool of digital content on your Windows device!
Also Read:
Feature Highlights:
Allows a large number of add-ons to customize the user interface
The 10-foot UI makes the content readable from 10 feet of distance
Built-in codes for seamless photos, videos, and podcasts browsing
One of the most heard names as the best IPTV player for Windows is Kodi. It is a free and open-source application for media players.
The highly customizable UI, along with a vast library of add-ons, makes it a great streaming site for watching live TV. You can install this free software on various media boxes.
Pros:
Offers seamless navigation through plenty of options for files and media
Integrates with a large number of filters making your search more interesting and easier
Can be controlled by a wide option of physical remotes
The content on Kodi comes with important information attached to it
Cons:
Not suitable for streaming content on multiple devices
The user interface is a bit complicated
Final Verdict:
Are you looking for a highly customizable content streaming and IPTV player platform for your Windows device? Well, then Kodi is a good one to opt for with its seamless features. However, make sure you eventually get pro with tags to use it most conveniently.
Feature Highlights:
Loading of m3u playlist from your local storage
Provides separate download center for on-demand videos
Easy access to channels with built-in EPG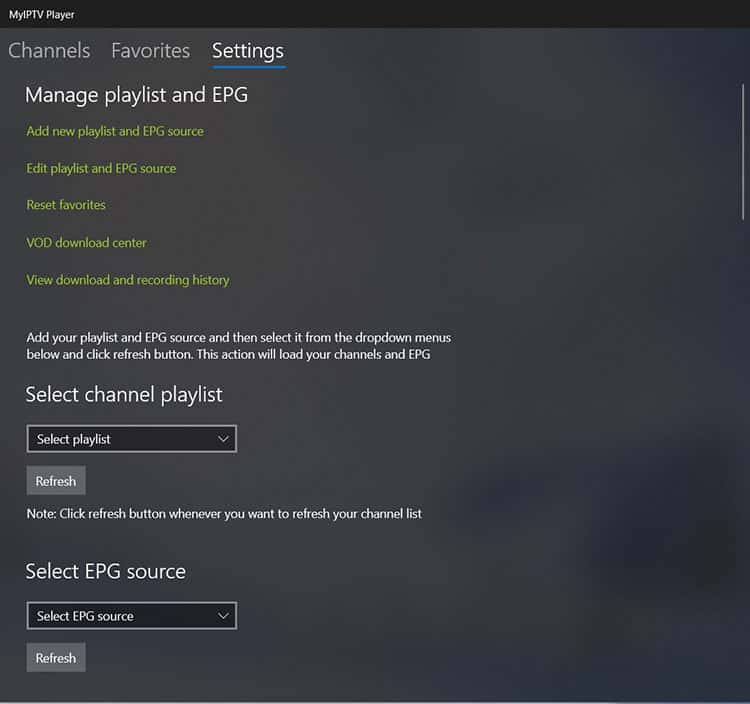 The next one is the MyIPTV Player. It offers you the option to load your m3u playlist and start streaming through it.
It is now easier than ever to watch all your shows on this media player while changing channels or streaming through other content. Besides, it also lets you stream HTTP live streaming links to amplify your experience.
Pros:
Easy-to-use interface
Seamless searching and playing of all channels
Plenty of filters to ease out your search
An easy grouping of channels with Channel Group Management
Cons:
Security requires some more upgrade
The interface lacks proper customization options
Final Verdict:
If you are searching for an IPTV player with immersive features and functionalities, then the MyIPTV Player is an ideal pick. Whether it is easy installation on your Windows device or seamless streaming of your favorite m3u playlist, this media player serves to be excellent in every aspect.
Feature Highlights:
Speeds up content streaming
Safeguards your online privacy
Prevents any kind of data-stealing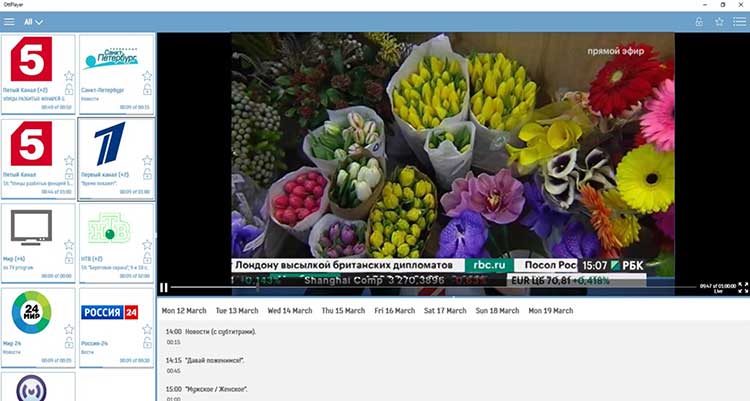 Last but not least, we have OttPlayer on our list. To have some great experience of watching shows and enjoying your favorite content, the OttPlayer app is one of the greatest IPTV players. Not only is it simple to use for the Windows platform, but it also buckles itself up to render you a fantastic television experience.
Pros:
Seamlessly gathers all your IPTV favorites and makes up one playlist
Supports multiple devices and platforms
Completely interruption-less ad-free streaming
Lets you watch on larger screens too
Cons:
Requires a mouse toggle as you switch off the TV mode
Customization lacks clarity
Final Verdict:
OttPlayer is the best IPTV player for Windows,which takes care of your privacy and security concerns in a top-notch way. It secures your internet connection and ensures online privacy with accuracy.
Wrap Up
Now, while picking the best IPTV player for Windows, the decision-making can be tough as the market is filled with countless options.
For video downloading from YouTube and converting them to other file formats, the VLC Media Player is a great option
Plex makes it easier for sharing the library with your friends and family
Kodi is superb for its robust add-on facility
MyIPTV Player makes it easier for loading your favorite m3u playlist
OttPlayer is undoubtedly great for a secure content streaming experience
So, you should pick the one that rightly suits your requirements, preferences, and your Windows version compatibility to enjoy seamless digital content streaming.
Also Read: