Home Theatre System is the best thing you can get if you are a complete entertainment freak. We have listed best home theatre systems under 20000 Rs. in India.
It is true that home theatre systems are not cheap, but they can offer unbelievable sound experience within your home for that price.
The more expensive system you have, the better surround sound experience it will offer.
When talking about home theatre, it is certain that they can give true surround sound experience more like Theatres without leaving your house.
All you need is a 5.1 home theatre setup. Generally taking about 5.1 theatre system, it includes 6 channel surround sound systems. It usually has one central speaker, 2x front speakers, 2x side/back speakers as well as sub-woofer unit.
Things to look for when you're buying a Home Theater System
Many home Theatre system comes with a bunch of features that allows you to quickly play your music or connect to any device.
We are talking about if Theater supports Bluetooth connectivity, or NFC wireless audio streaming though device.
Also, if a home Theatre mentioned that it has a power out up of 600W, it does not mean that it will consume 600W of electricity.
One more important thing when you buy home Theatre system, always look for RMS output instead of PMPO as RMS (Real Music Output) is considered best for best music experience.
Moreover, if you want to connect these home Theatre systems with your TV, make sure that your TV has HDMI ARC or digital port.
So if you have an old TV try checking your ports in TV as well as selected home Theatre to see if its match.
6 Best Home Theatre Systems Under 20000 Rs.
We've created a list of the best home Theatre systems you can buy under Rs. 20,000 in India. The list is based on the number of features and function home Theatre has to offer, and reviews on the internet.
Sony has a great specialization in music, sound quality area, and they have made quite a name.
It is one of the best speakers you can buy under 20,000 rupees, if you have that budget, we recommend you to go for this home theatre system.
It has everything you need and it offers out of the world surround sound experience, and they can perfectly fit into any room.
Sony HT-IV300 is 5.1 home theatre system that uses RMS output power of 1024 watts. Also, thanks to its NFC and Bluetooth connectivity, you can easily connect to the system and play using your smartphone or other devices.
Not to mention, it offers Dolby surround sound, meaning your music, or gaming experience is going to be a lot better.
Main Highlights
1000W Surround Sound
NFC/Bluetooth connectivity
HDMI port support, Connect to DTH
Stylish design & Compact size
PRICE: Check on Amazon
LG LHB625 1000 W Bluetooth Home theatre System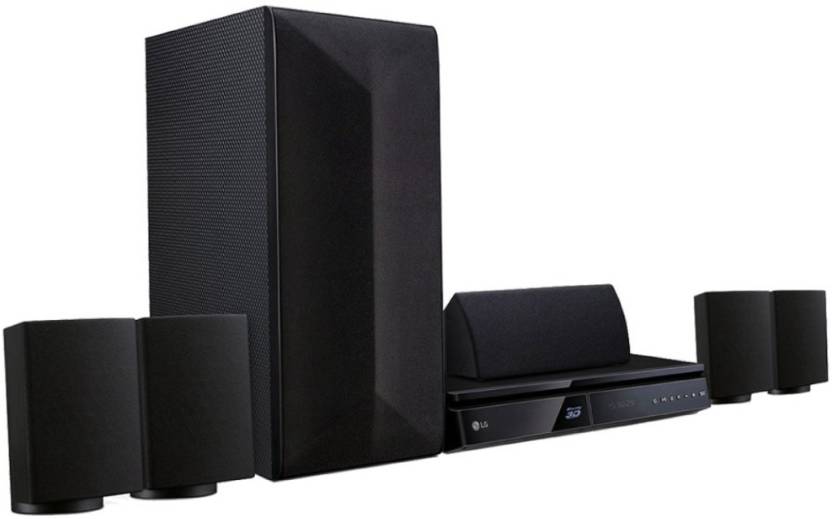 LG is also known to provide good quality and durable products to the consumer step door. And you true LG with Home theatre system. One of LG best-selling theatre systems is LG LHB625.
It can offer you a whole new experience of music, and different connectivity, making plug and play a lot easier. The speaker on the LG official site is cross 20k boundary, but you can buy it from e-commerce giants like Flipkart or Amazon India.
LG LHB625 has 5.1 configurations and comes with 2 subwoofers, it also uses 3D Blu-Ray playback with 1000 W power output RMS, providing you impressive sound like cinema system. Also, it supports Dolby Digital that will make your surround sound experience amazing.
Moreover, it has a USB port and Bluetooth connectivity, also support DTH with HDMI cable, Optical input or RCA Input.
Main Highlights
3D Blu-ray Disc Playback
Wireless Audio Streaming via Bluetooth
External HDD Playback and direct Recording (USB)
Dolby Digital

If you love Sony and you can't afford Sony HT-IV300 (Top on the list), then Sony HT-RT3 can be best for you. Sony HT-RT3 offers similar features and functions to Sony HT-IV300 with 600W power output.
They look stylish and if you're playing to make entertainment room, this home theatre system can perfectly fill the room. To sum up, this system is powerful, you can only compromising power out here if you compare it to Sony HT-IV300.
To recall, Sony HT-RT3 has sound channel configuration of 5.1 channel, it offers 600w total power output, support Dolby Digital that offers dramatic and high-quality surround sound. Moreover, it comes with HDMI ARC output, USB port and NFC & Bluetooth connectivity.
Main Highlight
5.1 Channel
Power output 600 W
Dolby Digital
NFC & Bluetooth support
PRICE: Check on Amazon
Many people don't know about F&D, that they provide one of the best quality sound systems with many features. F&D F5060 looks amazing in design, and they can easily fit in any room.
This speaker can add more starts in your room appearance. And again if you love music with deep bass, well, these 5.1 speakers are designed for you.
F&D F5060 has a configuration of 5.1 channel, it does support Bluetooth which is main highlighted thing. The speaker can be controlled using an app on an Android or iPhone device.
It has a working distance of 15m and app offers you multifunctional control which includes local and USB music, aux cable as well as FM radio.
Main Highlights
5.1 channel
Bluetooth connectivity
Comes with an app for multifunctional control
Extremely deep bass
PRICE: Check on Amazon
Sony DAV-TZ145 Real 5.1channel Dolby Digital DVD Home Theatre System
Sony DAV-TZ145 can be the best value for your money if you are looking for a great home theatre system in a low budget.
Everyone knows that Sony has a specialization in providing great sound quality speaker whether you talk about headphones or home cinema system.
And Sony provides best home theater system in the range of 20000 Rs.
The system can be expensive when you buy it from the Sony website, so trying buying it from Amazon India or Flipkart.
Sony DAV-TZ145 has 5.1 channel configuration, and it supports Dolby Digital as well as BRAVIA Sync. Dolby Digital will enhance your surrounding sound experience where BRAVIA Sync will offer superior quality digital sound.
Moreover, it has HDMI output, 1 x USB port, 1x composite video output and also an audio line antilog in/output.
Main Highlight
Dolby Digital & 360 Watt RMS
USB movie playback
BRAVIA Sync
HDMI Output – Upscale 1080p for DVD

The Samsung HT-J5100K can bring you whole new cinema experience to your home and the best part Blue-Ray as well. It is one the best home theatre systems under 20000.
Samsung is a reliable company with great customer support and you won't regret buying this home theatre system. It can take the entertainment to next level with its superb woofer thumping and amazing surround sound quality.
Samsung HT-J5100K/XL has 5.1 channel configuration and it supports Dolby Digital plus that can make the surrounding sound experience amazing.
Not to mention, it supports blue-ray that is not supported by any home theatre system. Also, it can work with PC, laptop or TV (if you have an old TV you will need a converter).
Main highlights
5.1 channel
JPEG, LPCM, FLAC and WMA support
Blue-ray
1-year warranty
PRICE: Check on Amazon
Also Read