In the web browser market, Google Chrome dominates the space. Google Chrome is brilliant and it does a great job giving an awesome browsing experience.
Chrome has option to use extensions and you can read more about best chrome security extensions here.
But, we all are very well aware that all these time-saving activities like maintaining browser histories, records, preferences, pinging of mobile devices, etc. come at a cost. The cost here is your privacy.
That is why I have written this article that might help you in figuring out the best Google Chrome alternatives for you.
No one likes to hear that their privacy is at stake. But that's true, with Google Chrome you get lots of features that ease your work but Chrome does send information to its partners who then send you targeted ads.
I have spoken to quite a few people and noticed that there are 3 main reasons why they choose to opt for an alternate web browser.
Google Chrome tracks you big time, sends your personal information to its partners, and it utilizes a lot of RAM that makes your device sluggish after some time of usage.
Whatever might be the reasons, it is best to know that there are some good chrome alternative in market.
9 Best Alternative to Google Chrome
Just in case if you're in a hurry, I have created this short infographics that will show you the best feature of each web browser.
Mozilla Firefox
This is one of the best Google Chrome alternatives in the web browsing space. It offers a decent speed and better control on privacy allowing you to control the data that you share on the internet.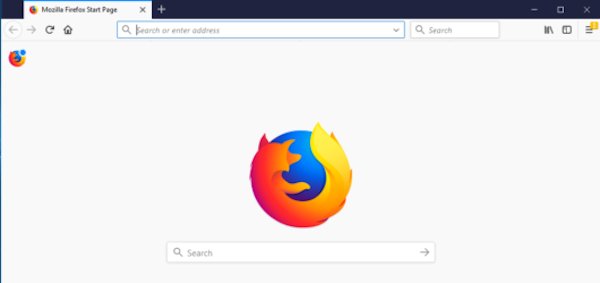 From the time of its release, it has gone through various updates and fixes that makes it very user-friendly.
It comes with multiple Chrome like features, so you will never feel like you are missing something from Chrome.
Mozilla Firefox has a good bookmark management system, helps in restoring the web pages in an event of a crash or system shutdown. Meaning, this browser performs auto-save.
By keeping the default settings, Firefox can easily block malware and dangerous websites. Plus, you can open many tabs without worrying about performance.
Firefox won't eat up your RAM. Just in-case if a web page of Mozilla Firefox is slowing down, then do check my quick solution guide.
The best feature in this browser is the dedicated Tracking Protection feature. It prevents websites from tracking you and your data.
Another cool feature is the Firefox Monitor that helps in alerting you whenever your email address and/or password gets involved in any kind of a data breach.
Best Features
Tracking Protection
Firefox Monitor
Page load is fast
Multiple themes and extensions available
Available For: Windows, Mac, Linux, Android, and iOS
Tor Web Browser
This one is most popular choice for people who are very conscious about privacy. Infact, Tor is another synonym for anti-surveillance activities. It is a Privacy Focused web browser.
Reason being, Tor is built on the network of relay servers which are more or less hidden. Tor can easily hide your IP address by bouncing network connection through multiple distributed nodes.
That means your browsing history and location are private and the browser or any third party website on the Internet cannot locate the exact region of your IP address. That is the reason, most of them use Tor to access region-specific content on the Internet.
Tor follows the principles of Onion Routing that lets communication flow over computer networks with messages encapsulated in layers of solid encryption.
A random IP of yours is shown over the Internet, this prevents you from unwanted tracking and Ad networks trying to target users based on their interests and demographics.
Best Features
Privacy is its greatest strength
IP hiding
Follows Onion Routing principles
Available For: Windows, Mac, Linux, and Android
Also Read: Best PC Cleaner to Speed up Computer
Opera
This browser looks and feel just like Google Chrome. It has been around for quite some time now and it is one of the best Google Chrome alternatives.
This browser is packed with some tools like the speed dial, tabbed browsing, battery saver mode, and many more such productive requirements.
It is also very famous between users for in-built tools like Ad Blocker that allows you to surf the web without any ads.
One of the best feature packed with Opera is the Turbo Mode. This Turbo Mode allows for data compression while opening web pages.
That hogs up lesser device RAM and allows a smooth browsing experience, even with more number of web pages opened at a single point of time.
This browser has quite some following amongst users who need VPN. Opera offers built-in unlimited VPN access, which is completely free. Users make use of this tool and unlock geo-restricted content over the Internet.
Best Features
Built in tools like unlimited free VPN, Ad-Blocker, Battery Saver, etc.
Fast loading of web pages
Available For: Windows, Linux, Mac, and Opera mini is for Mobile devices.
Torch
Torch is a Multimedia Focused web browser. It is loaded with in-built Media Grabber that lets you to download audio and/or video files from the Internet.
Moreover, Torch supports sequential downloading. This option is best for downloading multiple files in a series.
It is another Chromium based web browser with Ask as its parent search engine. This web browser has its craze across users who are more into video sharing sites. As it allows quick downloads from YouTube or Vimeo.
Torch has a built-in player that is capable of streaming media while the file is still getting downloaded and all of this comes with a handy download manager that can be optimized in the way you want.
The browser comes with more tools like Torch Music and Torch Games that allow you to play music and some games right in the browser.
It also has a built-in torrent client that allows to manage and download torrents straight-away from the web browser.
Best Features
Best for Multimedia lovers
Built-in Torrent downloader
Stream Audio/Video while downloading
Available For: Windows
Vivaldi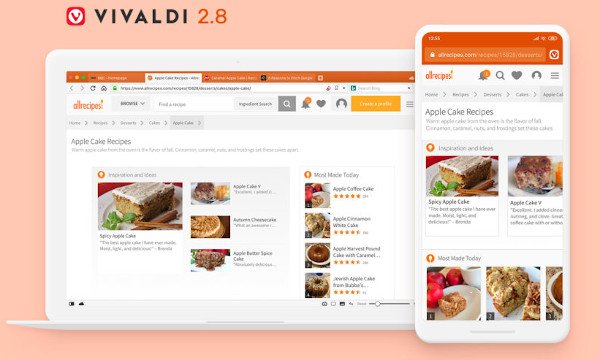 You can import your settings, saved history, and bookmarked web pages from Google Chrome to Vivaldi by a single click. So, there is no need of taking the pain to manually enter each and everything.
Moreover, Vivaldi will also let you to use Google Drive seamlessly.
This web browser is highly customizable when it comes to User Interface. It is packed with multiple themes and dark themes.
These themes keep changing throughout the day. They are simple, powerful and beautiful to keep you gazing without letting you feel bored, while opening multiple tabs.
Unlike Google Chrome, Vivaldi has a built-in Tab Hibernating process which does a better job of putting unused tabs into sleep mode.
That way those tabs do not take up more memory, the device performs better and the battery lasts longer.
Vivaldi does not collect any user data and it can be configured in a way that your personal information gets synced across multiple devices.
Best Features
Fully customizable UI
Tab Hibernation
Take Notes and attach screenshots in browser's sidebar
Available For: Windows and Android
Brave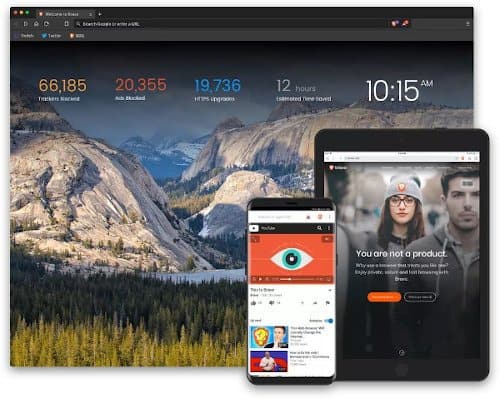 Created by the co-founder of the Mozilla Corporation, Brave is an open-source web browser. Meaning, you can code and change the bits and pieces according to your likes.
It is built on the Chromium code involving languages like JavaScript and C++, making it a pure Google Chrome rival.
There aren't much of the extensions available with this browser that does make browsing pretty fast.
It offers you basic features like Tab Previews that offers thumbnail-sized glances for quick view.
The best part of Brave browser is its feature called Brave Rewards. These rewards allow you to earn blockchain tokens. You keep collecting these tokens while browsing the websites on daily routine.
The tokens are then automatically utilized for donating to the website publishers. This donation helps you in compensating for an ad-free browsing experience.
So this way you and the website publisher both get rewarded. This is a pretty cool system that makes it one of the best Google Chrome alternative.
Best Features
Quick page load
Pays you money
Blocks Ads
Available For: Windows, Mac, Linux and iOS
Safari
This web browser can only be used on Mac and iOS. Apple has stopped developing Safari for Windows. But for Apple users this is undoubtedly the best web browser with good speed and top-notch security.
Apple constantly keeps working on User Privacy features in Safari. That help in automatically blocking the Ads and prevent trackers from following you.
Safari offers a reading list that lets you have access to offline webpages. It also has built-in PDF tools that can convert any webpage into a PDF.
Safari has a built-in tab management system that works in a horizontal scrolling style after you've reached a certain number of opened tabs and not to forget that it also gives you a thumbnail glances making the tabs easily identifiable from each other.
Safari is much faster than Google Chrome and speed is its greatest strength. Safari also lets you block cookies and trackers but the system is to pick and choose.
Meaning cookie selection of allowing or disallowing is manual. Which seems to be good for privacy conscious users.
Best Features
Amazing speed
High Level of Privacy
Horizontal thumbnail view of opened tabs
Available For: Mac, iOS
Microsoft Edge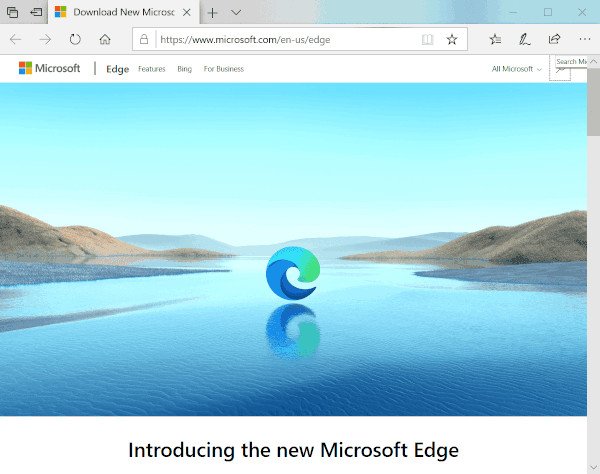 This is the default web browser for Windows users. The Windows 10 operating system comes with this web browser.
It is much better, faster, and efficient than its predecessor, Internet Explorer. Giving a faster browsing experience.
Microsoft Edge come with better reading and editing features like reading list feature with article management and options to draw, write, and highlight right on the web page itself.
Such features are not available on Google Chrome and can come in handy for users who are into content and are using Windows devices.
Microsoft Edge is very well known for blocking malicious websites and blocking of Phishing Sites is this browser's greatest strength.
Best Features
Annotations for Web Pages and PDFs
Automatically Blocks Phishing Sites
Reading list for articles
Available For: Windows, Mac, Android, iOS, Chromebooks
Epic
Very well known for encryption, this browser focuses on user privacy. It protects your privacy from common tracking methodologies by using built-in features like anti-tracking, crypto-mining, and malware control.
Epic browser comes up a single-click feature called One Click Encryption. This tool hides your IP address and starts encrypting your data. The makers claim that it can prevent 600+ tracking attempts in any average browsing session.
Epic does not save browsing history and there is no autofill feature. It is an all-time private browser.
Once you've closed the web browser or the web page, Epic automatically deletes any cookies associated with that session. Making it one of the best Google Chrome alternatives when it comes to private browsing.
Best Features
One Click Encryption
Private Browsing
Blocking Ads
Available For: Windows, Mac, Android, and iOS