Selecting a perfect headphone for games can be difficult especially when you have a low budget. But don't worry, just to save your precious time, we have created a list of the best gaming headphones under 2000.
The headphone is one important accessory for gaming. Whether you play First-person shooting game, RPG or Action/Adventure game, headphones play an important role as single misleading sound can change your game round outcome.
All these listed headphones are "over the ear" because they are the best in noise cancellation, comfortable and they are specially designed for gaming.
If you do some research almost 90% of professional gamers wear over the ear headphones.
Top 5 Best Gaming Headphones Under 2000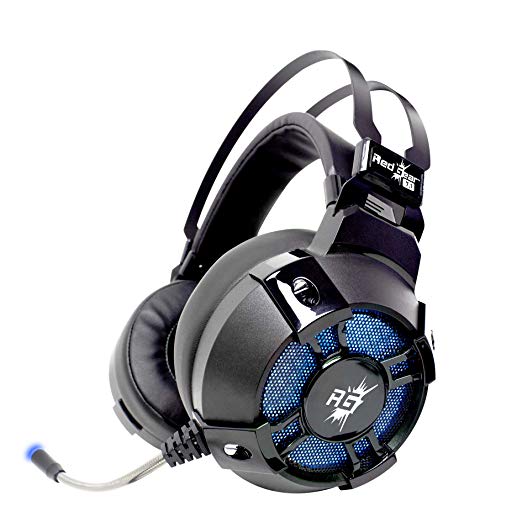 Redgear is a trending company in the market knows for selling gaming accessories. It's headphones Redgear Cosmo 7.1 are the best headphones that come with 7.1 surround engine which will give more accurate sounds while gaming.
Its design and LED light will make you love this headphone even more. It's over the ear muffs is extra soft which will give you a comfortable experience with long hours of gaming.
Main Features
Surround sound engine 7.1
Noise Cancelling Microphone
Comfortable – extra soft ear muffs for hours of gaming
RGB LED light
Price: Check on Amazon
Also Read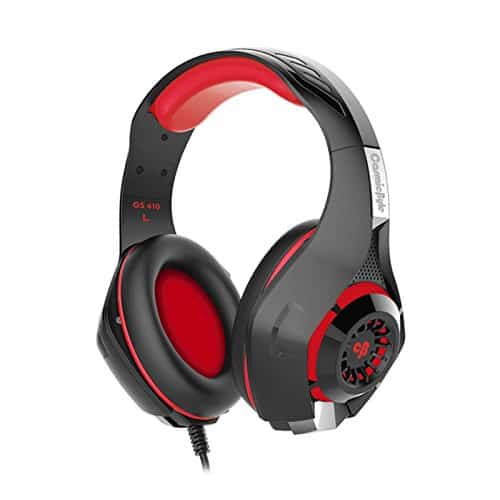 Cosmic Byte is leading brand from India known for its computer accessories. Cosmic Byte GS410 is perfect headset for gaming and music listening.
It is one of the best gaming headphones under 2000 Rs.
It provides clear sound and deep bass for real gaming experience. Its soft cushion ear pads and adjustable length feature is great for long hour gaming.
Main Features
3.5 mm jack
Clear sound and noise removal
Comfortable – in long hours gaming
Flexible Microphone
Price: Check on Amazon
3. Dragon War GHS-003 Gaming Headphones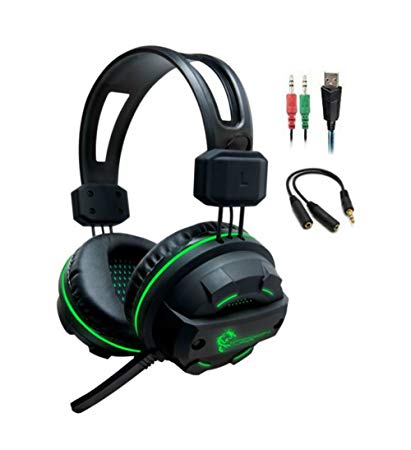 Dragon War is known for its cool looking mouse, keyboards and other gaming devices. Many of its products come in the range of 500 to 2000 rupees and they all have very positive reviews.
Its new headphone Dragon War G-HS-003 REVAN is the best buy for consumers as it gives many features in its headset. It has a noise-cancelling mic, fibre cable for more durability and excellent sound quality.
Main Features:
Comfortable – Over the Head design
Premium design headphone with LED lights
Excellent noise cancellation mic
Durable Fiber Cable with Tube for Protection
Price: ₹1,599 (Flipkart)
4. Redgear Hell Scream Professional Gaming Headphones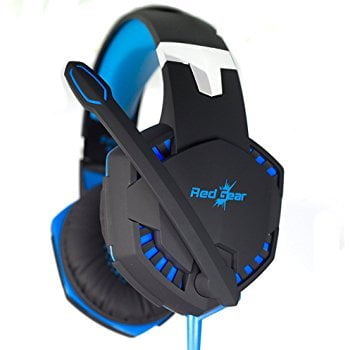 Redgear Hell Scream one of the best budget gaming headphones in the stores. It has superb sound quality and it comes with a flexible mic tube.
It has impressive patterns which glow with RGB LED built-in-lights. Whether you have a large head or small you can always adjust its headband which is amazing and comfortable.
Moreover, the headphone is good at noise cancellation and comes in amazing built quality.
Main Features:
Simple design with cool LED glowing pattern
Comfortable – designed for long gaming sessions
Retractable Microphone
Excellent noise cancellation and sound quality
Price: ₹1,199 (Amazon)
5. Kotion Each GS500 Gaming Headphones
Kotion specially designs gaming headphones and they have a pretty good reputation in the market. Despite, Kotion each GS500 is a budget headphone, its built quality and wire is really good so, you don't have to care about its durability.
Not only that it also provides excellent sound quality so don't matter if you use it for gaming or music it will give you great output.
Main Features:
Adopted smart suspension headband
Durable to use and reliable quality
Comfortable- Earmuffs are made of skin friendly
Omnidirectional noise reduction microphone
Price: ₹1,899 (Flipkart)
6. HyperX Cloud Stinger Core – HX-HSCSC-BK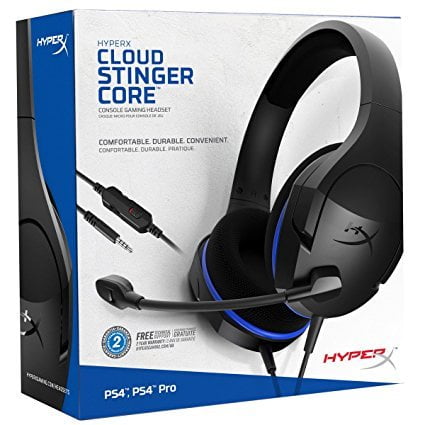 Most professional players prefer HyperX headphones because it offers extremely good quality sound and comfort in long hour gaming.
HyperX Cloud Stringer Core is one of the cheapest headphones in the market by HyperX. It comes with single 3.5mm so, if you have a separate speaker and mic 3.5mm jack then you going to need 1 female and 2 male 3.5mm wire.
It is Immersive in-game audio and Optimized for comfort and convenience. HyperX Cloud Stringer Core is one of the another best gaming headphones under 2000.
Main Features:
Great sound quality
Multi-console compatible
Extremely comfortable
40mm directional drivers
Free tech support and a two-year warranty
Price: ₹1,799 (Amazon)
7. Redgear HellFury Professional Gaming Headphones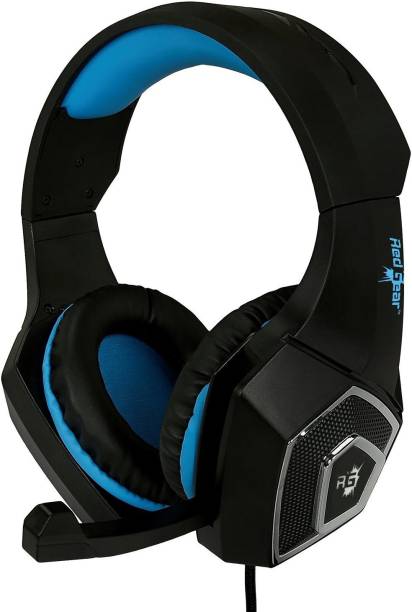 Redgear HellFury 7.1 design is amazing, looks like perfect gaming headphones. Just like popular Redgear cosmo, it has almost the same features and functionality.
It also comes with 7.1 surrounding system and offers a comfortable design, offering extra soft Ear-muffs with a comfortable headband.
It has amazing sound quality and great noise cancellation. Moreover, it has braided cable with an in-line controller that can control volume, mute mic and control LED lights. It is compatible with Laptop, smartphones, Pc and tablets.
Main Features:
Amazing quality sound
Retractable microphone
7.1 Surround Sound Headphones
In-line controller- LED, Mic and Volume
A Skin-friendly leather material used and super soft earmuffs
Price: ₹1,499 (Amazon)
8. Kotion Each B3506 Wired, Bluetooth 4.1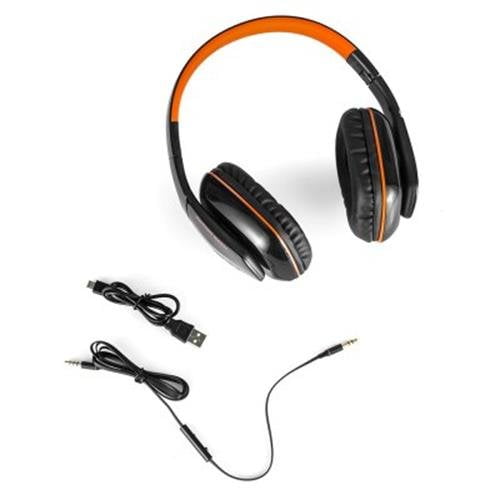 Kotion Each B3506 is a very unique headphone that is often used by gamers. It is both wired and wireless headphone with mic.
It has an amazing speaker which provide crystal clear sound quality and it also offers in-line control, adjustable headband, up to 180 hours of standby time and 3.5mm cable.
The major thing that makes this headphone different is its design that can be folded and plus it's a wireless headphone so, it will also be great for travelling.
Main Features:
Foldable design
Wired + Wireless
10+ hours play time and 180 hours of standby time
Compatible with all kind of devices
Comes with AUX cable
Price: ₹1,549 (Flipkart)
9. Redragon H301 SIREN2
There are very few people that know about Redragon Company. Redragon user's numbers are increasing significantly. Its Redragon H301 SIREN 2 headphone has the most positive review on the internet.
It offers a 7.1 surround system, crystal clear sound, microphone with noise cancellation and Plug & plays features that do not require any driver. Also, it is lightweight and comfortable on-ear so, your ears won't feel a pain in long hours of gaming.
Main Features:
Versatile compatibility
7.1 Surround sound
Lightweight & comfortable
Crystal clear sound
Amazing noise cancellation
Price: ₹1,840 (Flipkart)
10. Gamdias HEBE E1 RGB Wired Headset with Mic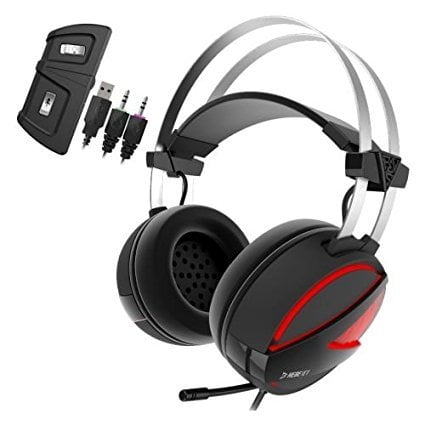 Gamdias is well known for it amazing computer accessories. Its new Gamdias HEBE E1 offers unique design and features. It has flexible microphones, adjust your mic according to your need.
It is the best gaming headphones under 2000 for new gamer.
Its oversize earcups will give you great comfort in long play times. Moreover, it offers in-line smart controller that can control volume, mute and unmute mic and control LED lights.
Main Features:
Excellent Sound quality
Powerful 40mm HD driver
Omnidirectional Flexible Microphone
Ergonomic comfort and isolates external noise
Smart Remote Controller
Price: ₹1,499 (Flipkart)
I hope you like this list of best gaming headphones under 2000.
Also Read: Best Headphones for PUBG