It is clear that in-ear headphones are an essential piece of hardware that every individual need in this new generation. Looking for best earphones under 1000 with mic in India, then stay with me.
A good quality earphone can enrich your experience while watching movies, TV shows, playing games and listing to music.
The more expensive means you get better quality, but that is not the case in budget earphones.
Every brand offers a different set of features in their earphones, sometimes they have to compromise the build quality for sound quality or sometimes sound quality for the build.
In the end, distinguishing between earphones and picking up the best can be a difficult task for anybody, as there are so many varieties of earphones.
Confused after reading so many good reviews on earphones, cheap price, and features offered by the unknown brand.
But don't worry we have created the best list for you, so if you have a budget of 1000 rupees then you can count on this list.
In the list, we have 10 best earphones you can buy under 1000 price segment that includes a microphone.
Also Read:
10 Best Earphones Under 1000 with Mic in India
We have compiled best earphones under 1000 Rs. which you can buy online easily. If you have any doubt or query you can post in the comment section.
1. Sony MDR-EX150AP In-Ear Headphones with Mic under 1000
Sony MDR-EX150AP is the best we can recommend if you have of 1000 rupees. Sony headphones are known for providing the best sound quality and great bass.
This earphone comes with a mic for hands-free calling, and 9mm neodymium driver to offers powerful and balanced sound quality.
It is very comfortable and you can wear it for hours without feeling any pain in your ears.
Moreover, it comes with wire manager so that your earphone won't tangle up and Silicone earbuds allow you fit according to your ear size. It is one of the best earphones under 1000 with mic in India.
PRICE: Rs. 899
2. Mi Earphones with Mic
Mi has gained massive popularity in India because it offers the best quality as well as cheap products to the consumers.
Mi Earphones (Not basic) is one of the best quality headphones you can find in the market right now. This earphone offers dynamic bass, balanced sound and they are extremely lightweight.
Not to mention, it comes with a metal sound chamber, anti-slip design, volume control and in-built mic.
Also, it delivers amazing sound quality and bass as it uses Aerospace-Grade metal sound chamber.
PRICE: Rs. 699
Also Read: Best Headset for PUBG
3. Brainwavz Omega In-Ear Earphones with Remote & Mic Stereo for iOS & Android Devices
Brainwavz is new company gaining popularity because of its new lineup headphones. It new Brainwavz Omega In-Ear Earphones can be the best choice for you.
It has amazing built quality, as well as high-performance micro audio speakers. The earphone offers a metallic body, high-fidelity audio, crisp clear sound, slim design and looks stylish.
It comes with 3 set of silicone ear tips include small, medium and large, one shirt clip, and Velcro cable tie.
One of the main thing about this earphone is that they are noise isolating, cutting out the ambient noise.
PRICE: 999
4. JBL C100SI In-Ear Headphones with Mic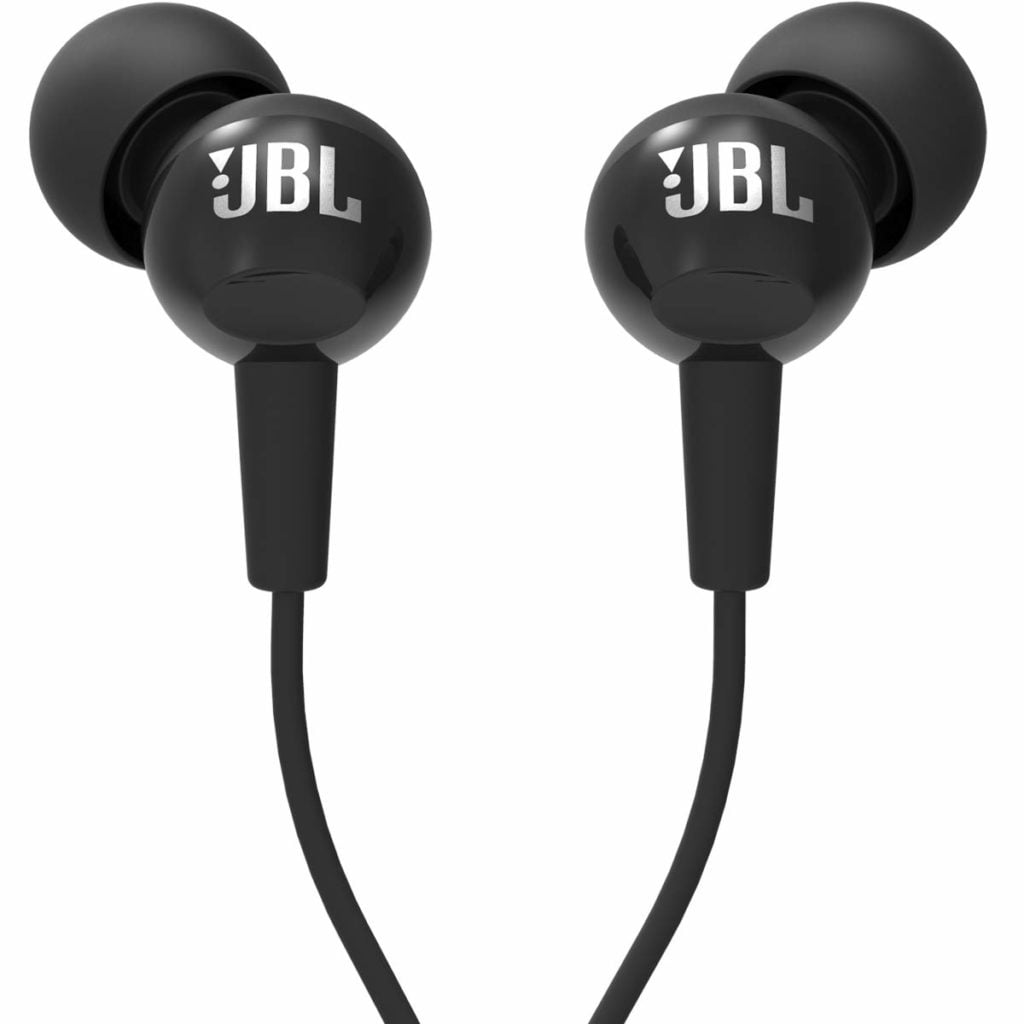 Love music with decent bass, JBL is for you. JBL today offers a new line up for earphone that is very to afford. One of its headphones, JBL C100SI has amazing reviews.
With its premium design and sound quality, it offers pure bass sound, 1 button remote and metallic-finished housing.
The headphone is compatible with every device, whether its Android/iPhone smartphone, laptop, or PC, it works in all devices that have 3.5mm jack. Moreover, its frequency range is 20 Hz to 20 KHz and it comes with 1.2m long cable.
PRICE: Rs. 699
5. 1MORE Piston Fit Earphone with Mic
The sound quality of 1MORE Piston Fit earphone is pretty awesome. It will give you decent audio balance and performs, especially when the volume is set to 70 per cent volume.
This earphone comes in different colours, so select according to your style. Also, it has superior ergonomics, making it lightweight and comfy as well.
Not to mention, it uses dual layer driver, aerospace grade metal inner and PET polymer outer layer, providing excellent sound quality, sonic balance and deep bass as well.
Moreover, it has a Kevlar fibre cable, known for its amazing durability.
PRICE: Rs. 799
6. JBL T210 Pure Bass in-Ear Headphones with Mic
JBL T210 is one of headphones that offer pure bass and crystal clear sound but the only problem is that they are not very durable, meaning you have to take care of these when you buy them.
The earphone has premium look, and they are lightweight. Not to mention, JBL is king when it comes to bass, and your music and gaming going to be a lot better.
Also, it has 1-button remote with microphone, making it easy for you to access mic conveniently. Moreover, this earphone work with every device that has 3.5mm jack, so you don't have to worry about its compatibility.
PRICE: Rs. 999
7. Panasonic RP-TCM125 Ergo Fit Stereo Headset
Panasonic is a great company that offers headphone in low and rid range and they are quite popular. Panasonic RP-TCM125 is one of the best headphones you can buy on Amazon, also it comes with 1 year of warranty.
Not to mention, this earphone has cool looking design and it comes with OctaRib speakers, known for providing amazing sound quality and decent bass.
Also, it has enhanced ergo microphone with easy on/off button. Moreover, it works on 10Hz – 24Hz frequency and compatible with every device that has 3.5mm jack.
PRICE: Rs. 809
Also Read
8. Best Bass Earphones Under 1000 boAt BassHeads 225
boAt BassHeads 225 is most purchased earphone and budget earphones on Amazon. boAt has made its name in the market by providing extremely good quality headphone to the consumer.
This earphone can offer super extra bass that can improve your music listening and gaming experience.
For your convenience, it comes with tangle-free flat cable, and gold plated 3.5mm jack that is lost lasting and prevent interruption while listening to music.
Also, it comes with 10mm driver, noise cancelling microphone as well as enabled passive noise cancellation. Moreover, it is crafted with care with polished metal, ensuring earphone longevity.
I personally bought this, sound quality is just awesome and they also come with extra pairs of earbuds and clips.
PRICE: Rs. 549
9. Audio-Technica SonicFuel ATH-CLR100ISBK
Audio-Technica SonicFuel ATH-CLR100ISBK offers many features and considering its price range they are quite amazing.
The sound quality offered by Audio-Technica is always excellent, and you can expect good quality form this earphone too.
This earphone offers crystal clear sound with detailed resolution, giving to amazing experience while watching movies or playing games.
Also, it looks wonderful in design and it can offer you hours of playback time without hurting your ears.
Further, it has a mic which is also good in quality. Moreover, you don't have to worry about the earphone after you purchase, as it comes with 1 year of warranty and it comes with 4 colour option – Lime green, white, pink, and blue.
PRICE: 990
10. Mi Earphones Basic (With in-built mic)
Mi Earphones Basic is cheapest in the list and considering its price they can offer you more than you can expect. It is just like Mi Earphones but downgraded, named basic by Xiaomi available on Amazon.
This earphone can offer ultra-deep bass, and wonderful sound quality using its aluminium alloy sound chamber that can enrich your experience while listing to music or while gaming.
It is ergonomic, anti-slip and designed for comfort, allowing you to use it for hours without pain and slipping your earphone. Moreover, it comes with high-quality silicone earbuds which is genital on the skin.
PRICE: Rs. 399