Surfing the web is becoming risky day by day. From viruses to spyware, the internet is full of invaders.
However, if you are a Chrome user, there's no more to worry about; you can add security extensions to keep unwanted attackers away.
Chrome is already a very safe and secure platform to surf the web and provides a hassle-free and responsive browsing experience.
So, undoubtedly, there is no harm in adding some more protection layers to your browser.
Now, are you wondering which security extensions to choose from the chrome web store? Well, check out the 10 best chrome security extensions below.
Top 10 Best Chrome Security Extensions for Better Privacy
Have you ever accidentally typed the wrong domain name and end up entering a different site? Well, the browser does not recognize such mistakes, and it takes the user to the wrong domain.
So, to overcome this issue, you can easily add this Avast Online Antivirus extension to your Google Chrome. This extension avoids such spelling mistakes and auto-corrects them.
It runs on a community rating system, which informs the sites that other users find dangerous. Thus, it is one of the best chrome security extensions to offer you a safe browsing experience.
Well if you are not satisfied with google chrome then you can check these chrome alternatives.
Pop-up ads on the browser are quite annoying. These ads turn up unexpectedly and disturb your entire browsing experience.
The main task of Adblock Plus is to block all those intrusive ads, including pop-ups, video ads, and flashing banner ads, and provide a clean & safe web environment to browse.
After installing this extension, you can easily get to know how many times an ad was blocked on your device by only clicking on the toolbar icon for Adblock Plus. Also, you can turn off ad blocking for any specific site if you want.
Usually, there are two types of employees working in a company. Some are specially hired for any specific project, and the others are permanent employees.
Every employee is given access to the organization's tools, services, and applications to complete the assigned tasks.
However, when the temporary employees leave the company after completion of the project, the business does not want these people to have access to the company's data anymore.
So, to remove access to such users, you can add the TeamPassword Google Chrome extension on the browser.
Using it, you can quickly eliminate the access of temporary users in a single step. Moreover, this extension also helps in generating strong and uncommon passwords for enhanced protection.
It offers a free trial period so that the companies can explore the benefits well enough before purchasing.
Do you know our activities are randomly tracked by third-party companies, websites, and advertisers?
But as a user, we have no idea that we are being tracked, who is tracking us or which site they are doing it from.
So, in such cases, this chrome extension displays the name of the web trackers for every specific site you visit. Then you can block them easily from spying on you in the future.
Visit any web page of your choice, from Facebook, Google, Amazon, or any other site.
All you need to do is click on the Disconnect extension icon, and it will give you a list of different tracking requests for that particular site like social, advertising, content, etc.
You need to select any specific type to get the actual trackers' names and block them individually or the entire site. However, you can unblock any particular website if you wish to.
This security extension for Chrome provides reliable real-time protection against malicious websites and suspicious activities on the internet.
It helps users prevent visiting phishing sites. On clicking such phishing links mistakenly, these start unwanted downloading of files, which have the potential to corrupt your device and steal your sensitive information as well.
If a user clicks on any malicious and unsecured external link, then the Windows Defender extension will immediately lead the user to a red-colored warning page.
During this time, the Defender extension scans the entire site, and if it finds something fishy, the user will be notified to exit the website immediately.
There are several times when we have to send sensitive information such as confidential business details or personal bank information over email. Thus, email security should be prioritized by businesses and individuals.
Even after encryption, there are chances that the Google algorithm can understand the context of your email.
So, you must consider adding additional security to your email as well. You can merely download the Secure Gmail Chrome extension and then encrypt your emails with a strong passcode before sending them.
However, keep in mind that the user receiving the email must have the same security extension to access the encrypted data.
Also Read: CCleaner Browser Review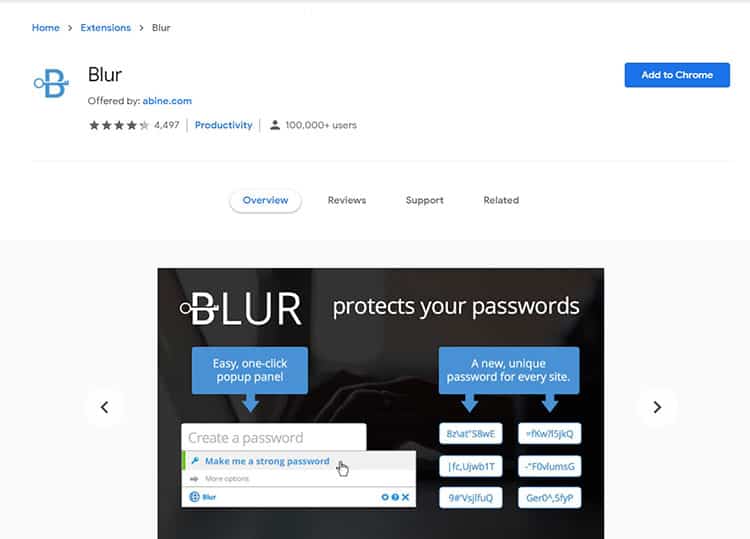 Nowadays, we have accounts and subscriptions on countless websites, and each of them requires a password, isn't it?
And the password is supposed to have proper upper case and lower-case letters, along with numbers and special symbols. Such tricky passwords are neither easy to crack through nor effortless to remember.
Various online password management tools are available, or even the Google Chrome browser provides a feature where you can save all your passwords.
This feature is useful for your home PC, but it is not recommended to store the passwords in this format for business purposes.
So, for business use, the Blur extension saves and encrypts the passwords. It also comes with a tracking feature, which keeps away the trackers and blocks all those working with cookies.
Thus, these attributes make it one of the best chrome security extensions, which provide a secure browsing experience.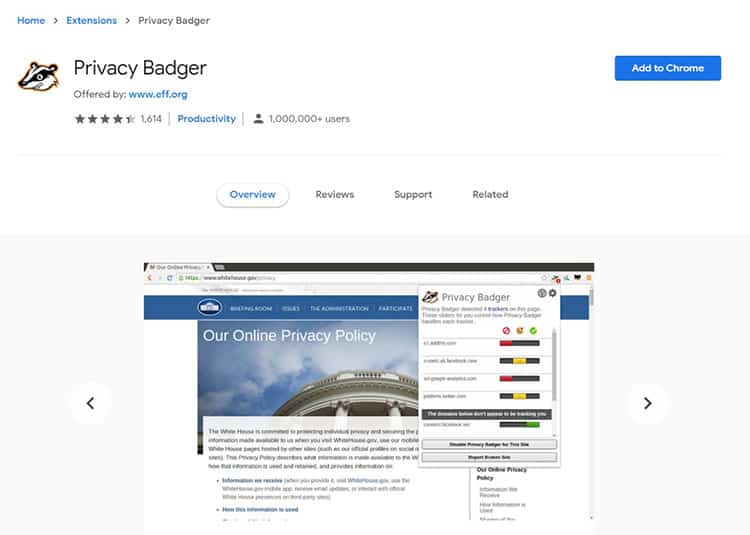 Privacy Badger security extension saves you from all sorts of trackers and malicious websites by keeping a check on which site is trying to track you.
It blocks the particular content that tries to monitor you to save your device and information. So, are you wondering how it does so?
Well, the Privacy Badger extension functions by sending a "Do Not Track" signal to such malevolent websites.
However, if the polite request made by this extension is ignored, it merely blocks those tracking elements.
If Privacy Badger finds the same tracker on three different websites, then it starts blocking these kinds of trackers in the future too.
Due to specific security reasons, sometimes the users have to completely remove all the saved passwords, history, and cache data from Chrome.
And this turns out to be quite a tedious process. So, to overcome this hectic procedure and save yourself some time, you can add the extension of Click&Clean to your Chrome browser.
It removes all the items with just a single click through an easily accessible panel. Thus, it can be a method to keep your browsing sessions secure.
This extension also provides an option to remove all the data from the Incognito mode and alphanumerical password generation.
Moreover, with the help of this add-on, you can go for a privacy check, scan for malware, view and remove pages stored in the cache to ensure better privacy.
SiteJabber is one of the trusted and best chrome security extensions, which takes help from the users' reviewed websites to provide a safe browsing experience.
While visiting any site, a user can see others' opinions about the web page, its security, and authenticity.
But are you wondering how this Chrome extension helps in this matter? Well, it displays a small icon, which determines the rating of the site.
The color of this icon might be green, red, or yellow; it entirely depends upon the rating list. Therefore, a user can easily and quickly analyze the site's security and take actions accordingly.
The factors considered while rating the websites include their safety, trustworthiness, or malware incorporation capability in your computer.
Wrapping Up
So, as evident, the primary aim of adding each of these security extensions is to have a secure browsing experience. You can enjoy enhanced security and privacy by adding these extensions to your Google Chrome browser.
So, select the best chrome security extension suitable for your purpose and install it right away!